Similar Projects
Canary District and YMCA of Toronto Team Up By: Roy Bhandari / November 28, 2014
Canary District is Toronto's biggest and most innovative 35-acre urban village, where every element is designed to be open and inclusive, and focused on health and wellness. Vibrant pedestrian-friendly streets and a location next to an amazing 18-acre park, which leads into 1,800 km of trailheads of prime Ontario hiking and biking land, help make Canary District an ideal location for a balanced lifestyle.
Canary District, in partnership with the neighbourhood's athletic and social hub, the brand new 82,000 square foot Cooper Koo Family YMCA, offers free yoga classes in its presentation centre to help you stay centred and fit for all the things you need to do each day. The YMCA is more than just a gym.
Enhance your spirit, mind and body by building self-confidence and reducing stress. Join Canary District and the Cooper Koo Family Y every Wednesday at 6:30 p.m. for free community Hatha Yoga, a gentle style of yoga that strengthens muscles and increases joint flexibility in the body. These Hatha Yoga Classes, offered in the Canary District Presentation Centre, are a great way to sample one of the many classes to be offered at the Cooper Koo Family Y when it opens summer 2016.
Canary District Launches in Billion Dollar Master Planned Community By: Roy Bhandari / May 14, 2012
Canary District Condominiums is Toronto's newest master planned community located in the Multi Billion West Don Lands revitalization.
The 80 Acre redevelopment is well and truly underway and by the time the Pan American games arrive in 2015, the West Don Lands will boast a brand new 18 Acre Urban Destination Park (Don River Park), amazing new public space (Underpass Park), new commercial and retail space, an enormous YMCA (82,000 square feet), new transit routes to connect to the city and some incredible new condominium buildings and a brand new community.
Master planned communities offer investors huge upside, as the potential to purchase early in a multi-phased community offers some of the best returns on investment.  Recent examples in Toronto include Liberty Village. Concord Cityplace and Regent Park – early investors have profited very heavily from investing early in locations that have gone through huge growth – and Canary District is no different.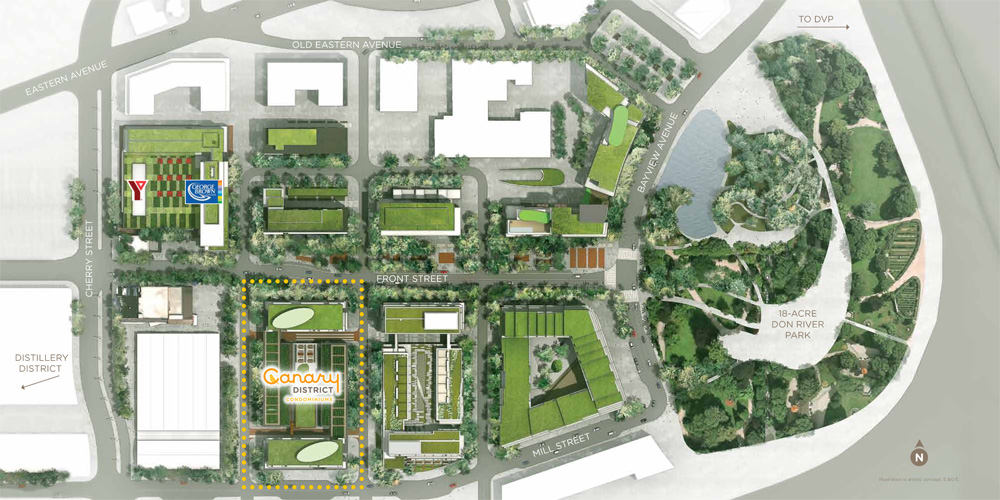 Master Planned Communities offer incredible upside for investors – West Don Lands and Canary District is a multi billion dollar community backed by the Government and Waterfront Toronto
The development team is a combination of Dundee Realty and Kilmer Developments and the team came out on top in an extensive bidding process against some of Toronto's biggest developers.
Dundee Realty are no strangers to building neighbourhoods and have most recently been involved in developing and shaping the Distillery District into one of the most popular spots in the City.  Canary District will feel like an "extension" of the Distillery District featuring similar style of restaurants and boutique stores.
Canary District Condominiums will stand 11 storeys and house approximately 369 suites.  Suites will feature 9ft. ceilings, wood floors throughout and custom European kitchens.
Canary District Prices and Floorplans are now available, for more information on this exciting development complete the form below!
Exclusive Closer Look at Canary District By: Amit Bhandari / May 7, 2012
The radio campaign is in full swing and it's jingle is already getting stuck in our heads (I wanna flyyyy awaaaaay) and anticipation is building for Canary District, the largest masterplanned urban village in Toronto.
Canary District Radio Jingle
TalkCondo were lucky enough to be invited to discuss the project in more detail with one of the developers, Dundee Realty prior to the Platinum Launch coming very very soon.  Canary District is named after the popular and historic "Canary Restaurant" (pictured below) which was located at Front & Cherry Street before they closed down in 2007.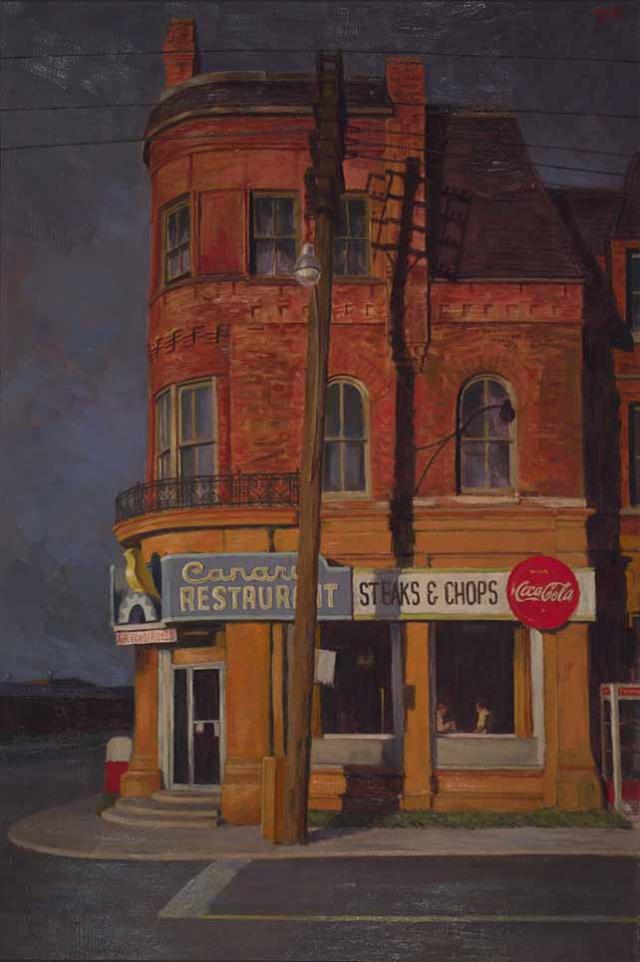 Canary District gives a nod to the historic "Canary Restaurant" which was located at Front & Cherry before it was closed down in 2007
DundeeKilmer won an intense bidding process for the opportunity to build this neighbourhood and were chosen ahead of a number of Toronto's leading developers.  Waterfront Toronto are heavily involved on the site and are working hard to ensure that all the elements work together.
Canary District will be launching the first two condominium buildings that stand 11 and 8 storeys respectively in the coming weeks.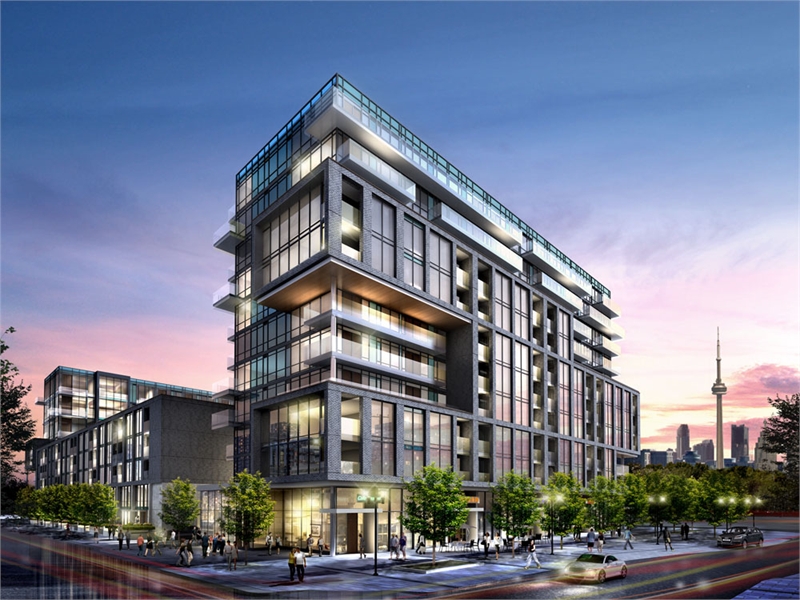 Canary District is part of the West Don Lands redevelopment (we have discussed in great detail here) and is the second major residential project to launch in the neighbourhood (following the very successful River City projects by Urban Capital).  Master planned developments are extremely exciting for investors, and the West Don Lands project is one of the best examples of a master planned community done right.
Dundee Realty were heavily involved in the growth of popularity of the "Distillery District" and are no strangers to growing a community.  Their three condominiums (Pure Spirit (completed), Clear Spirit & Gooderham (under construction)) have been extremely well received and they heavily influenced the style of boutique retail that is enjoyed in the Distillery.
The new West Don Lands will feature a brand new 18 acre "destination park" in the City (Don River Park), brand new retail (that we are told will feel like an extension of the Distilly District) and commercial space, a HUGE YMCA (82,000 square feet and will also be used by the athletes during the Pan Am Games) and brand new transit to connect the neighbourhood to the City.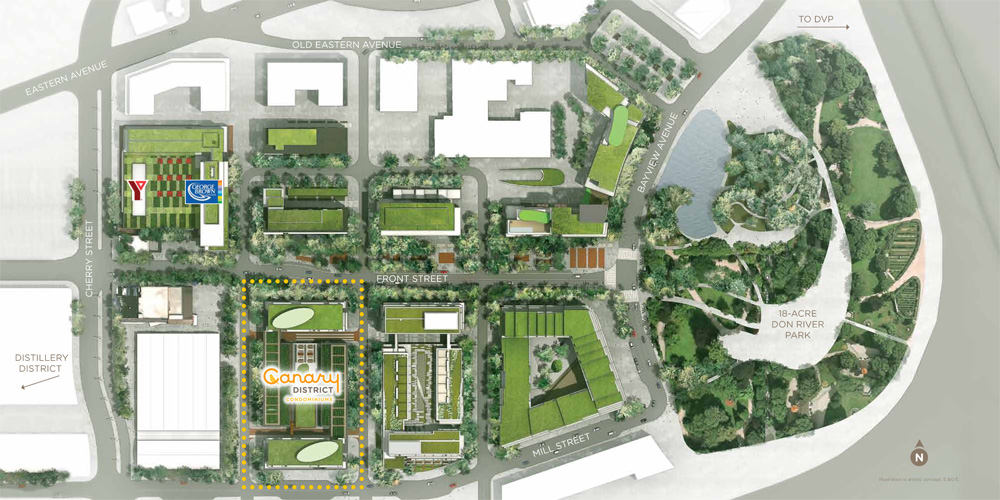 THE PAN AM CONNECTION
One of the major reasons for the accelerated growth of the West Don Lands is that it will be the host of the Pan Am Games in 2015.  The residences of Canary District will be completed by 2015, and what makes the project unique is that they will be used to house the athletes for the Pan Am Games prior to occupancy.  The condominiums will be finished with "temporary" interiors until the end of the Games, at which time the developers will complete the condominiums as per specifications for the final buyer.
The team at Dundee Realty were extremely excited about the prospect, stating "imagine having a Gold Medalist living in your suite".
Canary District has garnered a lot of early interest and we can't wait to get our hands on more details.  To register for guaranteed first access to this project, be sure to complete the form below!
Canary District Coming to West Don Lands By: Amit Bhandari / April 10, 2012
The West Don Lands and Pan Am Village (to host the 2015 Pan America Games in Toronto) has been one of the most exciting master planned neighbourhoods in the last few years, with the planned development of thousands of new homes, the brand new 18-acre Don River Park, new shopping, dining, public art, sports and cultural facilities.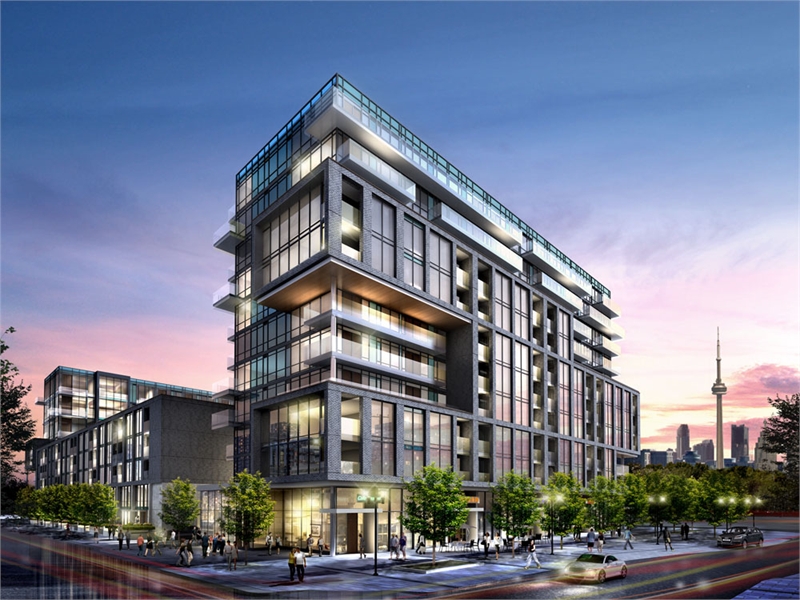 First rendering of Canary District Condominiums.  BuzzBuzzHome were the first to release the image
River City Phase 1 and River City Phase 2 were the first two developments in the West Don Lands revitalization project, and now it has been announced that Dundee Kilmer (A partnership of Dundee Realty, developers of Clear Spirit and King Edward Private Residences and Kilmer Van Nostrand) will be building "Canary District", the largest urban village in Toronto's history!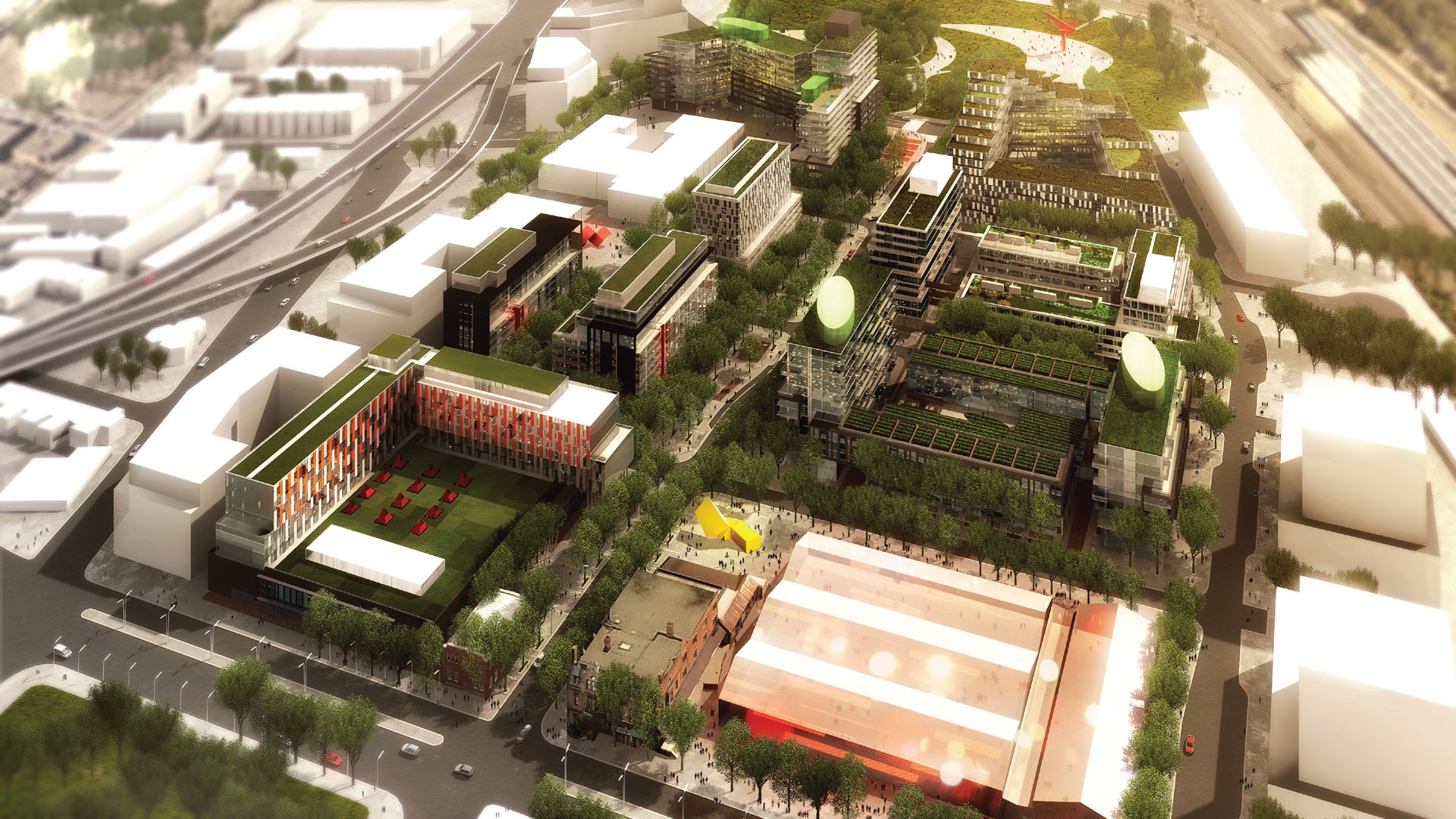 Overview of Canary District Condos Masterplan
Earlier today BuzzBuzzHome broke the news of the project and the rendering (found above) and in the last few hours some new information on the project has become available:
-Will house approximately 1,200 new units
-Improved infrastructure including new roads and public spaces featuring the Front Street promenade and re-construction of Eastern Avenue and Cherry Street which will include a new streetcar route.
-A brand new 82,000 square foot YMCA which will be used as a training facility during the Pan Am Games.
Launch timeframes are still unknown for Canary District, however, TalkCondo will be at the front of the line with all the prices and details.  Pre-register using the form below for all the details as soon as they become available!