87 Peter Condos Project Details By: Roy Bhandari / April 22, 2015
Located at King & Peter Street, 87 Peter Condos is a new condominium project by award winning developer, Menkes Developments.  The project is located in Toronto's popular Entertainment District with quick access to some of the best that Toronto has to offer.
The Developer & Project Details for 87 Peter Condos
Developed by Award Winning Developer; Menkes Developments – one of Toronto's most trusted developers with over 60 years of experience
Menkes have a huge portfolio spanning the entire GTA and includes High Rise Condominiums, Low Rise Homes and Commercial Buildings
Other projects include: Four Seasons Toronto Condos, Harbour Plaza Residences, 365 Church Condos and many more (browse all Condos by Menkes)
87 Peter stands 49 storeys with 550 suites
Expansive amenity package including Water Massage Beds, Spa, State of the Art Gym and much more
The Location of 87 Peter Condos
Located at King & Peter in Toronto's bustling Entertainment District (browse all Condos in Entertainment District)
Nearby popular projects such as Cinema Tower, Peter Street Condos, Bisha Condos and much more
Perfect 100/100 WalkScore
Quick access to Toronto's top Entertainment including Toronto International Film Festival, Roy Thompson Hall and Princess of Wales Theatre
Steps to some of Toronto's top Restaurants along "Restaurants Row" on King Street
Perfect 100/100 TransitScore
Steps to 501 Spadina, 504 King and 501 Queen Street Car Lines
Short walk to St. Andrew Subway Station
87 Peter Introduce 3 Year Rental Guarantee By: Roy Bhandari / February 26, 2014
87 Peter Condominiums have revealed a brand new incentive that has our investors very excited: A 3 Year Rental Guarantee that gives an incredible turn key investment (Click to read an in depth explanation of Rental Guarantees)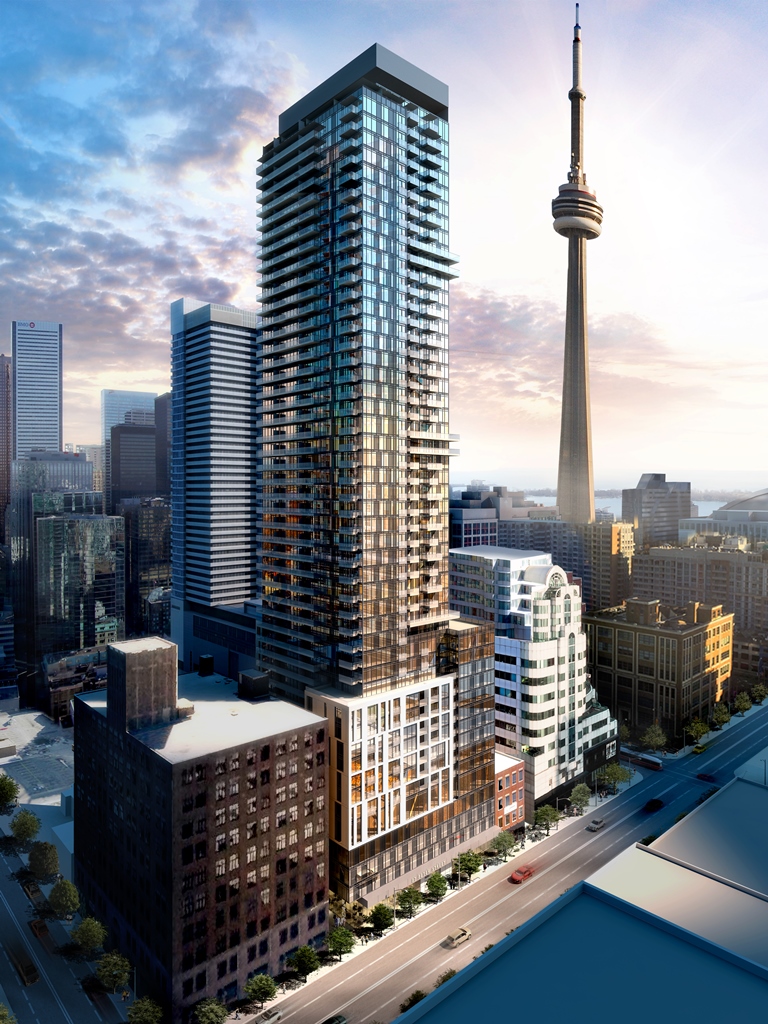 87 Peter Street is located in the heart of the Entertainment District and steps to major amenities along King Street
87 Peter is located in the heart of the Entertainment District at King & Peter in a neighbourhood with huge upside.
The neighbourhood has been going through a major change ever since the Toronto International Film Festival made the Bell Lightbox at King & John its permanent home.  The location offers incredible access to Restaurants and Entertainment (just steps to the Theatre District) and is one of the best "work, live and play" locations in Toronto.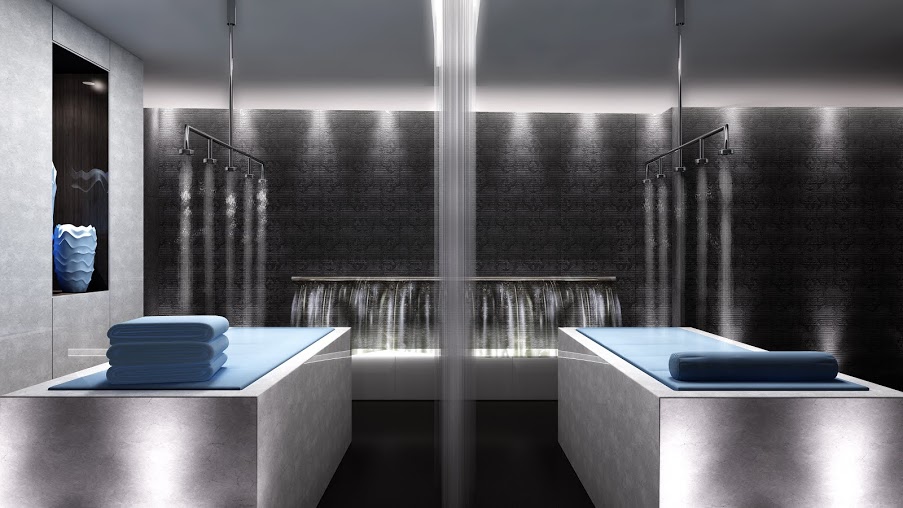 Need to relax? 87 Peter has you covered
The Developer, Menkes, are one of the most trusted developers in Toronto with an enormous portfolio that spans Commercial, Retail, Hotel, Low Rise and High Rise all across the GTA.  They recently completed work on the Four Seasons Hotel & Residences in Yorkville, the most luxurious building in the City and have recently been credited as a major part of the growth in the South Financial Core with Harbour Plaza Residences and two major office towers; Telus House and Sun Life Financial Tower.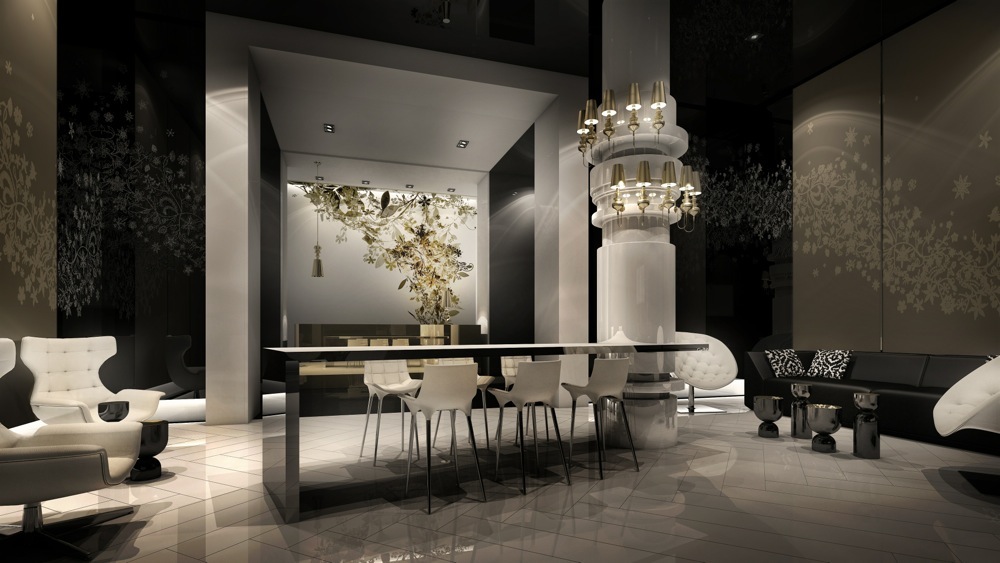 Luxorious and inviting lobby at 87 Peter
The brand new incentive programs offers an incredible 3 year rental guarantee as well as cash backs on select 1 bedroom suites.  Our investors LOVE rental guarantees for a number of reasons that include:
-Turn key investment with guaranteed cash flow for three years
-Many investors look to sell after 3 years – 3 year rental guarantee gives built in "hold and rent" strategy
-Shows developers confidence in a project and location
-Excellent rental rates offered by the developer
-Safety net – if the rates are significantly higher by the time the building is complete, investor can "opt out" of the guaranteed rate and rent themselves
The Rental Guarantee is only available for a very limited time and once it's gone, it's gone.
For all the information on the Rental Guarantee, complete the form below and one of our investment advisors will contact you with all the details!
PLATINUM LAUNCH: Noir Condos Launches By: Amit Bhandari / April 18, 2012
Noir Condominiums is a favourite of ours for a variety of reason.  Noir is Menkes' first high rise development since the Four Seasons Private Residences, perhaps Toronto's most luxury building and proud owner of Canada's most expensive condominium suite at $28 million.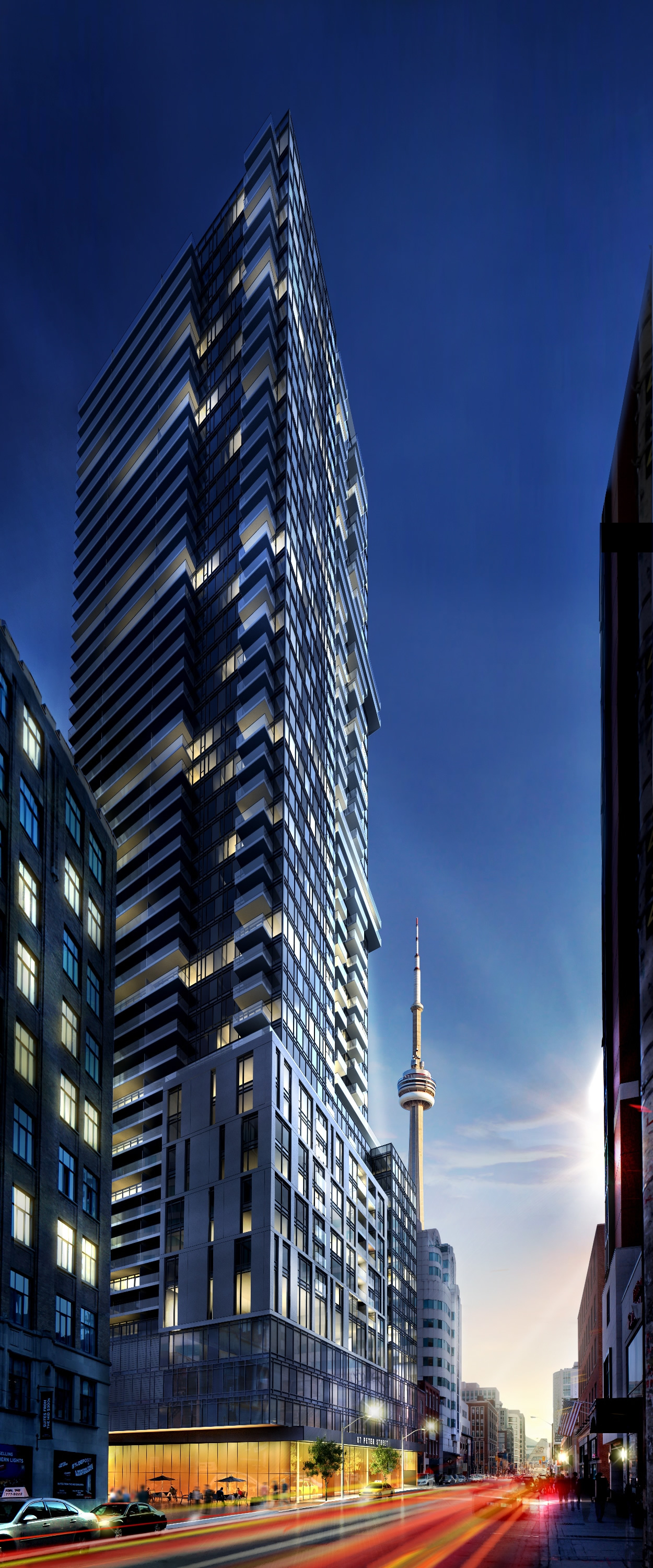 Noir Condominiums will be the second tallest condominium in the Entertainment District, second only to Festival Tower
The project is located immediately north of the Hyatt Hotel in Toronto's bustling Entertainment District.  The Entertainment District has become an investors dream, with buyers flocking to the fledgling neighbourhood and it seems that developers cannot keep up with the demand.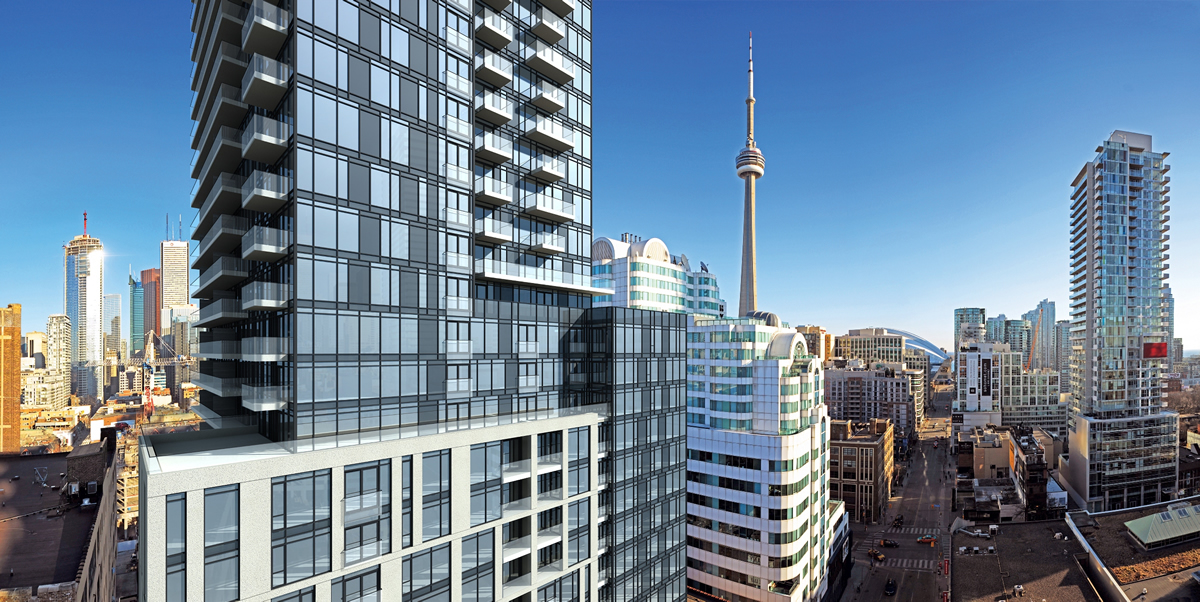 Excellent vantage point offers incredible views
The neighbourhood is the new home of the Toronto International Film Festival which has turned this once dire area into Toronto's most sought after neighbourhood.  The change has been dramatic with the nightclubs and parking lots being replaced by 5 Star Hotels, High End Restaurants and what will be home to some of Toronto's most popular condominium buildings such as Bisha, The Mercer, Cinema Tower, The Bond and now Noir.
Noir stands 49 storeys tall, making it the second tallest in the Entertainment District (second only to Festival Tower which stands at 42 storeys but is 1 meter taller).  The building features excellent amenities that you would expect in the Entertainment District, but the standout for us is the awesome "water spa" that features water massage beds, individual hot tubs, water walls and steam rooms (pictured below).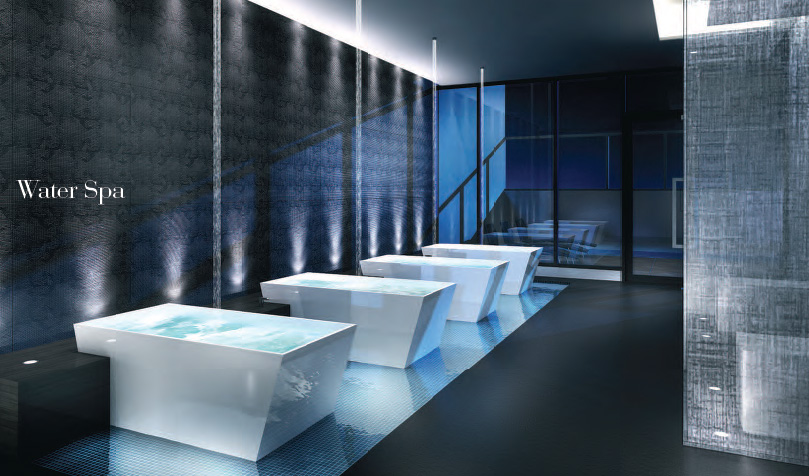 Menkes really pushing the bar on amenities with a state of the art water spa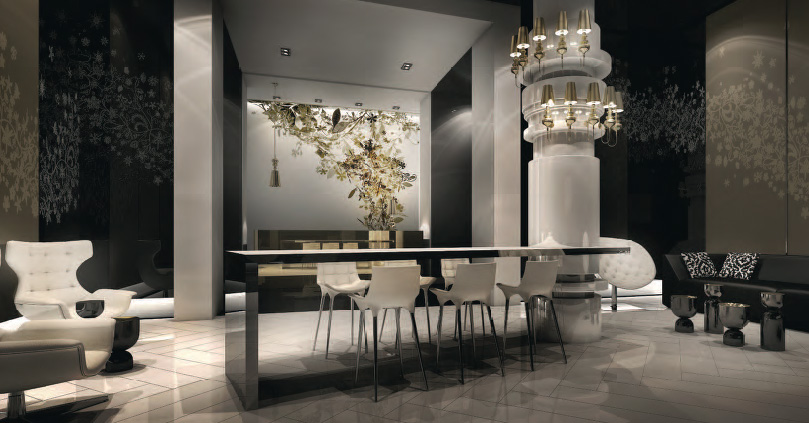 Luxurious and dramatic lobby 
Suites are well appointed with 9ft. ceilings, wood floors throughout and contemporary custom kitchens.
The vantage point of the tower offers excellent views of the CN Tower, Rogers Center and Lake Ontario to the South, and future condominium developments such as Peter Street Condos, Tableau and Bond will feature on the North Side.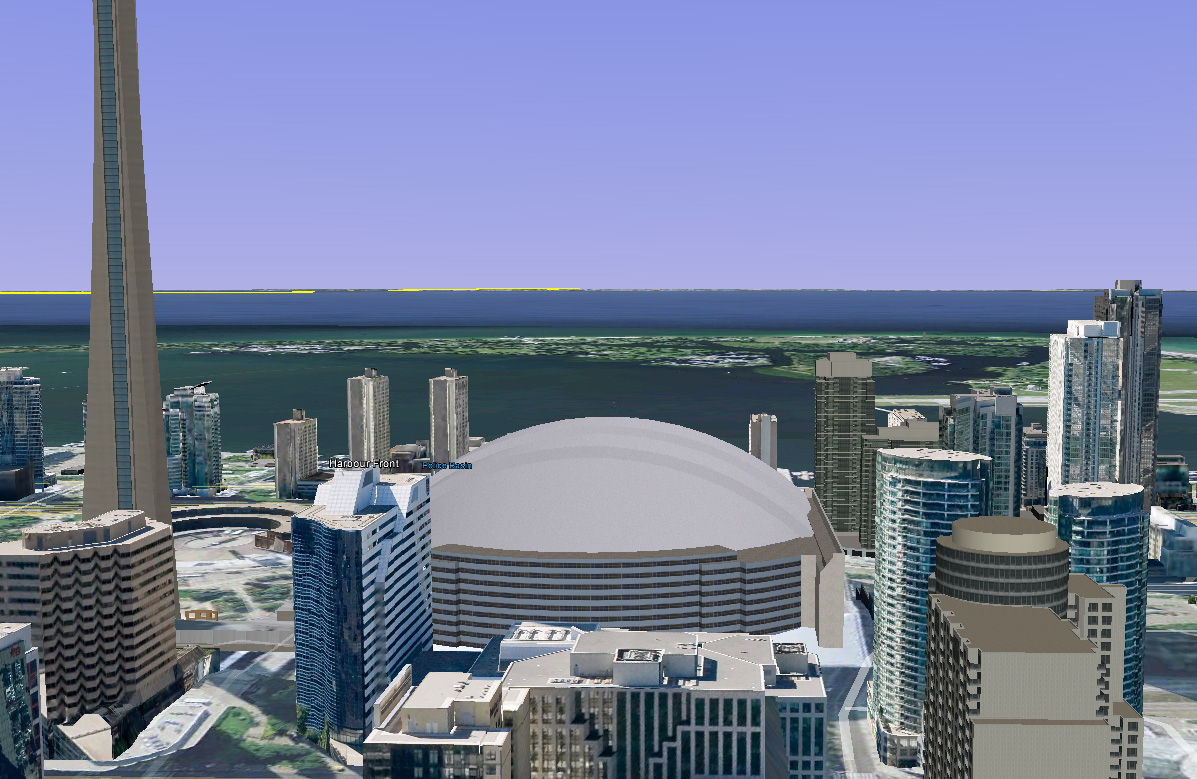 Incredible South View (from approximately 40th floor)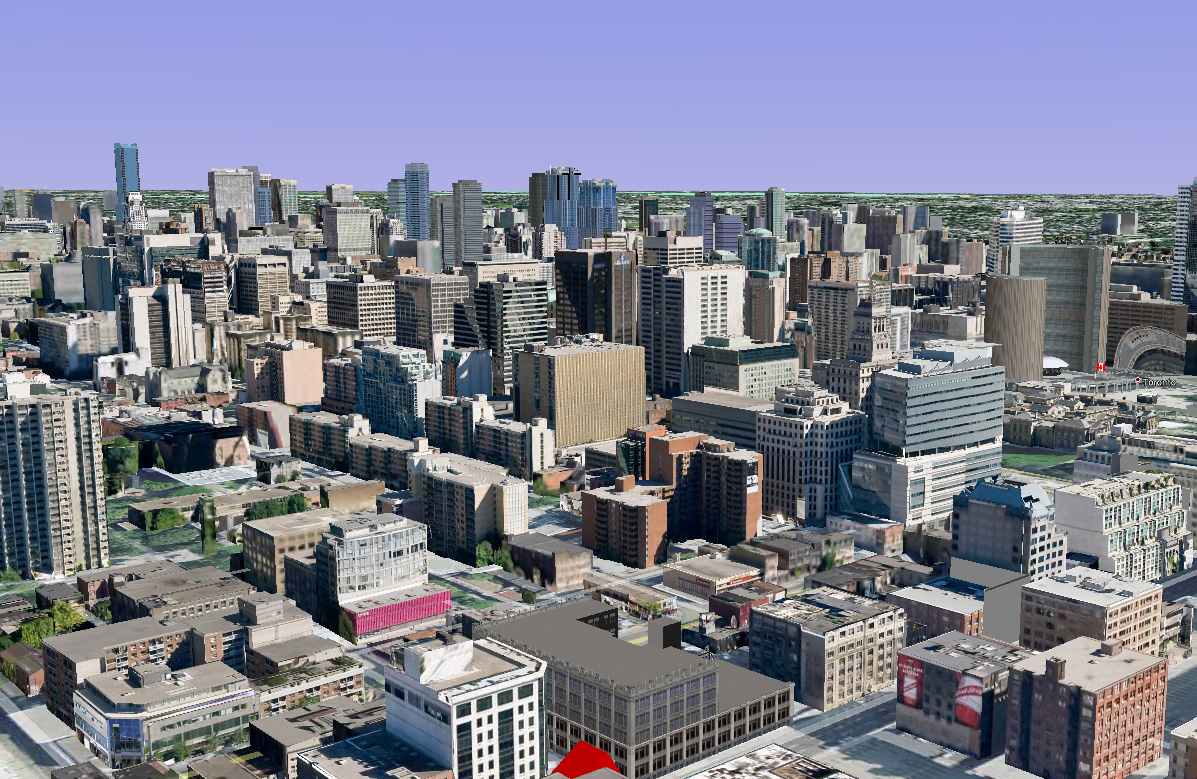 North & North East views will be incredible especially with all the lights at night!
Noir is an excellent project that we highly recommend.  Keep an eye out for more coverage from TalkCondo in the coming week.  For all the information and guaranteed first access to the exciting Noir Condominiums, complete the form below for floorplans, prices and opportunity to purchase!
A Look at the Sexy Interiors of NOIR Condominiums By: Amit Bhandari / April 10, 2012
If the early advertising images for NOIR Condos were anything to go by (check out the images of the model with the sword below) then Noir is going to be one sleek and sexy building.  Early renderings have teased a sultry 49 storey tower, and a closer look at the ammenity renderings go a long way to suggest that Noir is going to be sleek on the inside and out.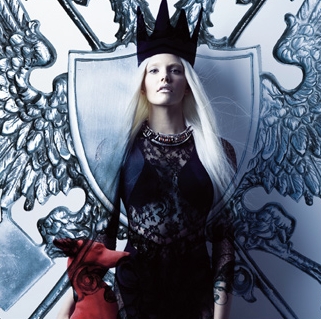 Ad campaign for Noir Condos: What do women with swords and shields and red stone dogs have to do with Condos? Who knows, but I want to know more!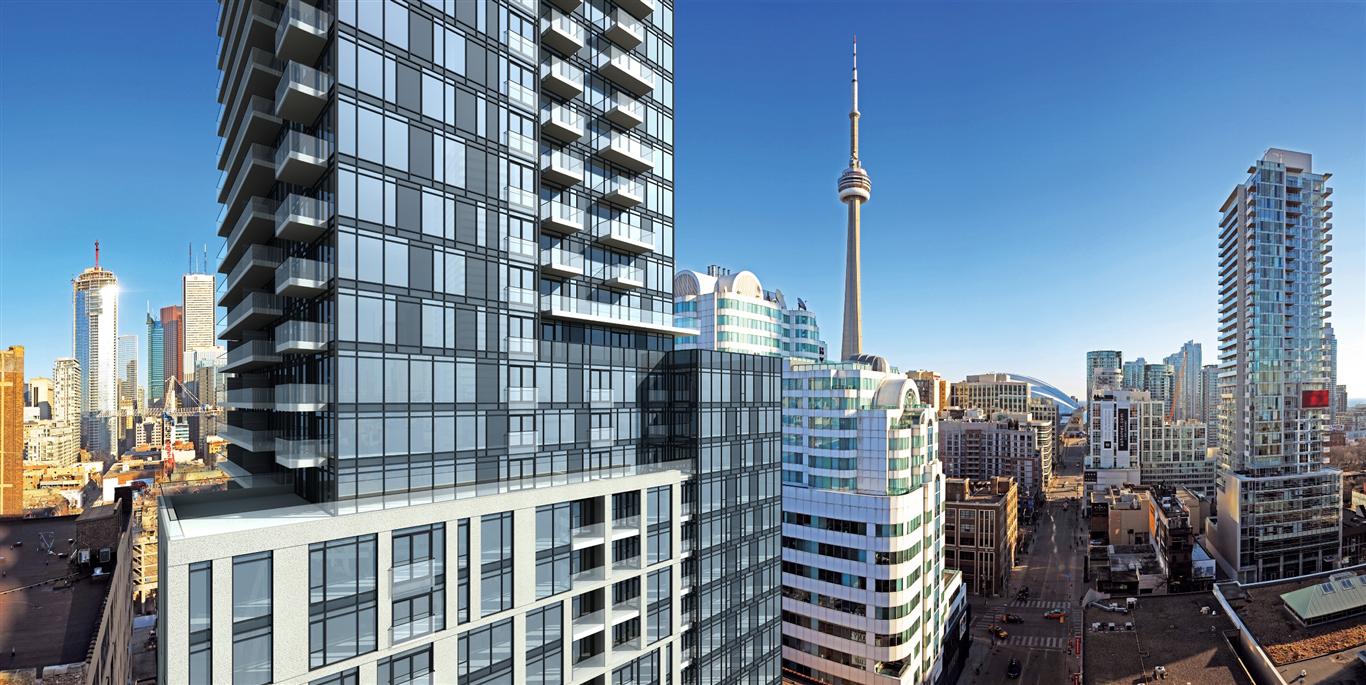 Wide image highlights the incredible location of Noir: located in the incredible Entertainment District just North of the Hyatt Hotel and King Street West and West of the Financial District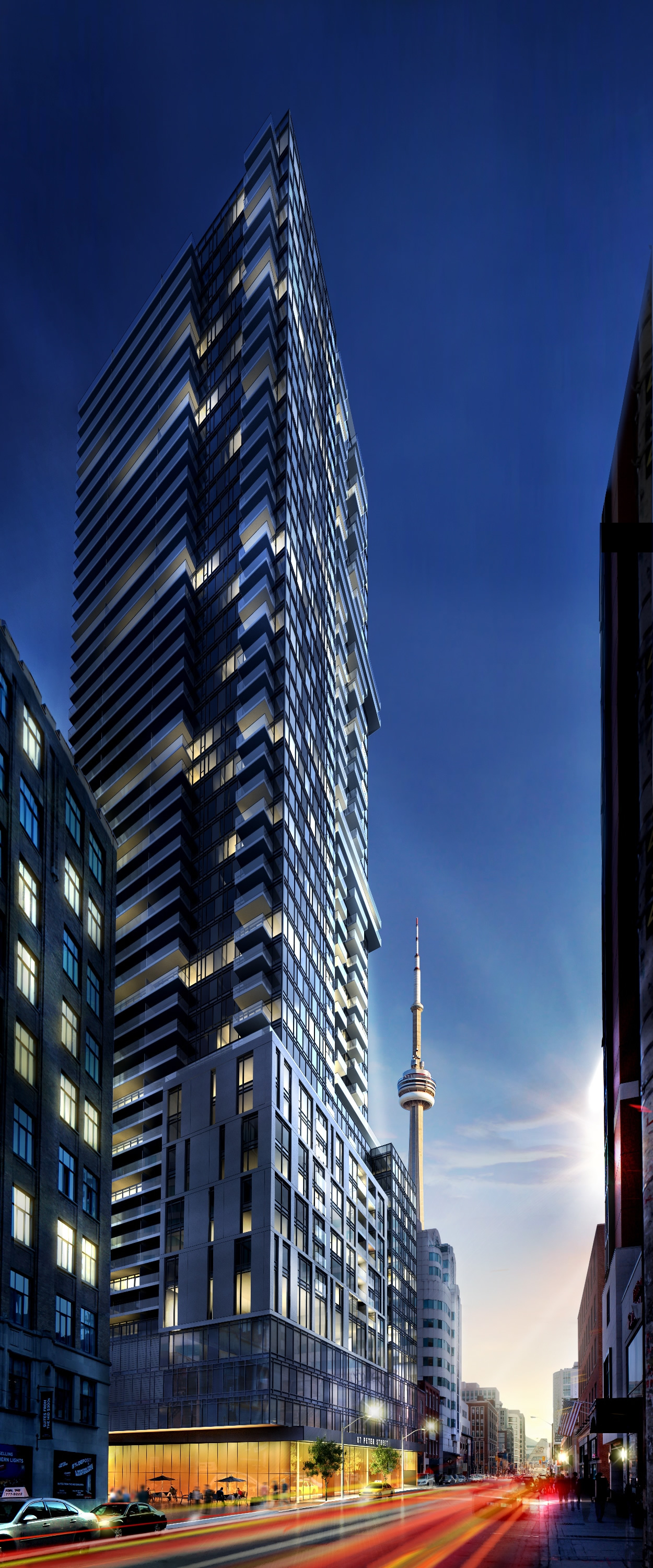 Head to Toe Hero Shot of Noir Condominiums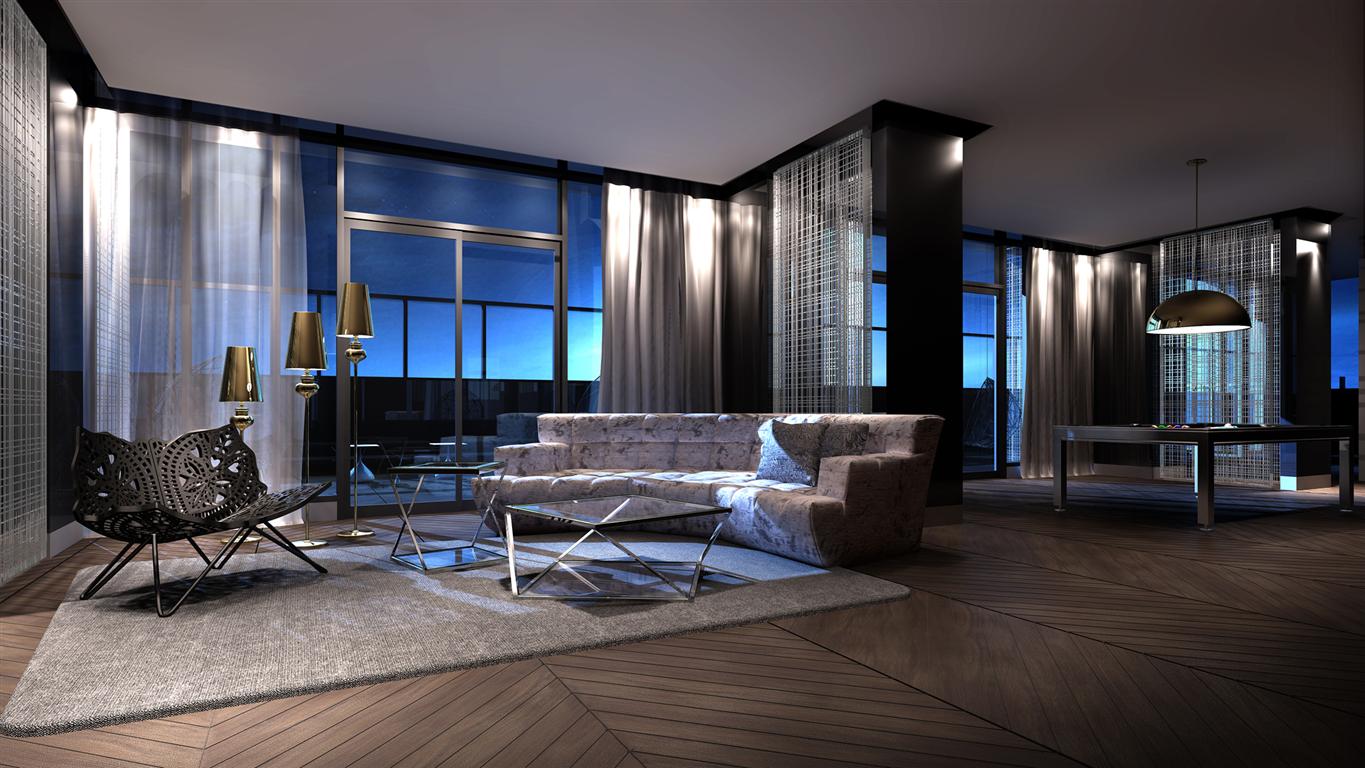 Sexy Games Room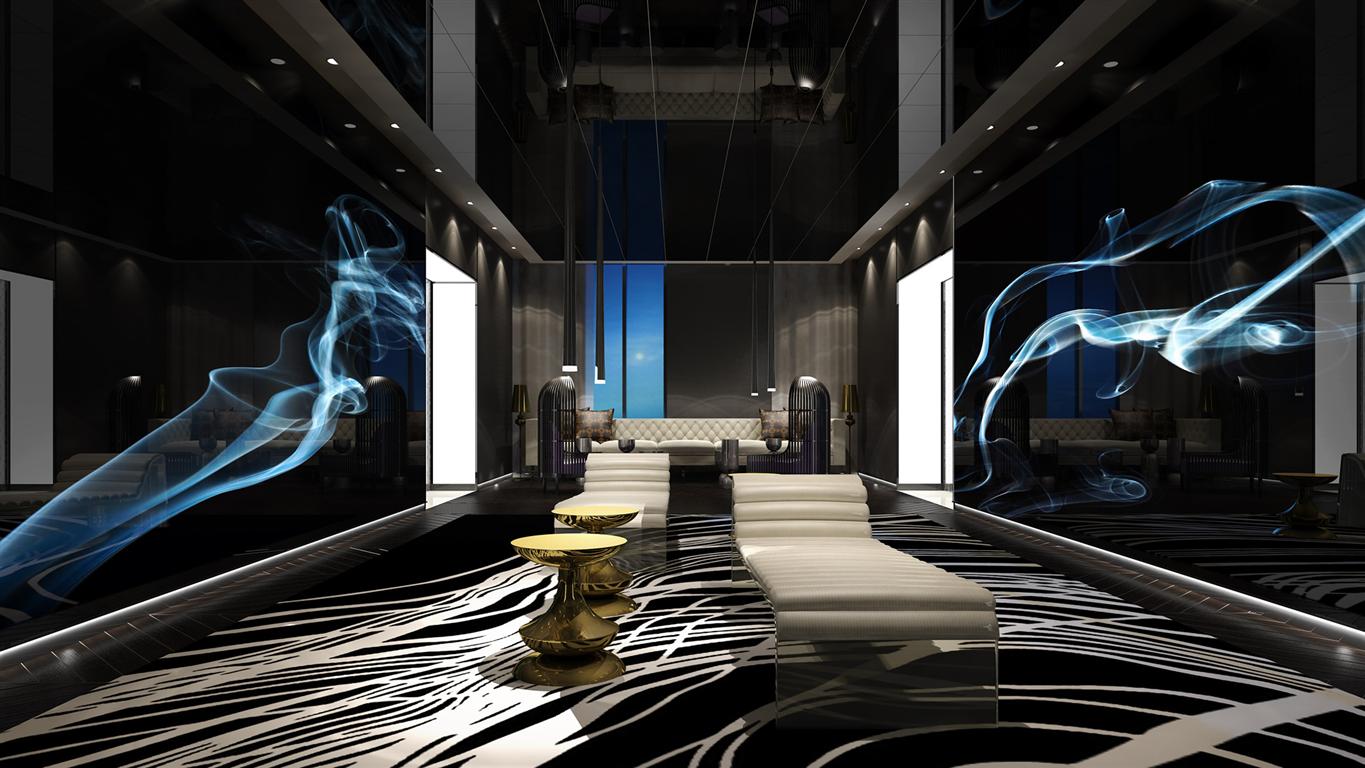 A Closer look at the Party Room featuing bold colours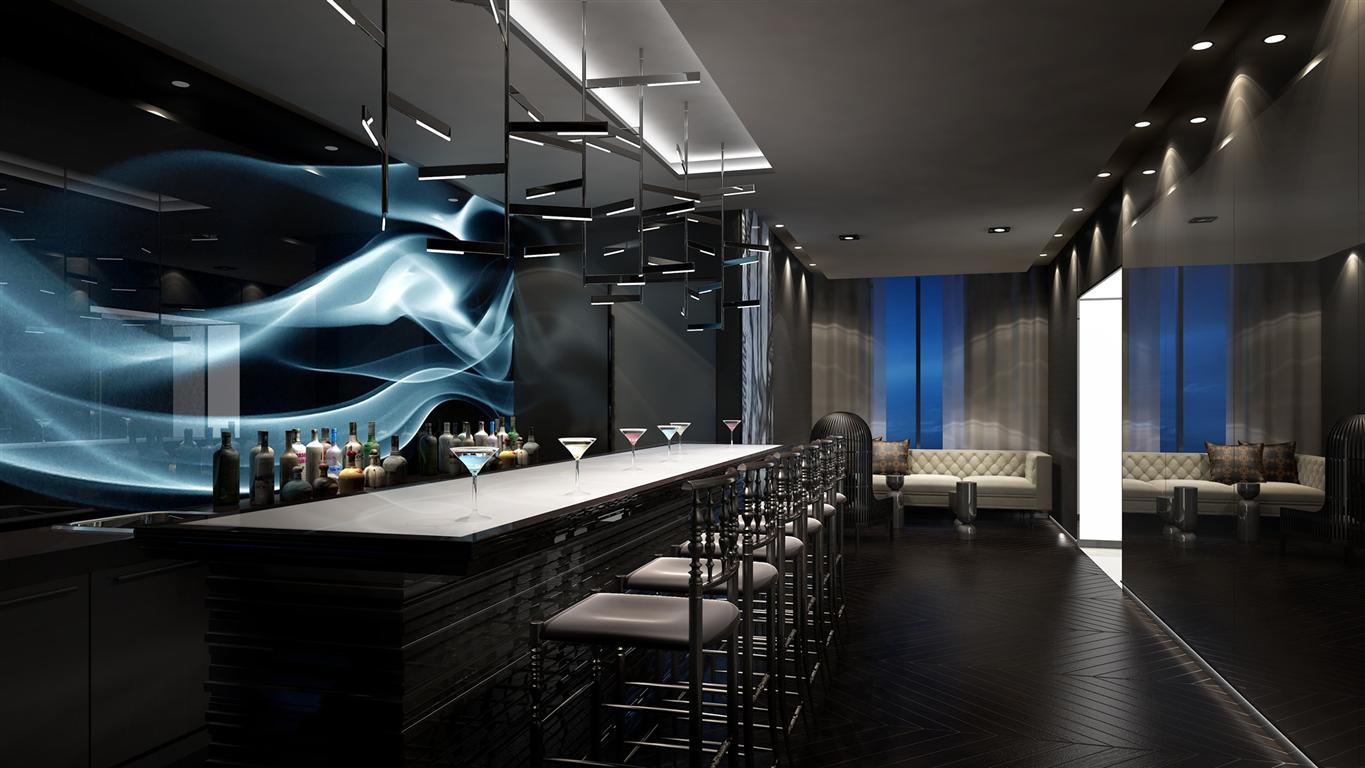 Slick bar available in the Party Room.  Double scotch on the rocks, please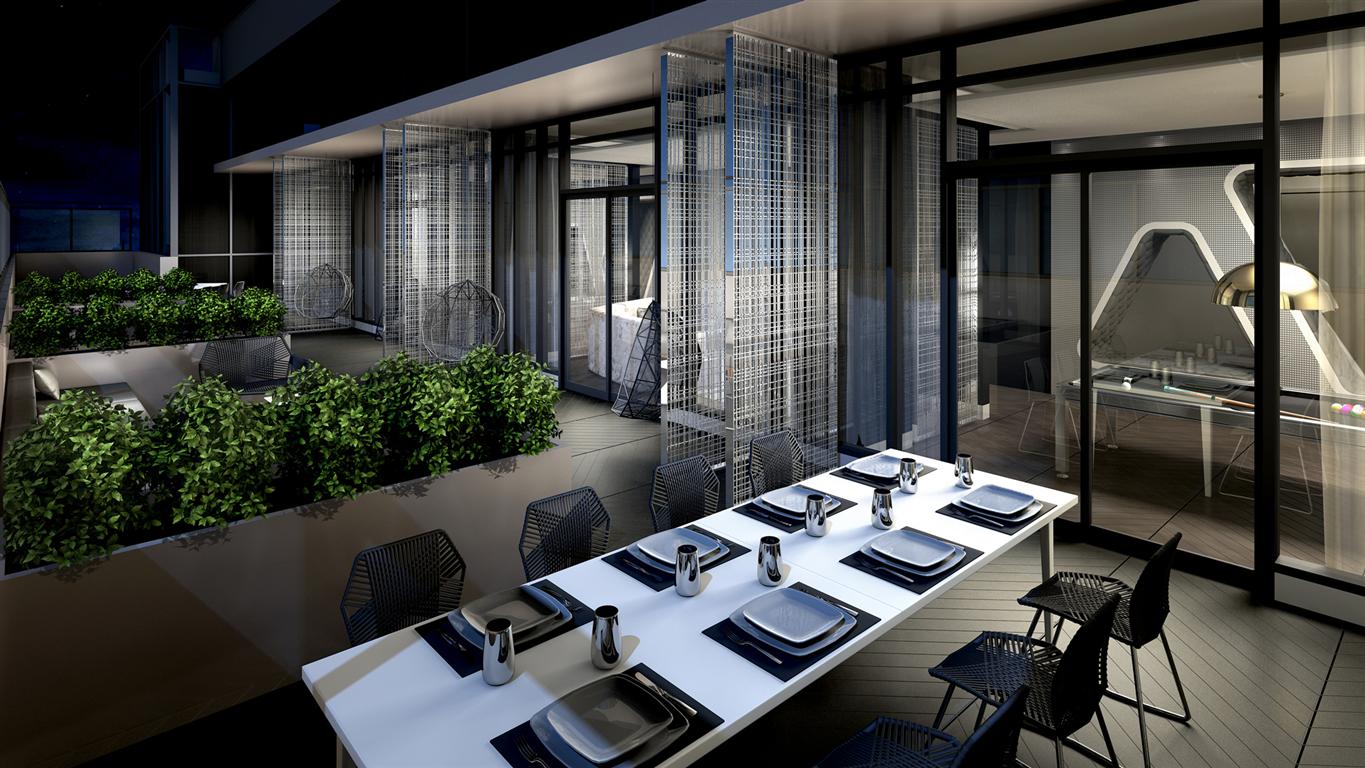 No Entertainment District Condo would be complete without an outdoor terrace!
Noir Condominiums by Menkes Developments will be launching to platinum agents in the coming days.  To get the scoop as soon as we receive the details, complete the registration form below!
Menkes Reveal Noir Rendering as Launch Nears By: Amit Bhandari / March 30, 2012
Noir Condominiums is a project that interests us in a big way.  Not only is it located in the super popular Entertainment District (and just a stones throw from some of our favourite projects in the past; The Bond and Peter Street Condominiums) but it also signals a return to high rise for Menkes Developments.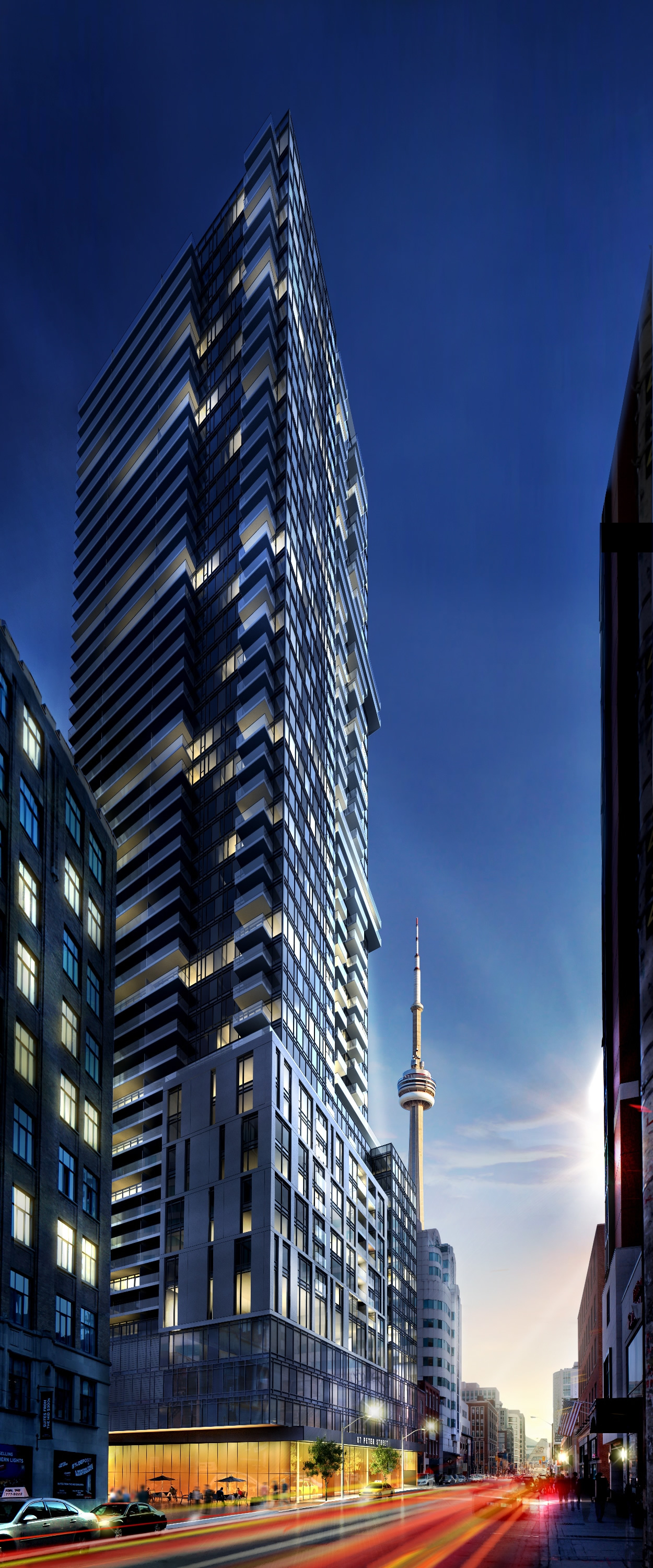 First Full Look at Noir Condominiums: Standing 49 Storeys at Peter & Adelaide
Since Lumiere and the Four Seasons Private Residences, Menkes have been relatively quiet on the Downtown Toronto development front, however, their recent land acquisition frenzy has seen the developer make a real statement of intent to become one of the big players in the market.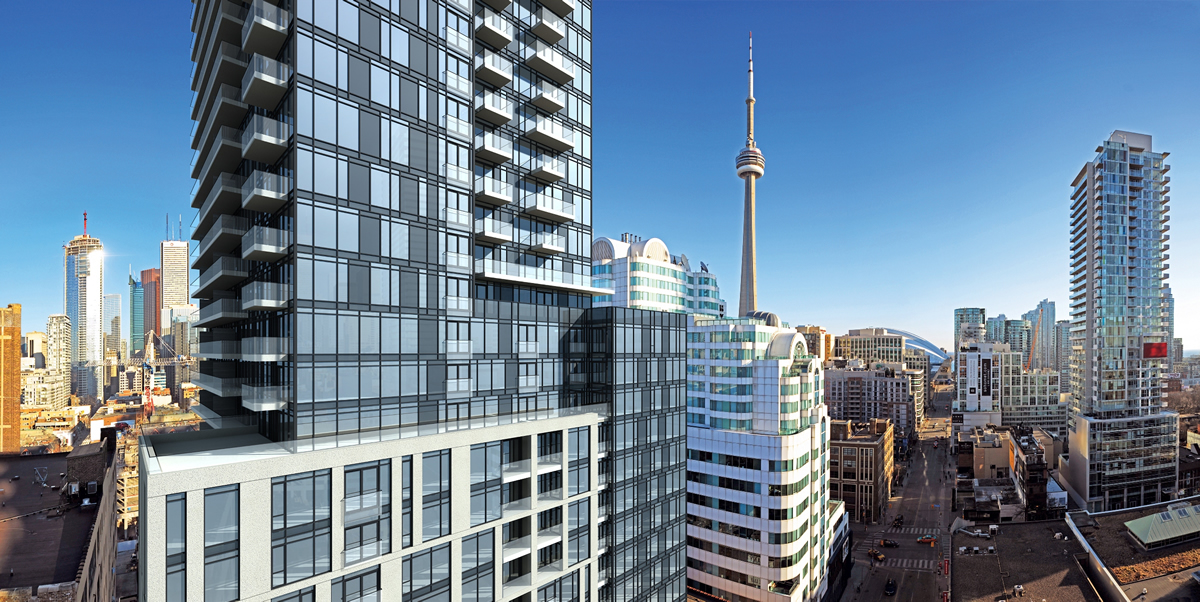 Menkes Rendering highlights the proximity to King West and the Financial District
Earlier this week we got a "teaser" look at Noir (above) that highlighted the incredible location of the development, sitting just North of the Hyatt on King and West of the Financial District.  The developer describes the location of the project as "their biggest amenity" with quick access to Restaurants, Night Life, Rogers Center, and of course Festival Tower, the new home of the Toronto International Film Festival.
Noir Condominiums will be launching exclusively to Platinum Agents in the coming weeks.  To keep right up to date with the project, complete the form below!
Menkes Teases Us With First "Noir Condos" Rendering By: Amit Bhandari / March 23, 2012
Menkes are gearing up for the launch of Noir Condos, their 49 storey condominium tower in the Entertainment District.  Located just south of Adelaide & Peter Street, Noir Condominiums is located in the heart of everything great about this neighbourhood.
Developers are flocking to the Entertainment District as the area continues to grow.  In the last 12 months or so, Tableau, Peter Street Condominiums and The Bond (among others) have enjoyed huge success with their condominium projects and Noir Condominiums looks like it will be following the trend of high design, high quality residences in one of Toronto's fastest growing neighbourhoods.
Menkes are known for building high quality buildings, and are currently in the middle of finishing a small hotel project in Yorkville by the name of "Four Season".   We recently got a sneak peak at Noir (which will be launching in the next couple of weeks to Platinum agents) and we LOVE what we're seeing: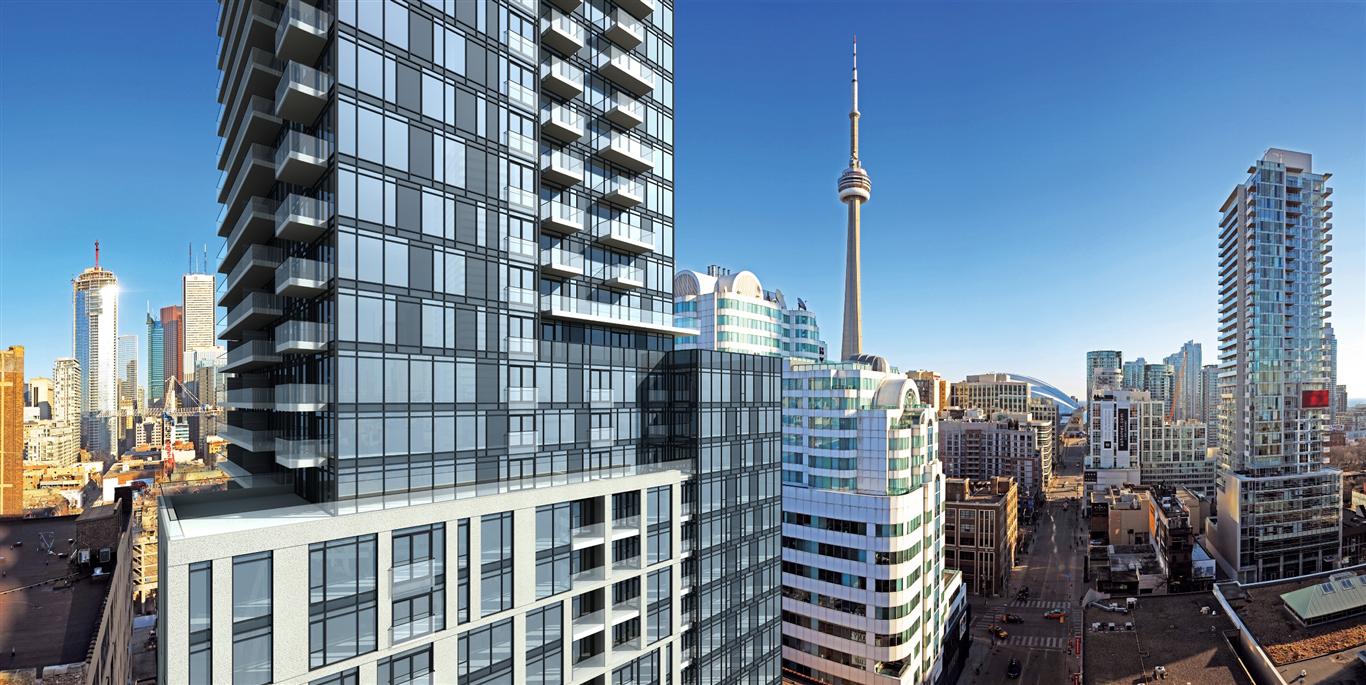 First rendering of Noir really gives us a sense of the location and views.  CN Tower and Rogers Centre to the South and the Financial District to the East.  Noir itself will feature a lot of "Black" (hence the name) and Grays in the design.
Noir Condominiums checks all the boxes and has all the ingredients to be an excellent condominium for investors: excellent location and developer.  To register for Noir and to get all the information as it becomes available, complete the registration form below!
Noir Condos Coming Soon to Entertainment District By: Amit Bhandari / March 12, 2012
In case you haven't heard, Menkes Developments have been on a serious land acquisition frenzy in Toronto in recent months… and that's a good thing!
In the last few months, the popular developer have announced the pending launch of no fewer than five condominium sites including Fabrik Condos (already launched to much success), 365 Church Condos, 1 York (2x 70 Storey Towers!) and most recently they announced the acquisition and pending launch of Noir Condominiums which has really caught our eye.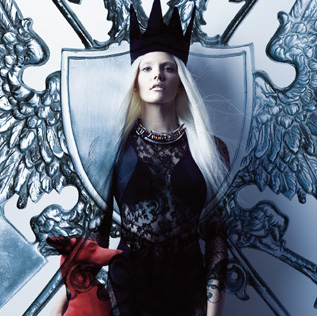 We're not entirely sure what a red stone dog has to do with selling Condos, but it definitely caught our attention!
The site, located at 87 Peter Street (on Peter Street between King Street West & Adelaide) is in the heart of the Entertainment District.  We have written at length in the past about the huge growth and opportunity for investors in the Entertainment District and quality developers continue to flock to the location.  The popularity of the District was spurred on by the re-location of the Toronto International Film Festival to King West & John Street and the neighbourhood has undergone a huge face lift in the last few years, with high end restaurants, high end hotels and now high quality condominiums choosing to make the Entertainment District the next major "Hot Spot" in Toronto for years to come.
Noir Condominiums is the latest condominium to launch and is located on Peter Street, south of two of the most successful launches in the last two years: Tableau Condominiums and Peter Street Condominiums.
While specific details are currently scarce, we do know that the project will stand 49 Storeys with 550 residential suites (ranging from Studios to 3 Bedroom) with architecture from celebrity designer Mike Niven of Core Architects (Recent projects include The Bond Condos, 12 Degrees, M5V among many others).  We have been told to expect "a dramatic and modern exterior design".
TalkCondo loves the Entertainment District, and we love it even more when Toronto's top developers are bringing condominium projects to the area.  Noir is most definitely on our radar and we can't wait to get more detailed information on the project.  To keep bang up to date, register for our Insiders Club using the form below!
Peter Street Condos – What We Know By: Amit Bhandari / March 21, 2011
The signage for "Peter Street Condos" was recently installed on site at Peter & Adelaide (see image below) and we have had a number of e-mails asking us about the development.  Here is the truth: We don't know a great deal.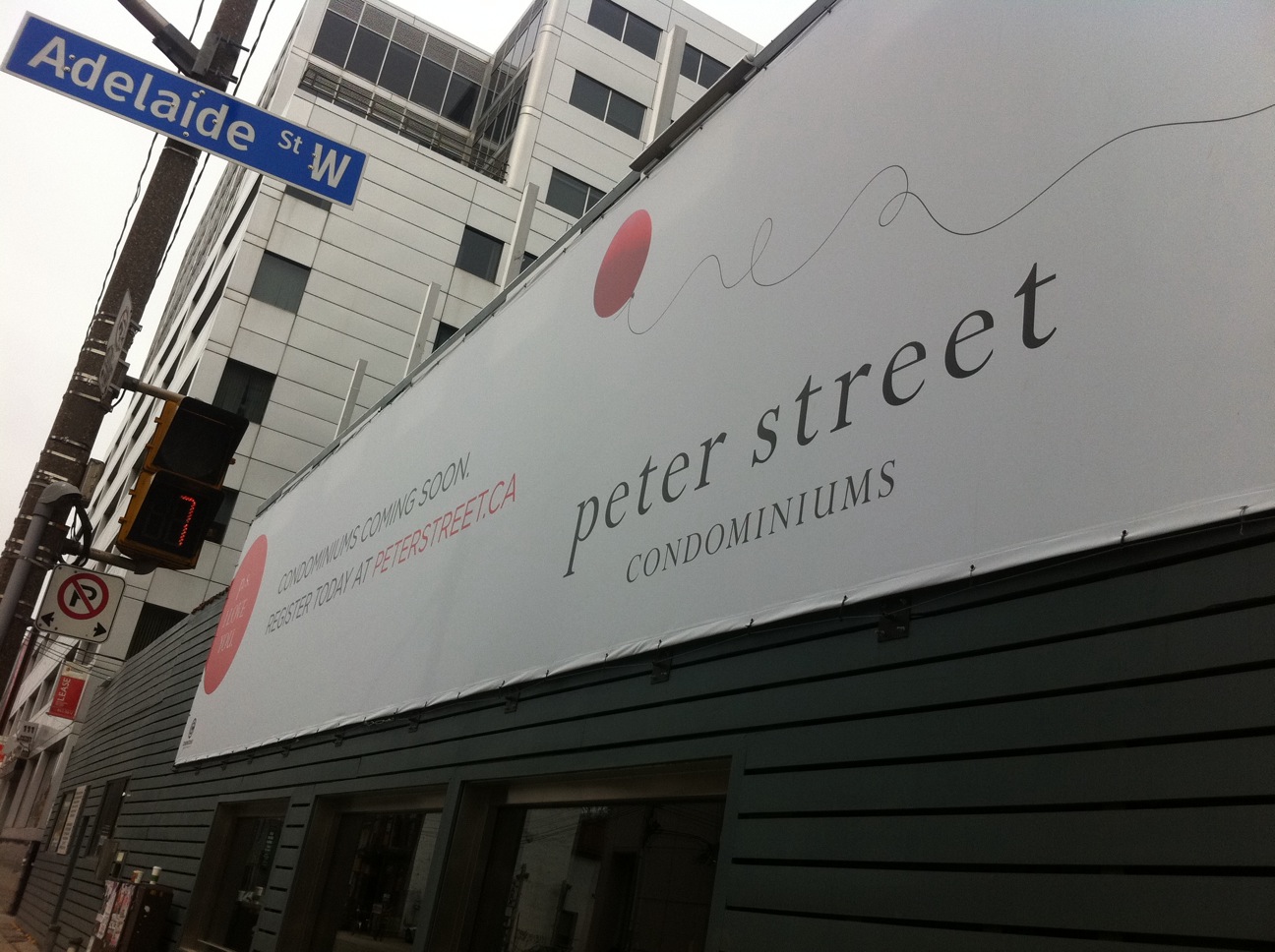 Signage on the existing building, which will be demolished to make way for a 40-storey condo tower
The location of the development makes it a very interesting development.  It will be located a stones throw from both Cinema Tower and Tableau in the smoking hot Entertainment District.  The existing building will be demolished to make way for a 40-storey condominium tower designed by architectsAlliance (Think CASA, Four Seasons, ICE, 18 Yorkville, Pier 27 among others).
The development will feature 40 storeys including 11 storeys of podium (plus a 29 storey tower), 330 units of residential, almost 3,000 square feet of retail on the ground level and approximately 16,500 square feet of office space.
WHAT IS AROUND PETER STREET CONDOS?
Immediately to the North of Peter Street Condos sits a 9 storey office building which is unlikely to go anywhere anytime soon (note, the ceilings in the office building are higher than the traditional residential ceilings, so this is more like 13 storeys for the sake of views), and north of that sits Tableau at 36 Storeys.
To the East sits a 6 storey office building fronting on Adelaide West and beyond that, an 8 storey office building.
To the West of the site is a 3-storey Victorian house and is listed as a Heritage Property.
Finally, to the South sits the Hilton Garden Inn standing at 16 storeys.
WHAT WILL IT LOOK LIKE?
We are still waiting for a final rendering of Peter Street Condos, however, there are a few wire drawings from the preliminiary report.  These designs may change but it does give us an idea on what to expect.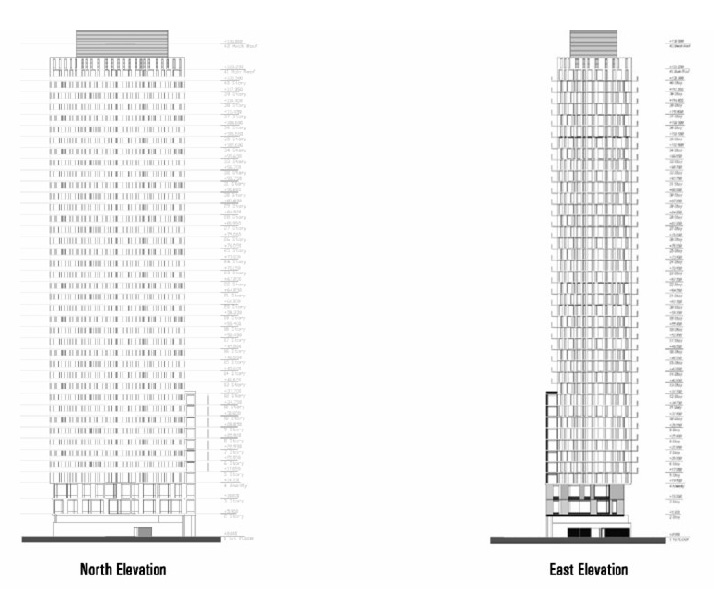 Wire drawings of North and East Elevation of Peter Street Condos (Click for larger image)
There is a lot of early buzz about this development.  TalkCondo will keep right up to date with the latest – keep checking back and contact us below if you want to keep right up to date with any VIP Launches!