Ten York Release Penthouse Suites By: Roy Bhandari / December 12, 2012
Ten York Condos has enjoyed enormous success, selling 90% of the suites in the first two weeks.  The Tridel project is located just south of Air Canada Centre and will stand an incredible 69 Storeys.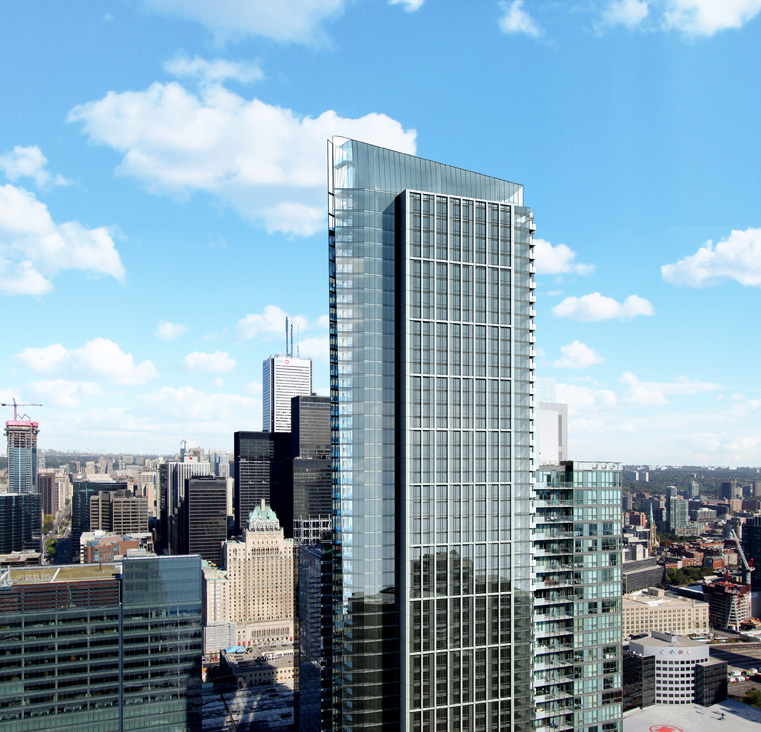 Looking North: Sweeping City Views to the North of Ten York
The Penthouse Suites, named the "Signature Collection" include larger suites ranging from 1,176 sq.ft. to 2,251 sq.ft. and will occupy the top floors of Ten York and offer some of the best views of Toronto.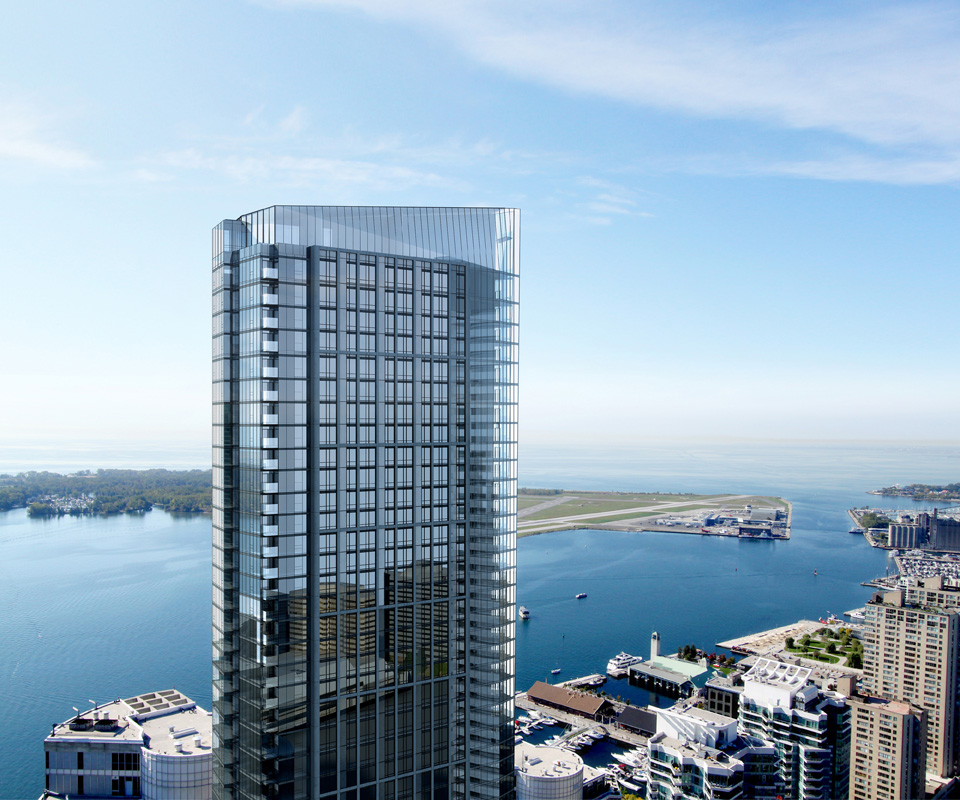 South: Serene and unobstructed views to the South
The Signature Collection ranges from $985,000 to $2,530,000 and feature a variety of upgrades including 10′ ceilings and premium kitchen appliances.
For more information and availability on the Signature Collection, complete the form below!
Ten York a Huge Success By: Roy Bhandari / November 18, 2012
You may have noticed that the last couple of weeks have been a little quiet at TalkCondo, that's largely due to the fact that we have been spending our hours at the head office of Tridel and anyone wondering about the health of the pre-construction market should take a look at the incredible success of Ten York Condominiums.
We had lauded the project as an incredible investment opportunity due in part to it's location, high quality and established developer and the amazing value with prices starting in the low $600 per square foot range.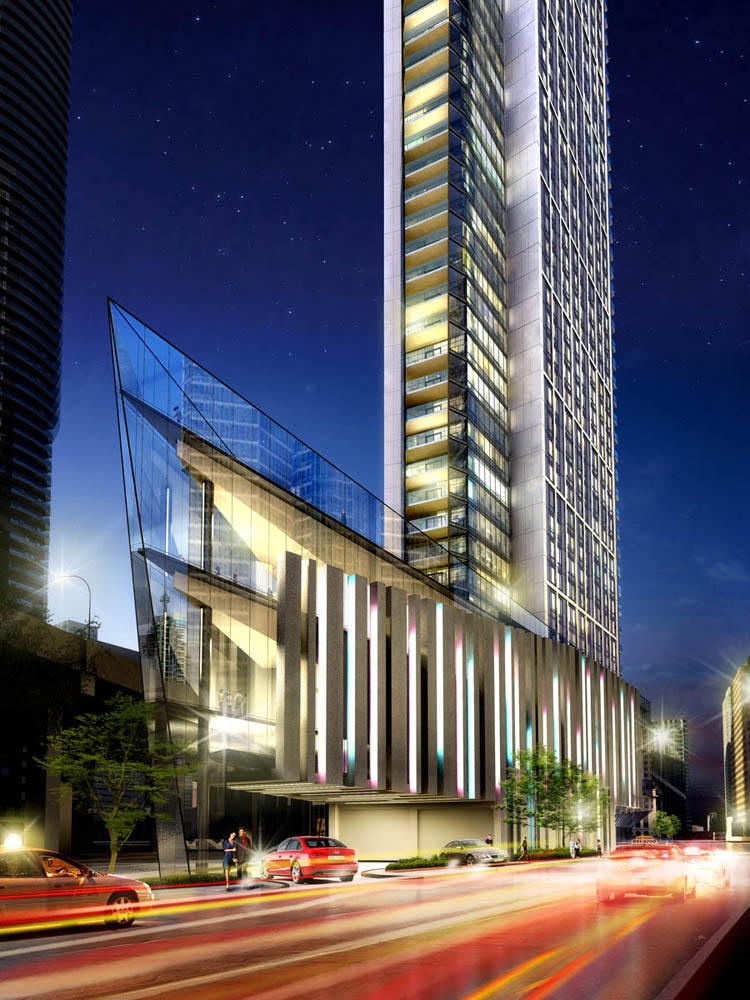 Ten York's awesome flatiron podium caught the imagination of buyers with Tridel boasting 88% sold after the first weekend.
And boy, were we right!
Ten York sold 88% of released inventory (600 units) in the first weekend of sales making it one of the fastest selling project of the year.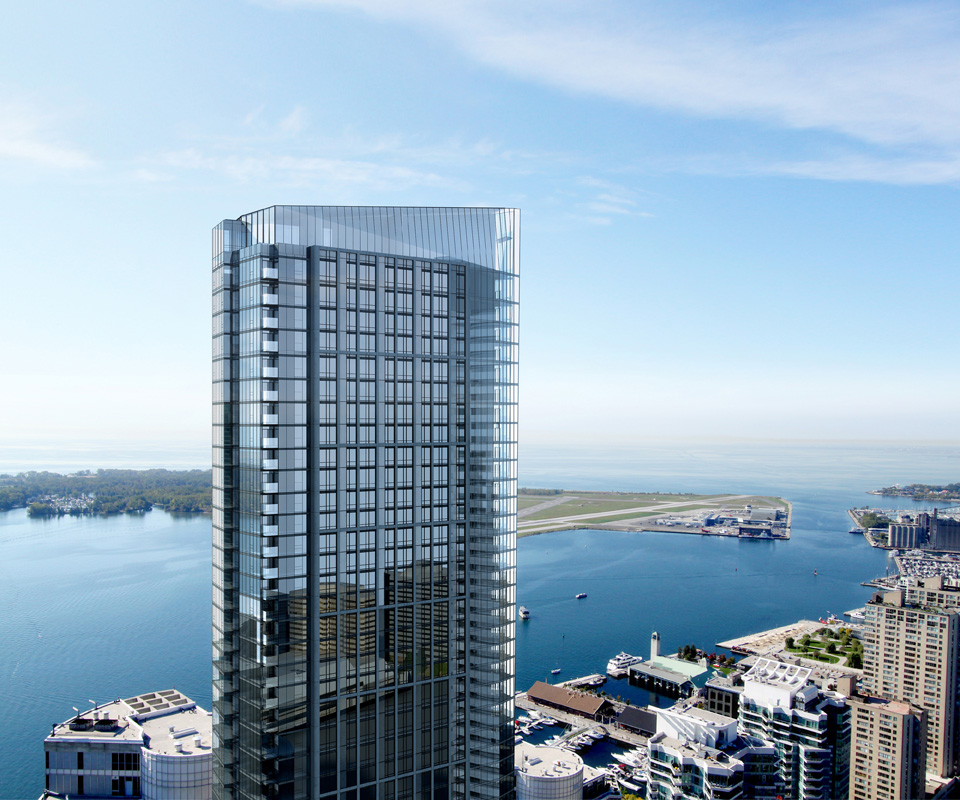 Incredible Views no matter which way you're facing
The condominium will rise 65 storeys on a pie-shaped lot wedged between the Gardiner Expressway and Harbour Street in the booming South Financial Core and will join other popular residential towers such as Maple Leaf Square, ICE and the upcoming Harbour Plaza Residences.
A huge congratulations to Tridel and all of our clients who were lucky to purchase
Ten York is Here And You Need To Check it Out! By: Roy Bhandari / October 20, 2012
It's no secret, we think Ten York is seriously awesome.  Any condominium investor should have a long hard look at the project because it checks all the right boxes – location, design, quality developer and perhaps most importantly: incredible value.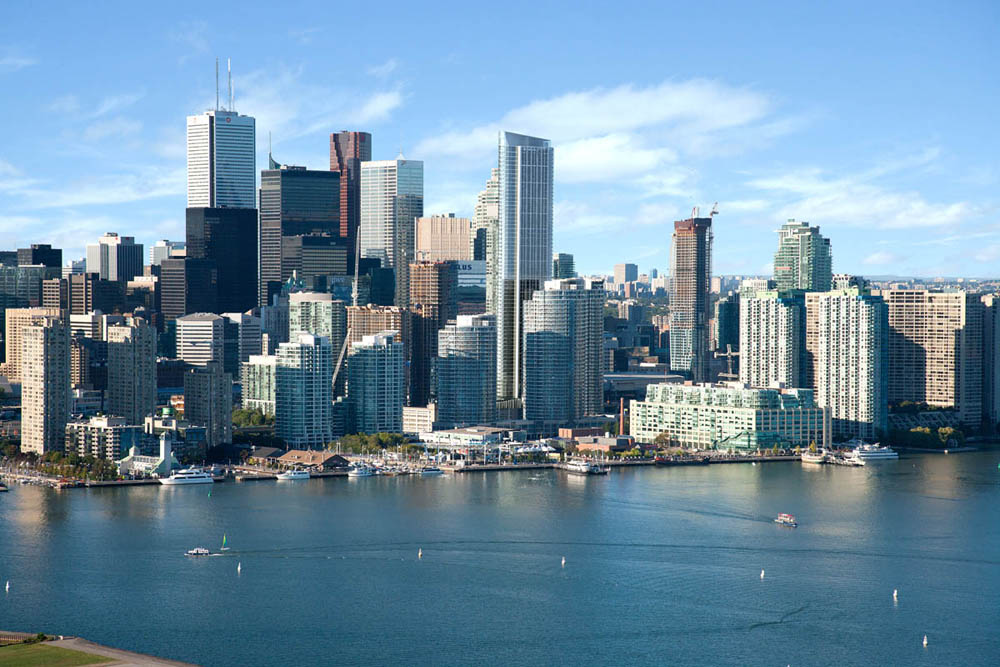 Ten York will be a staple of the Toronto Skyline
The project is located in Toronto's "South Financial Core" where it is expected that an additional 10,000 new jobs will be added by the time Ten York is built.  Residential buildings such as Maple Leaf Square and ICE have helped increase the profile of the neighbourhood.  The proximity to the Air Canada Centre and Union Station doesn't hurt, either.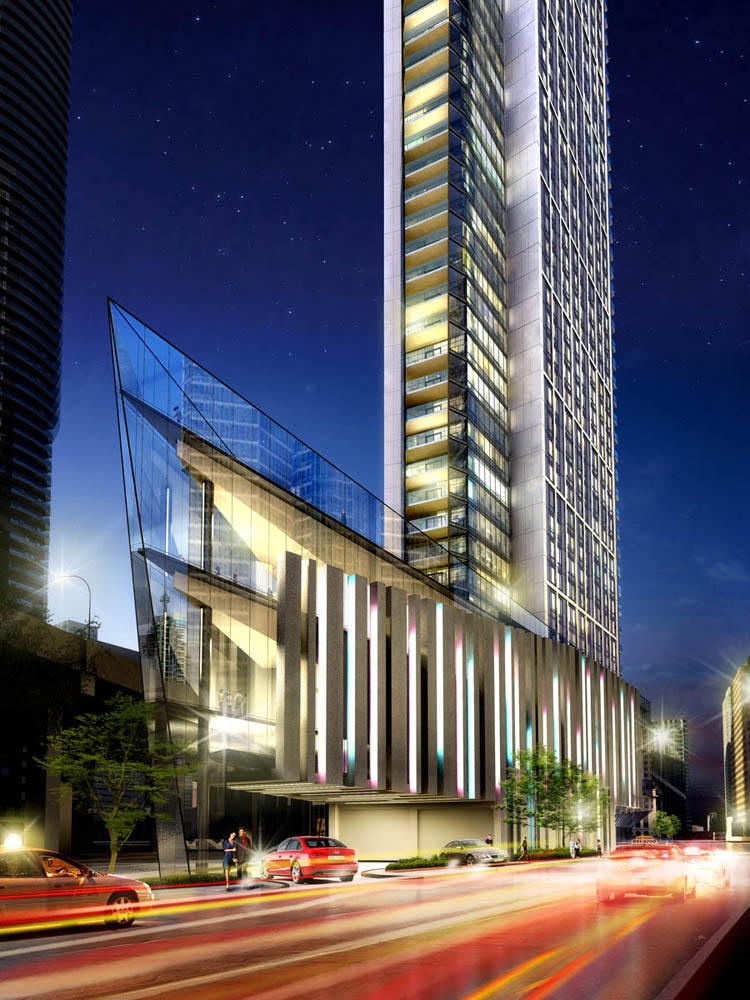 The building will feature a stunning podium that connects the building to the street and houses the amazing amenities of Ten York
Standing 69 storeys and located at the gateway of Toronto means that Ten York will be a staple on Toronto's skyline so it was important for the design to be iconic.  The flatiron shaped building will feature almost 700 suites and all the amenities you would expect in a Tridel condominium.
We have already spent some time talking about how well priced Ten York is, but it's worth repeating.  Starting at just $620 per square foot, Ten York is priced better than existing resale condominiums in the neighbourhood and over $100 per square foot cheaper than ICE Condominiums was selling over a year ago! (For a full analysis of the price of Ten York, click here).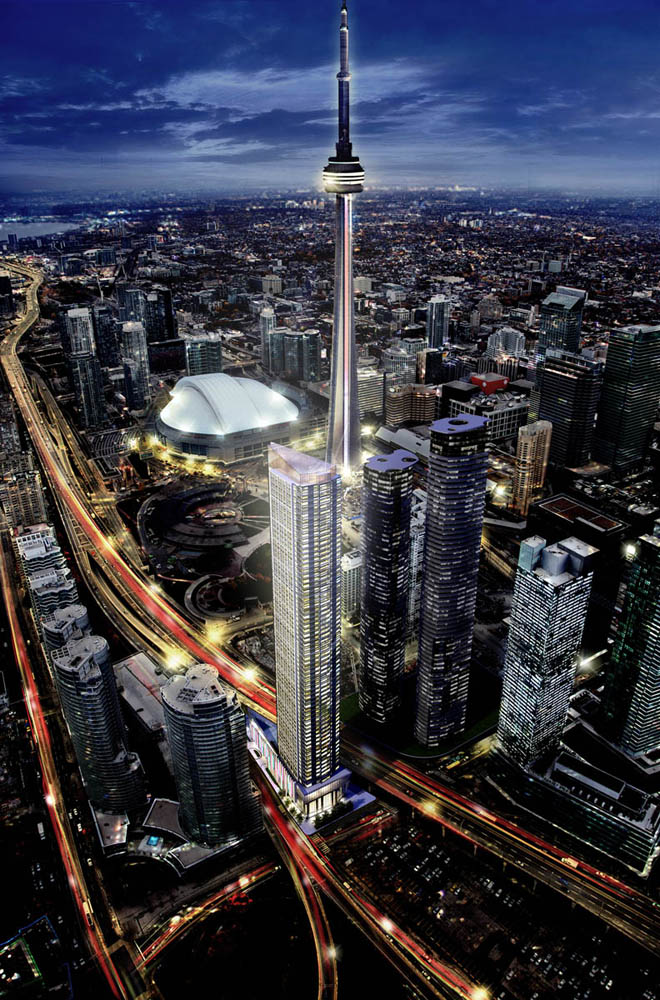 Ten York is among the best priced condominium projects we have seen in years
Ten York prices and floor plans are now available and we are taking suite reservations starting immediately.  For all the details, complete the registration form below!
A View to Die For: The Views of Ten York By: Roy Bhandari /
For the uninformed, 69 storeys is tall.  Real tall.  The views on offer at Ten York are spectacular to say the least whether you prefer serene water views or bustling skyline views.
The location of Ten York at the foot of Toronto allows for incredible lake views to the south and sprawling city views to the north.  The suites feature floor-to-ceiling windows to ensure you enjoy whatever flavour of view you choose.
I could easily write 300-500 words on how amazing the views are, but really, what's the point? I'm going to let the pictures to the talking.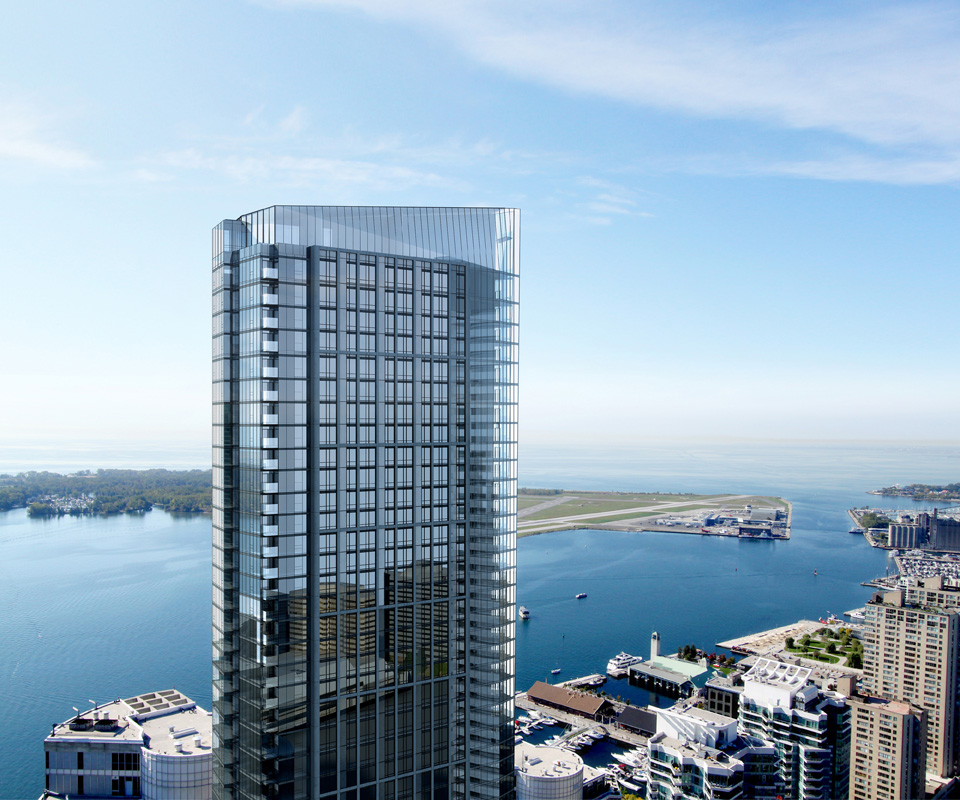 Ten York looking South over the Harbour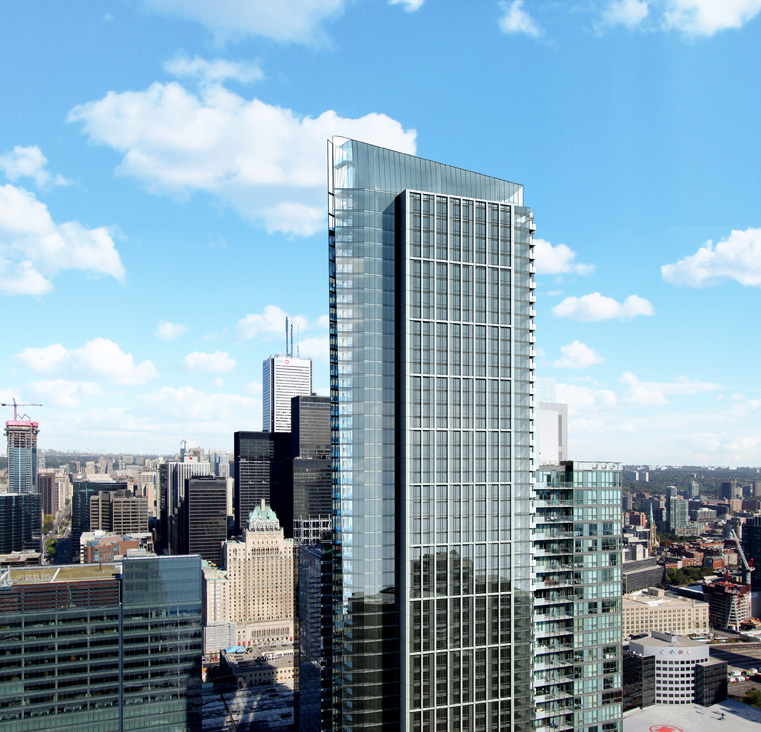 City Skyline views to the north feature views of some of Toronto's most iconic buildings


Actual West View from the 65th Floor of Ten York – Lake: Check.  CN Tower: Check.  Awesome: Check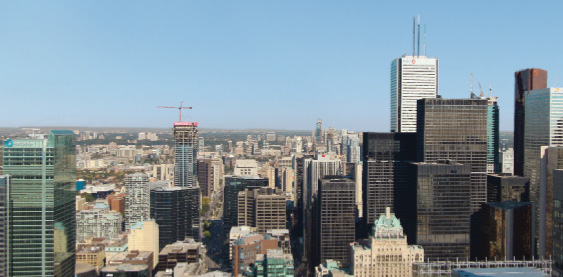 North: Shangri La, First Canadian Place, Trump, Scotia Plaza – it's all here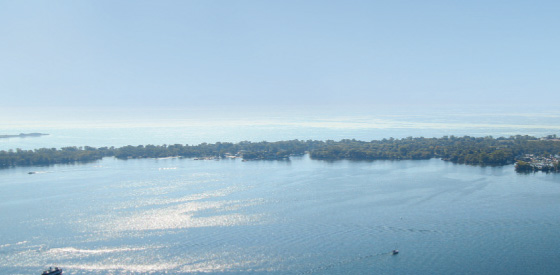 Incredible water views to the south
Ten York is now available for VIP agents.  For floorplans, prices and opportunity to purchase – complete the form below!
A Look at The 1,305sq.ft. Unique Suite at Ten York By: Roy Bhandari /
One of the more interesting suite options at Ten York Condominiums is an incredible 1,305 sq.ft. suite that sits at the western tip of the building and features a mind blowing South-West-North panoramic view.
The flat-iron-esque shape of the building gave the developer a unique opportunity to create something special at the corner of the building.  Acting almost like the tip of a ship (I'll save the "I'm the King of the World" reference for later….) the suite features 3 bedrooms and an open concept living, dining and kitchen area that is second-to-none.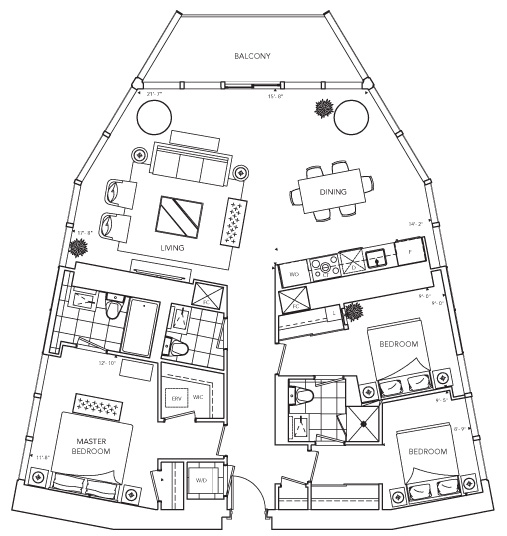 3 Bedroom 1,305 square foot unit with South, West and North Exposure.  The open concept living space would feature panoramic and unparalleled views


Panoramic views as good as anything you will see in the City.  South, West and North views of Toronto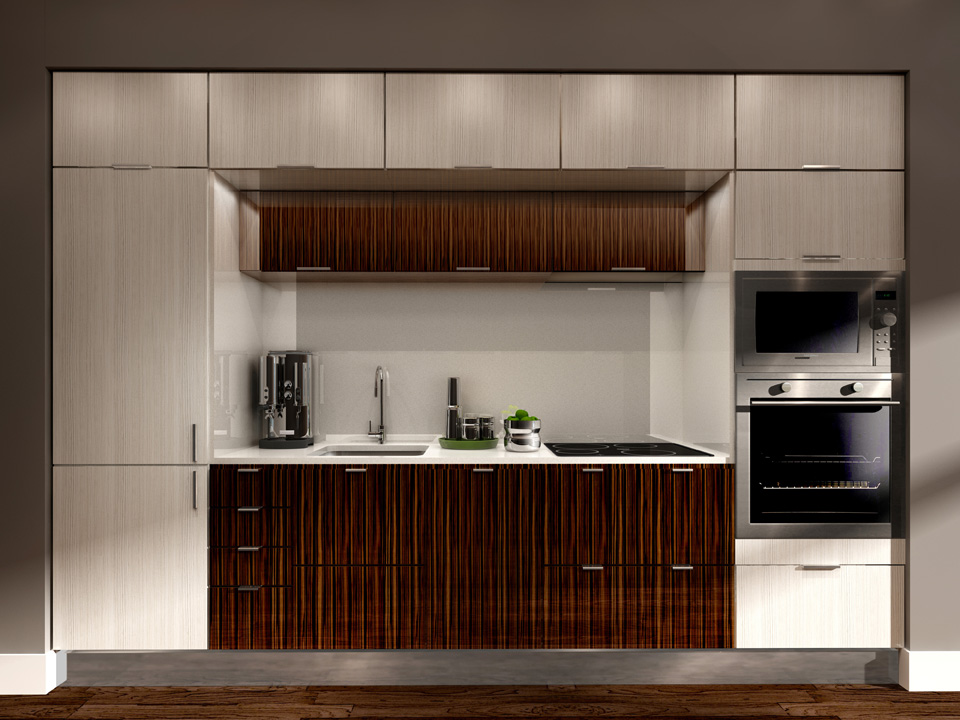 Kitchens feature slick and built in designs
The suite is available starting on the 29th floor and starts from $900,000 and reservations start immediately.  For more information on this amazing project and this suite, complete the form below!
Ten York Price Analysis: "One of The Best Priced Projects in Years" By: Roy Bhandari / October 15, 2012
There are a number of things that will blow you away about Ten York Condominiums, and perhaps the most important part is the price.  Ten York Condos is VERY aggressively priced during the initial launch to Platinum Agents and offers incredible value in one of Toronto's most sought after condominium developments.  So what are the prices?
Average Price Per Square Foot on the 18th Floor: $625
Average Price Per Square Foot on the 36th Floor: $640
Average Price Per Square Foot on the 56th Floor: $705
From the 8th Floor:
1 Bedroom (564sq.ft.) starting at: $345,000 ($611 per square foot)
1 Bedroom + Den (630sq.ft.) starting at $378,000 ($600 per square foot)
2 Bedroom (831sq.ft.) starting at $517,000 ($622 per square foot)
The prices highlighted above offer amazing value and make Ten York one of the best priced condominiums in the City.  To hammer home the point even further, we took a look at the resale values of Maple Leaf Square, located just north of Ten York.  The average price below are for the last 5 sales.
| | |
| --- | --- |
| Type | Average/Sq.Ft (Last 5 Sales) |
| Studio | $687.50 |
| 1 Bedroom (No Parking) | $676.59 |
| 1 Bedroom (Parking) | $695.17 |
| 1 Bedroom + Den (No Parking) | $627.94 |
| 1 Bedroom + Den (Parking) | $695.17 |
| 2 Bedroom (Parking) | $737.31 |
The sales above highlight that the average price of the area is trading in the upper $600's per square foot and many sales starting to creep into the $700's per square foot range.  This makes Ten York priced BETTER than the condominiums on today's marketplace and will be closing in 2017!
Nearby condominium project "ICE" by Lanterra was priced at approximately $600-$625 per square foot when they originally launched, similar to Ten York's pricing today.  ICE sold remaining inventory last year as high as $800 per square foot!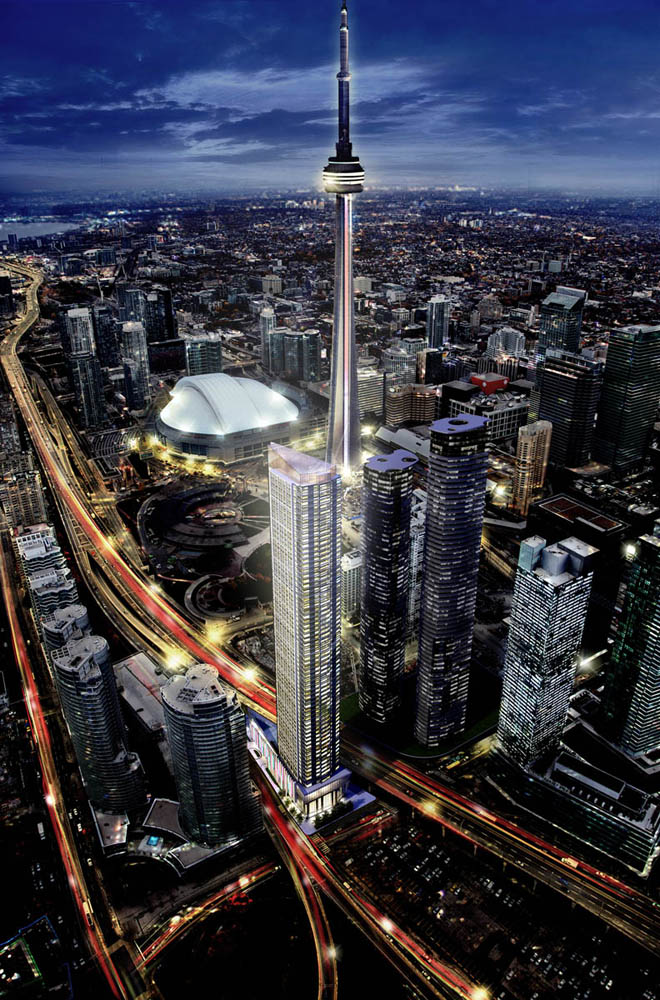 We cannot emphasize this point enough: Ten York is among the best priced projects we have seen in years.  The scope of the project and quality of the builder (Tridel) is excellent and Ten York gets a huge stamp of approval from TalkCondo.
TalkCondo clients are previewing Ten York as we speak.  To get access to this project before it's too late, complete the form below!
Ten York Set To Blow Toronto Away By: Roy Bhandari / October 13, 2012
Tridel is set to blow away Toronto with the pending release of Ten York Condominiums, the stunning 69 storey tower located in the South Financial Core.  The project has everything going for it and will be selling at a price you won't believe .

It has been almost a year since Tridel announced the project in partnership with Build Toronto.  Since then, the project has undergone a dramatic re-design that gives it the iconic look that this project deserves.  Starting from the "crystal-like" podium rises an incredible 69 storey tower that will be among the tallest residential towers in Toronto.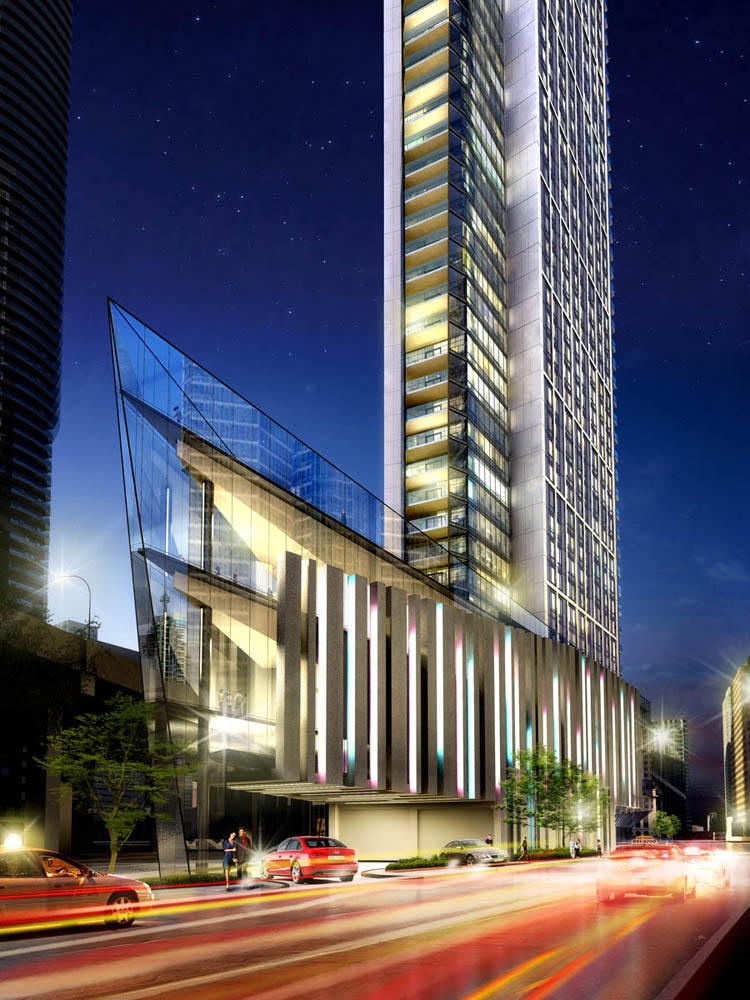 TalkCondo were given an exclusive early tour of the project and below is a first look at the mind-bogglingly large scale model (see image gallery below).
Ten York is located in the ever-popular south financial core at Lower York Street.  Popular condominium projects such as ICE and Maple Leaf Square have been enormous success stories and are a major reason for the growth of this neighbourhood.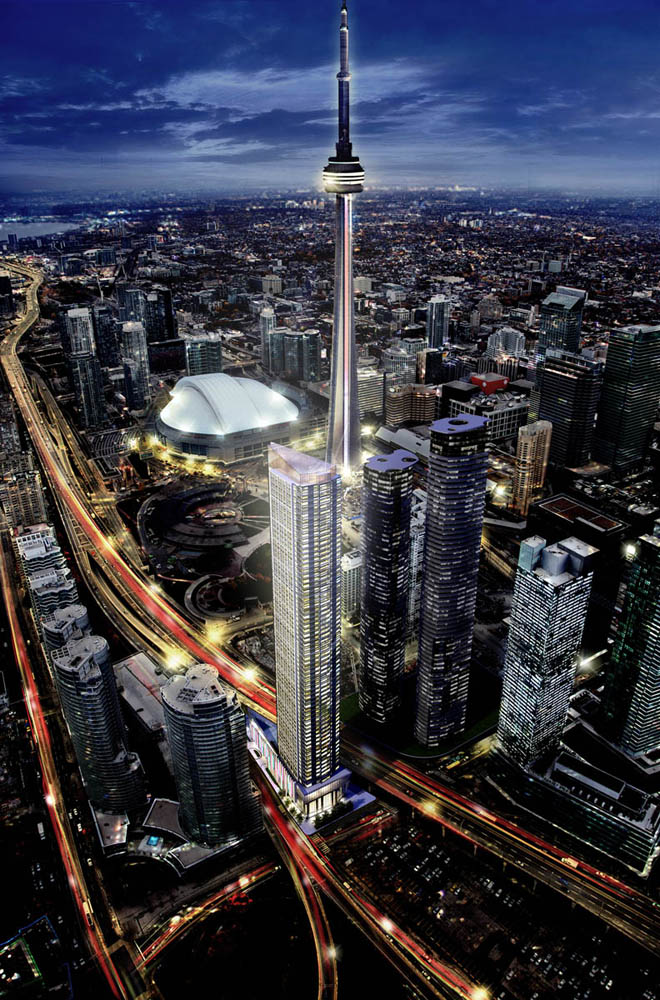 The location boasts easy access to the Gardiner, just steps to the Lake, quick access to the underground PATH network (via One York) and will be part of the amazing Waterfront Revitalization that is set to be completed in 2014.
The South Financial Core continues to grow with RBC WaterPark Place, One York Street and PWC Tower (18 York Street) all adding to the increasing employment opportunities in this area.  It is understood that 10,000 new jobs will come to this area in the next few years.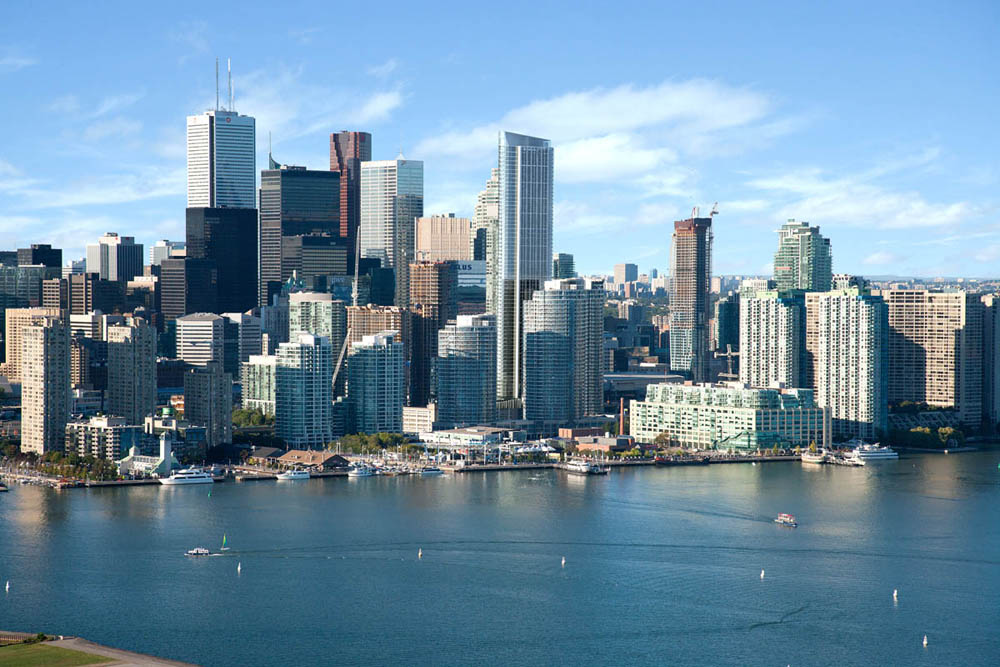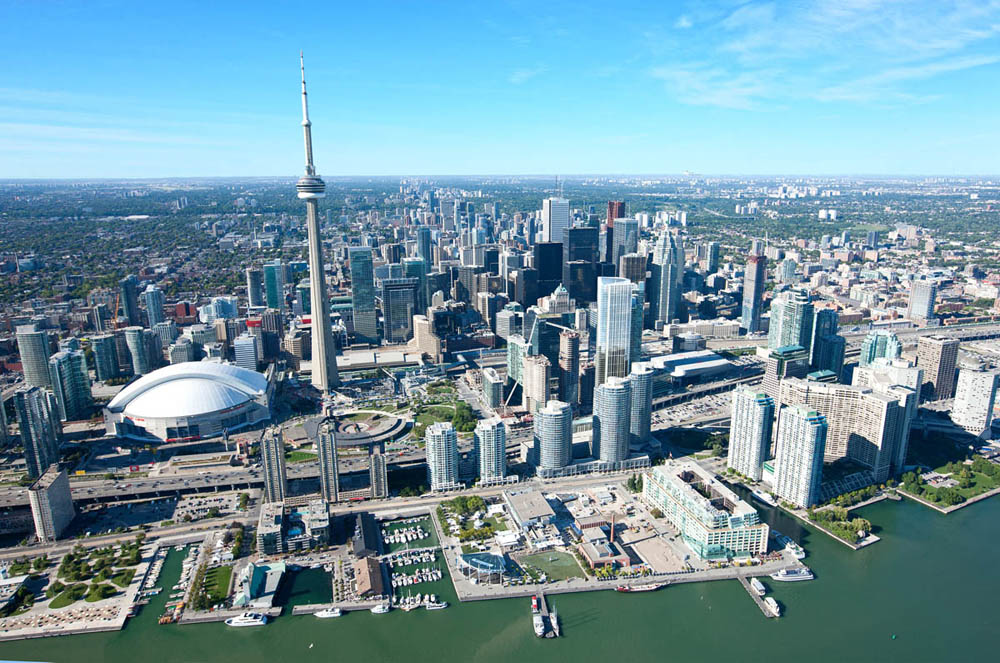 Let's not forget about the countless restaurants, bistros and supermarkets just steps from your door.
Ten York is launching in the LOW $600 per square foot range (that is NOT a typo.  I repeat, you can purchase at a luxury Tridel project in one of Toronto's booming neighbourhoods in the low $600 per square foot price range).
Over the coming days, TalkCondo will post detailed analysis of the pricing, views, project amenities and much more – but for now, just enjoy the amazing renderings and images of the scale model.
If you would like to receive priority access to Ten York Condominiums, complete the form below for all the information and one of our team members will contact you with full details.
Redesigned Ten York Now 68 Storeys By: Roy Bhandari / September 13, 2012
Perhaps the most anticipated condominium project of 2012, Tridel's Ten York will be launching this fall.  We can now confirm that the height of the development has been reduced from 75 Storeys to 68 Storeys and will feature a modified design from the square tower that we have seen before (pictured below).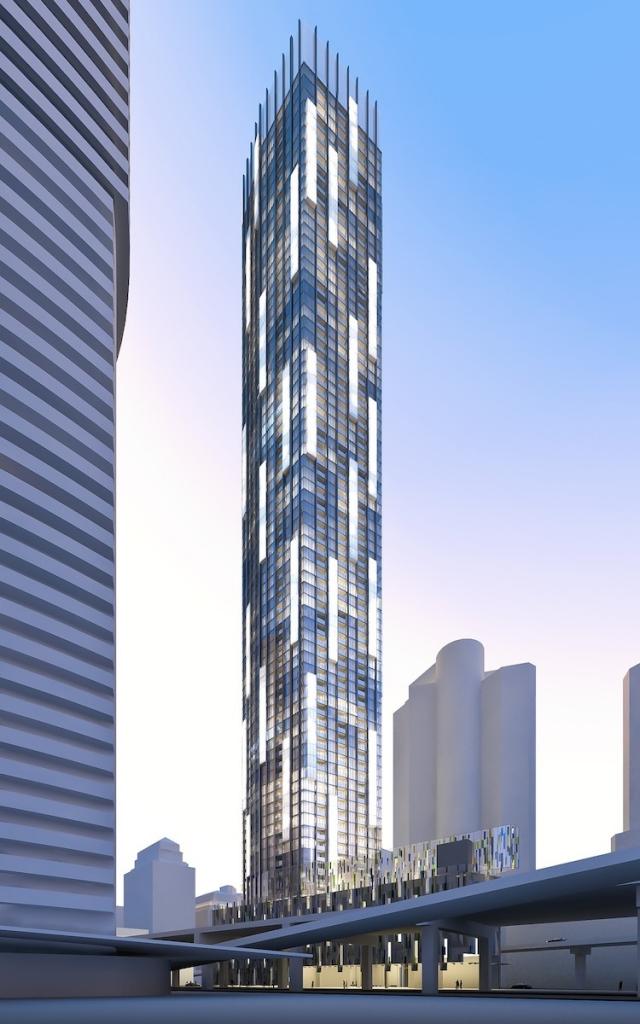 The old 10 York will be redesigned and now 68 storeys instead of 75
The new design will take advantage of the unique pie shaped lot and feature a stunning flatiron shaped glass podium and unique tower shape.  No official rendering has yet been released, but we do expect a flurry of activity for Ten York in the coming weeks.
To keep right up to date with this project and be among the first to have the opportunity to purchase, complete the form below!
Ten York Details & Updates By: Roy Bhandari / July 16, 2012
Ever since Tridel announced "Ten York", the 75 storey mega tower located in Toronto's new south financial core, it has been one of the most anticipated projects in recent memory.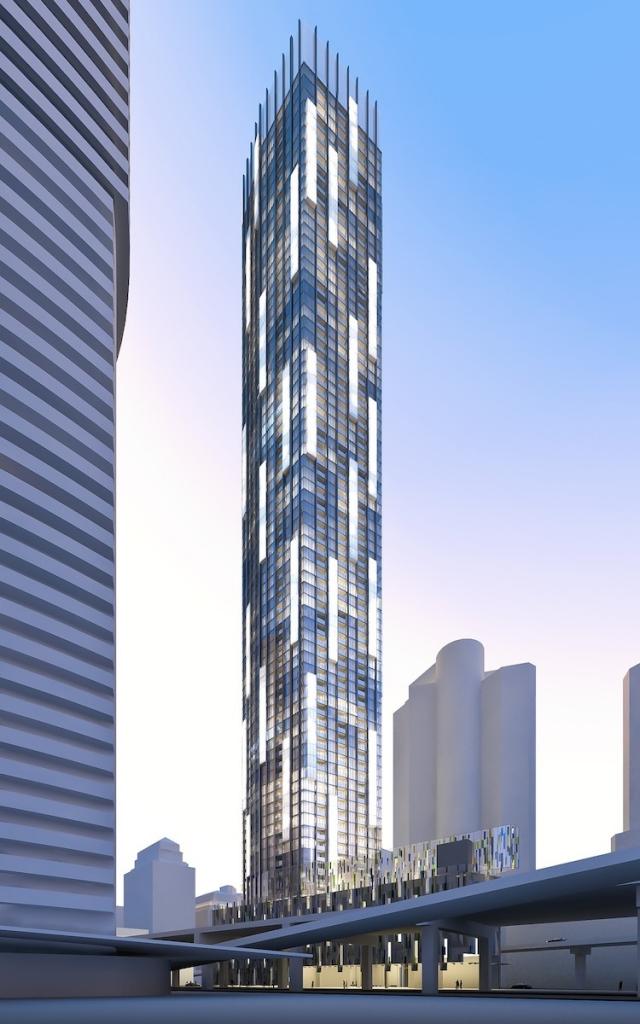 Head to Toe rendering of Ten York
Start with a AAA prime site, add arguably Toronto's most trusted developer to build one of the most iconic towers in the City and you have yourself a winner.  Ever since the initial press conference to introduce the project at the turn of the year, there has been a lot of speculation about when the project will be going on sale – the initial timeline of "late January" came and went, and now we're sitting in the middle of July and still no answer.
So what gives?
Jim Ritchie (Senior Vice President of Sales & Marketing for Tridel) recently announced "We're still on," and the project is expected to house close to 800 units and has been delayed until late September because of approval issues and design.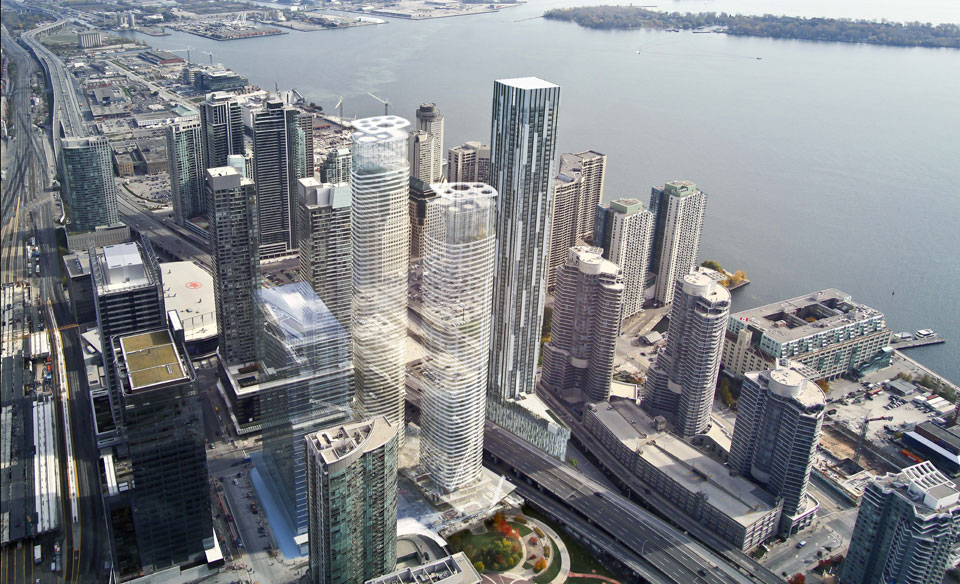 Ten York towering over the other buildings
TalkCondo will be right on top of the Ten York launch and will be the first with any new information on the project as soon as it becomes available.  To be among the first to know about Ten York, register below!
Ten York Officially Announced to Press By: Amit Bhandari / November 22, 2011
Tridel held a press conference this morning to officially announced their 75 Storey Project located at York Street & Harbour Street, named Ten York.  TalkCondo first broke the story on this site two weeks ago, along with a first look at renderings and early details.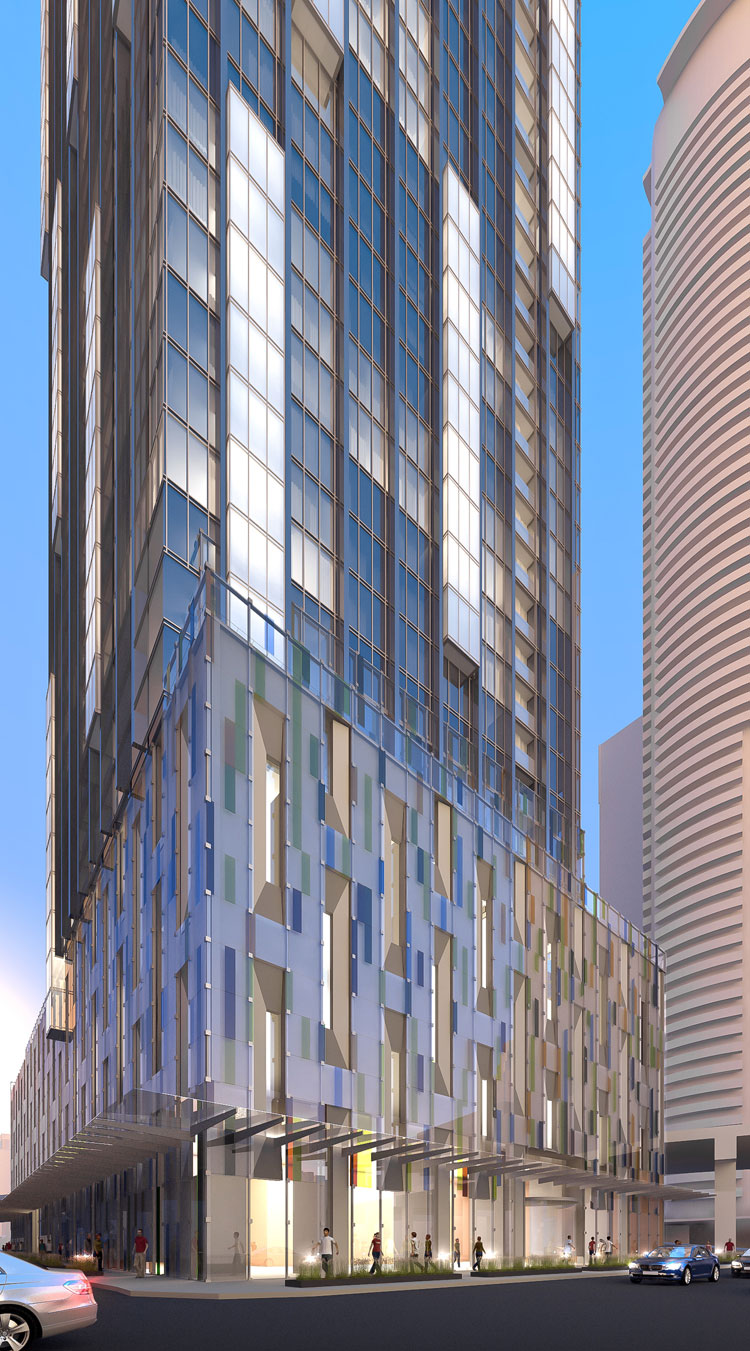 Podium will dominate the streetscape at Ten York
Ten York joins ICE, Maple Leaf Square and the pending 90 Harbour by Menkes in a group of mega towers that occupy lower York Street.  This collection of 7 towers ranging in height from 55 storeys to 75 storeys will have an enormous impact on our skyline moving forward.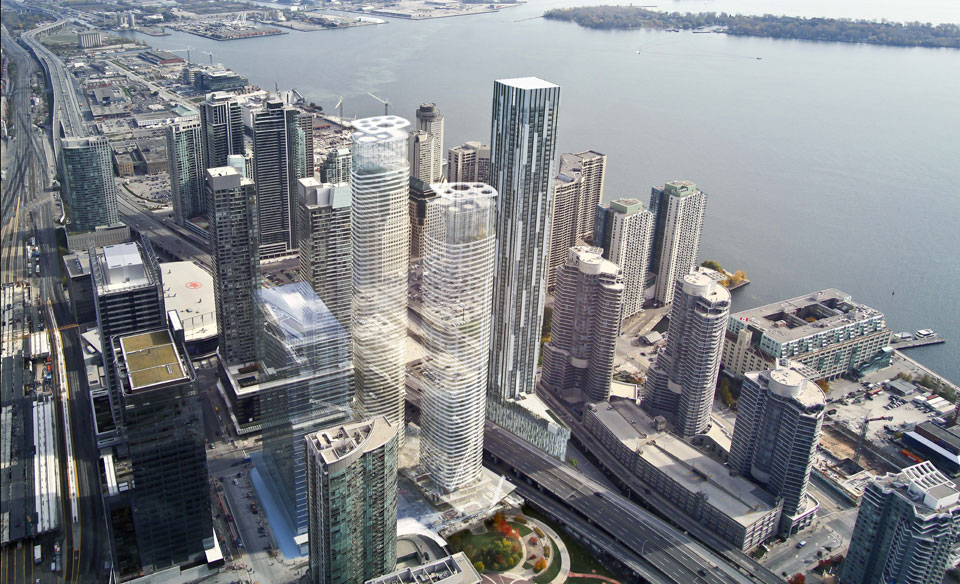 Tridel's 75 Storey Tower, Ten York, sitting on a triangular podium just south of ICE
Ten York will begin sales to platinum brokers in early 2012.  Register for first in line access by completing the form below!