Teahouse Condos Project Details By: Roy Bhandari / April 30, 2015
Teahouse Condos is a pre-construction condominium project located in Toronto's Downtown Core at Yonge & College.  The condominium is a mixed use tower developed by Lanterra Developments.
The tower and amenities celebrate Asian design and architecture, featuring natural material, clean lines and emphasis on symmetry and precise proportions.
The project features two distinct towers at 52 and 25 storeys rising above a shared podium that will connect the towers to the street.
Teahouse Condos Project Details
Located in the heart of Downtown Toronto at Yonge & College
Two towers standing 52 and 25 storeys connected by a large podium that anchors the towers to the street
960 suites (combined two towers) with suites ranging from studios to 3 bedrooms
Unique Asian inspired amenities such as a Tea Room, Koi Ponds, a Tranquil Rock Lounge, Zen Gardens, Yoga Room, Onsen Pool and an outdoor Swimming Pool.
Teahouse Condos: The Developers
Developed by Lanterra Developments – one of Toronto's leading builders
Award winning developer
Projects include ICE Condominiums, Maple Leaf Square, One Bedford, The Britt, Murano, Wellesley on the Park and much more (browse all condos by Lanterra)
Architecture by architectsAlliance
Interiors by Munge Leung
Landscaping by Nak Design Strategies
Teahouse Condos: The Location
Has a prestigious Yonge Street Address (501 Yonge) at Yonge & College in Toronto's Downtown Core
Near perfect 99/100 WalkScore, a Walker's Paradise
Major nearby amenities include:

Hospital District with 5 major hospitals including Toronto General and SickKids
Steps to TWO Universities (Ryerson University and University of Toronto)
One block to Yorkville and luxurious shopping along Bloor Street
Short subway ride to the Financial District

Perfect 100/100 TransitScore

Steps to 2 Subway Stations (College and Wellesley)
501 Yonge to Launch as Teahouse Condominiums By: Roy Bhandari / October 8, 2014
Lanterra Developments have revealed the name of their exciting condominium project at Yonge & College (formerly 501 Yonge Condos) will be known as "Teahouse Condominiums".
The project is set to launch on October 29th to a handful of select platinum agents following the enormous sell out success of Wellesley on the Park earlier this year.
While specific details are not currently available, here is what we do know:
*Will feature two towers, standing 54 and 22 storeys
*960 Suites
*Located steps to 2 Subway Stations (College Station and Wellesley Station)
*Minutes to key Downtown amenities (Bloor-Yorkville Luxury Shopping, Eaton Centre)
*Will launch to Platinum brokers on October 29th, 2014
The project will be themed around "serenity" and "calm" while surrounded by a vibrant city and will pull cultural and design traditions from Asia.
We expect Teahouse to be a huge success and we can't wait to get our hands on more details!
First Details for 501 Yonge Condos Emerge By: Roy Bhandari / June 26, 2014
Lanterra flew their top performing agents to Switzerland and have given a first glimpse at their brand new condominium set to launch this fall: 501 Yonge Condos.
The project is located at Yonge & College and hopes to repeat the incredible success of Wellesley at the Park and YC Condominiums, both which are over 90% sold.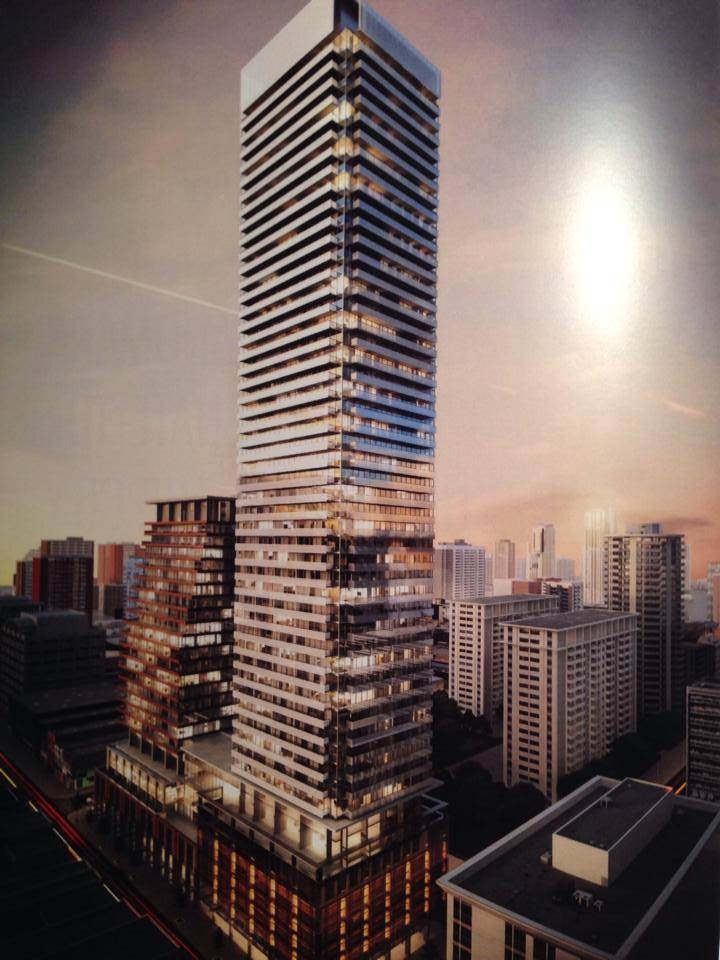 While we wait for high res images, we got a sneak peak of the project from the glossy handout.
Lanterra will develop two towers standing 54 and 22 storeys, anchored by a large podium.
Yonge & College is an exciting intersection with a lot of brand new development breathing new life into the neighbourhood.  The location is literally "center ice" in Downtown Toronto with quick access to everything that makes Downtown living so great, and boasts a 100 WalkScore.
501 Yonge Condos will launch to Platinum Brokers this fall.  For all the information as it becomes available, simply complete the form below!