Massey Tower Reveals Curvey New Rendering By: Amit Bhandari / February 29, 2012
Last month we announced that MOD Developments would introduce a brand new 60 storey condominium located behind the heritage Canadian Bank of Commerce building located in one of Toronto's most exciting intersections at Yonge & Queen – the project would be called Massey Tower Condos.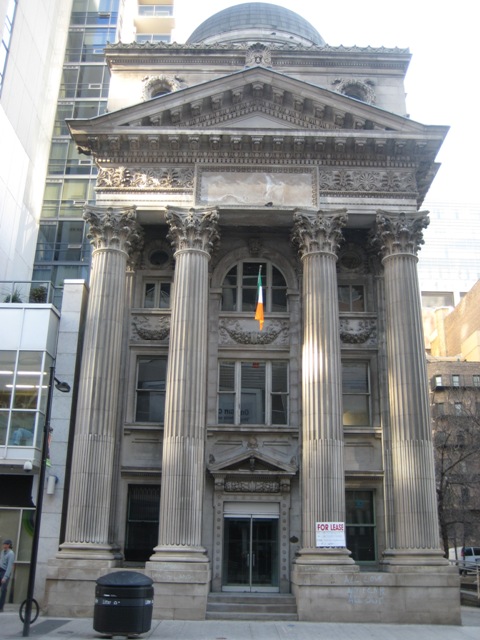 Existing Heritage Building of Massey Tower will be restored to become the home to a brand new 60 storey residential condominium
MOD hired architects famed architects Hariri Pontarini to design a building where the heritage podium meets modern tower – and they've done just that, with a curvey tower that compliments and sit in behind the heritage building at the base.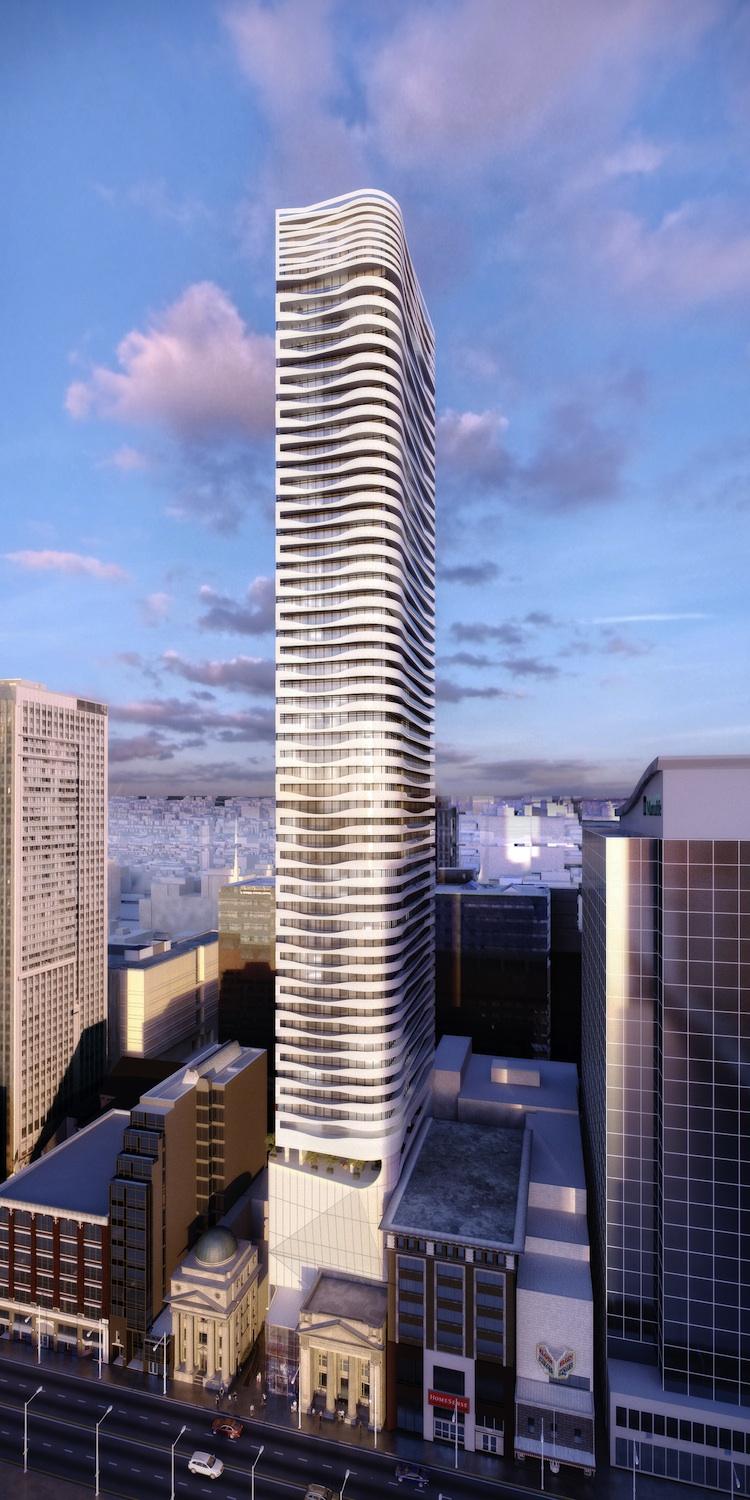 Brand new rendering of Massey Tower highlights a modern tower sitting in behind the two heritage buildings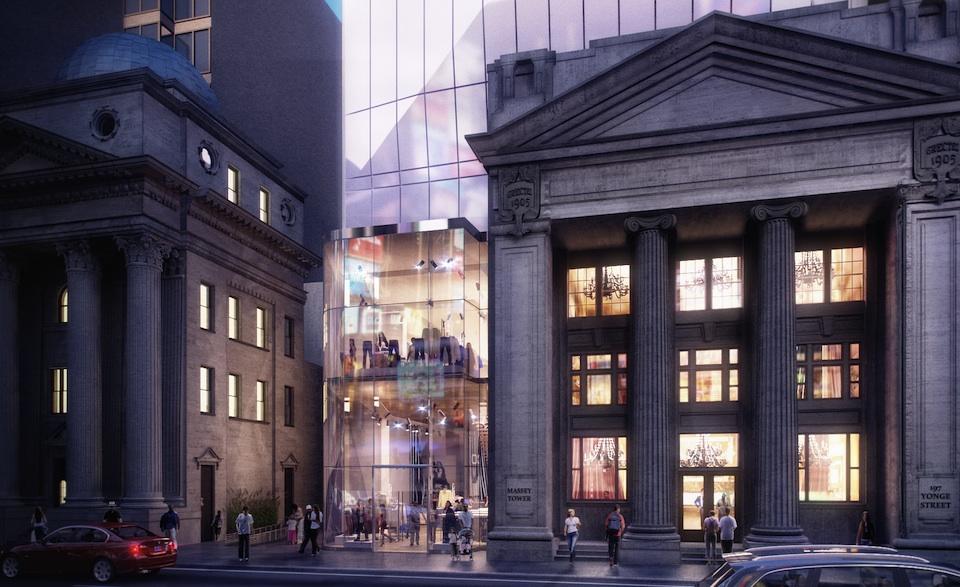 High quality image of how the existing heritage buildings will be tied into the design of Massey Tower Condos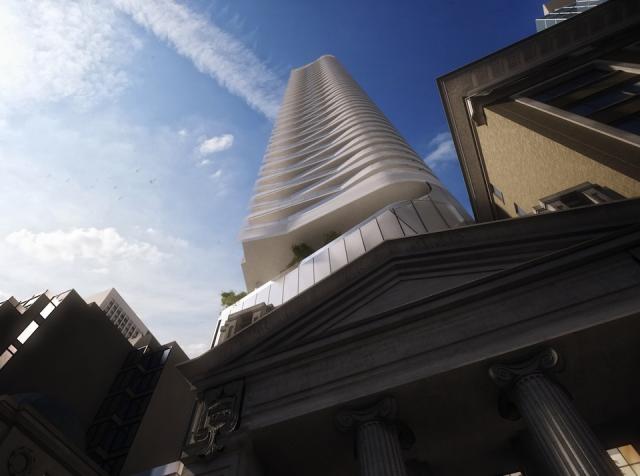 Look up! Highlighting the curves and unique shape of Massey Tower
While the architecture and story of Massey Tower certainly are unique, the location of the project also has a lot of buyers excited.  Located at Yonge & Queen offers Eaton Centre at your doorstep, you can hop, skip or jump to the nearest Subway Station (Queen) and you can live where it's all happening on Yonge Street.
Massey Tower is now available to Platinum Agents – for all the information, complete the form below!
MOD Developments Introduce 60 Storey Massey Tower By: Amit Bhandari / January 23, 2012
MOD Developments today confirmed the purchase of the property located at 197 & 201 Yonge Street (originally reported by TalkCondo in December here).  The project has us extremely giddy for a number of reasons – the prime downtown location of Yonge & Queen certainly whet's the appetite.  The site is located opposite the Eaton Centre and just steps to the Queen Subway Station.
MOD went on to announce that the existing heritage building on site (A Canadian Bank of Commerce branch that was originally opened in 1905) will be completely restored by ERA Architects and Hariri Pontarini will be responsible for designing a 60 Storey Tower to sit behind the historical landmark.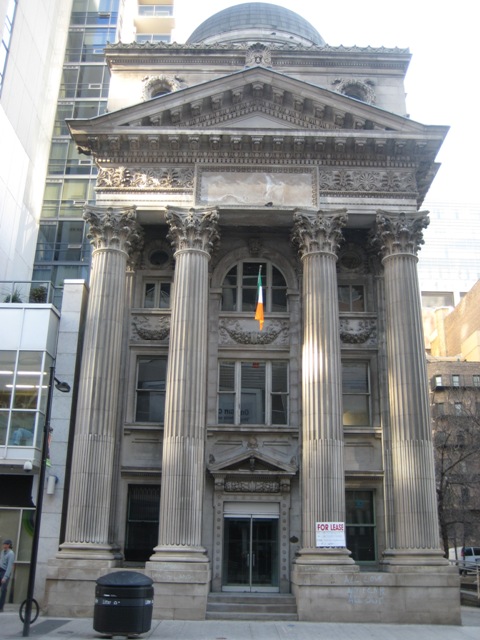 Existing Heritage Building of Massey Tower will be completely restored and will also be home to a brand new 60 Storey Residential Condominium
In addition, MOD will be donating a portion of their site fronting on Victoria Street to Massey Hall and will honor the Massey name by naming the new development "Massey Tower."
MOD are no strangers to revitalization projects.  Their last project, FIVE Condominiums was faced with a similar task: to work with an existing facade and build a modern tower.  They succeeded in a big way and won the prestigious BILD award for "Design of the Year".  MOD have put together the same condominium development dream team to put together "Massey Tower."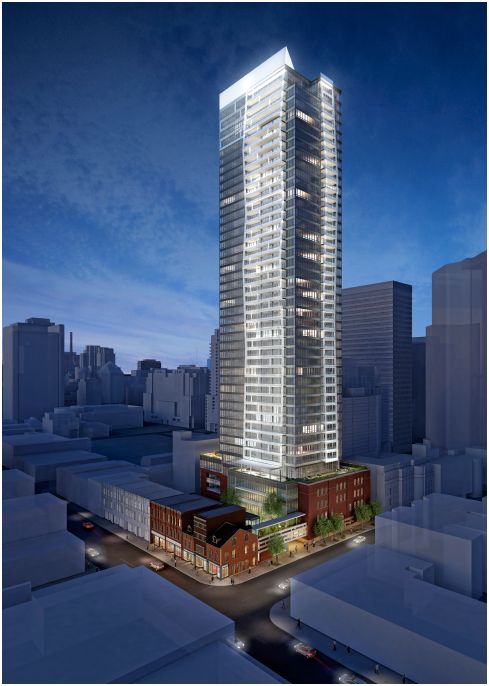 MOD Developments award winning "FIVE CONDOMINIUMS" had the developer work with an existing facade to build a modern tower
Launch time frames on Massey Tower are still unknown.  TalkCondo will be first in line with all the details and opportunity to purchase.  For first access to Massey Tower, complete the Insiders Club registration form below!