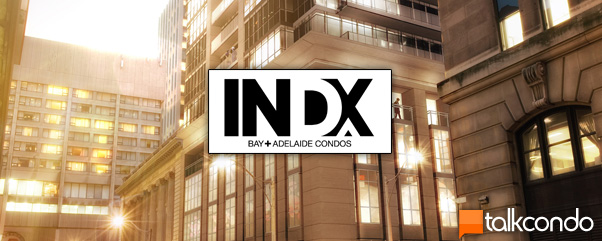 INDX CONDOS
THIS PROJECT IS NOW AVAILABLE FOR PLATINUM VIP AGENTS. REGISTER BELOW FOR ALL THE INFORMATION.
INDX CONDOS IS A BRAND NEW CONDOMINIUM PROJECT BY LIFETIME & CENTRECOURT (OF KARMA CONDOMINIUMS)
LOCATED IN THE HEART OF THE FINANCIAL DISTRICT AT BAY & ADELAIDE
INDX CONDOS FEATURES A FUTURE DIRECT PATH ACCESS, INSTANT ACCESS TO THE FINANCIAL DISTRICT & 4 SUBWAY STATIONS NEARBY
FOR FLOORPLANS, PRICES AND OPPORTUNITY TO PURCHASE – COMPLETE THE FORM BELOW
Indx Condominiums is a new condominium project located in the heart of the Financial District by Lifetime & CentreCourt.
Following the enormous success of Karma Condominiums, Lifetime & CentreCourt team up once again for "Indx Condominiums" located in the heart of the financial district just south of Queen & Bay. Full project details will be available soon.
ARTICLES ABOUT THIS DEVELOPMENT BY TALKCONDO
by Roy Bhandari on January 31, 2012
by Roy Bhandari on February 13, 2012
by Roy Bhandari on February 22, 2012
by Roy Bhandari on February 17, 2012
by Roy Bhandari on February 24, 2012
by Roy Bhandari on July 7, 2012
by Roy Bhandari on November 19, 2012
by Roy Bhandari on May 8, 2013
by Roy Bhandari on February 3, 2012
by Roy Bhandari on January 18, 2013