Similar Projects
VIP Launch: Fabrik Launches to VIP Brokers (Now Available) By: Amit Bhandari / January 31, 2012
Menkes are the first developers out of the gate in what promises to be a very busy 2012 for new condominium launches.  Fabrik Condominiums is located on the cusp of the Entertainment District and Fashion District brings Menkes renowned quality to a popular location.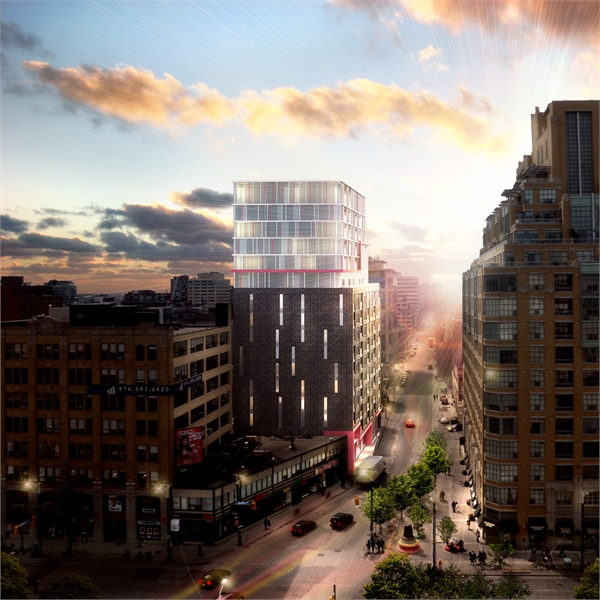 Stunning Rendering of Fabrik Condominiums.  Now Available, Click Here to Register!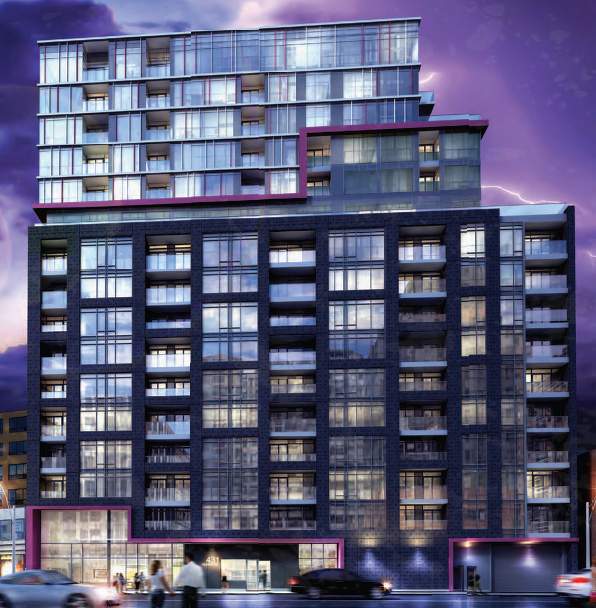 Night Rendering of Fabrik highlighting unique shapes of the front of the building
Fabrik is a 16 storey development at the corner of Richmond & Spadina.  The building features all of the amenities that you would come to expect from a downtown condominium including a fully equipped gym, multi-purpose event room,  "Hollywood Style" screen room and games room and outdoor terrace with seating, double sided gas fireplace and BBQ facilities on the 11th floor.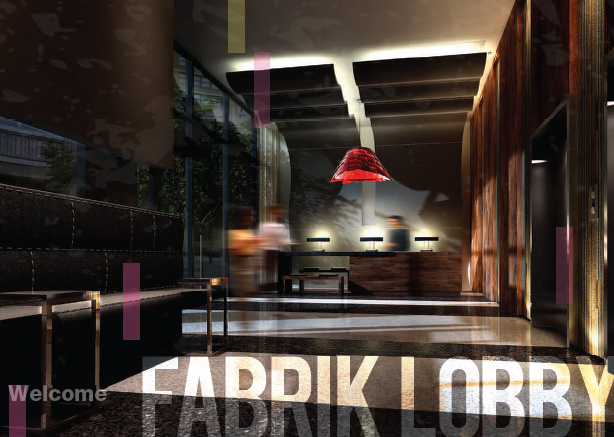 Lobby of Fabrik captures the essence of the neighborhood beautifully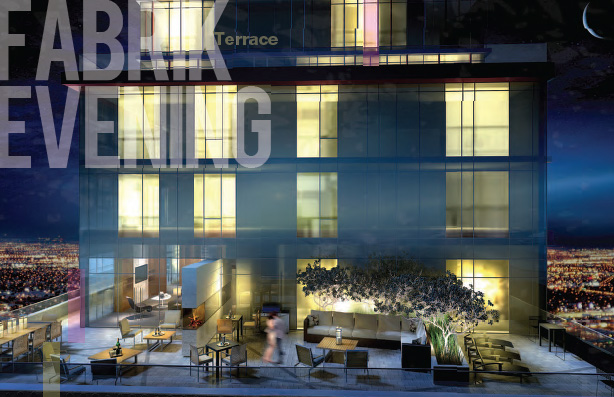 Outdoor Terrace at Fabrik Condominiums
Fabrik features solid floorplans and good quality finishes with plank laminate flooring throughout and upgraded European inspired kitchens with quartz countertops and integrated appliances (featuring integrated fridge and dishwasher).  To view all the floorplans for Fabrik, register for the development by clicking here.
The development is priced very aggressively, with suites started at $600 per square foot and (for the most part) ranging between $600-$620 per square foot.  Projects in this area have (successfully) launched from $650 per square foot and up making Fabrik a very attractive proposition.
Additional Details:
VIP PERKS:
$4,000 off Studios, 1 Bedrooms & 1 Bedroom + Dens
$6,000 off 2 Bedrooms, 2 Bedroom + Dens & 3 Bedrooms
Development Levies Capped at $2,500
Assignment Fee: $2,000
Deposit Structure:
$5,000 with the agreement
5% minus $5,000 – 30 days
5% – 90 days
5% – 180 days
5% – 365 days (Total: 20% in 365 Days)
Maintenance Fees: $0.55 per square foot
Occupancy: July 2015
TalkCondo are now taking suite reservations for Fabrik Condominiums.  Suite reservation deadline is FEBRUARY 8th, 2012.  For all the details on this project, complete the VIP registration form below!
VIP Launch: Fabrik Condominiums Set to Launch Next Week By: Amit Bhandari / January 25, 2012
We're starting to get over our Holiday Hangover…it's time for some condominium launches! The spring condominium line up is among the strongest that we have ever seen with some incredible sites preparing to launch.  Investors who are able to jump on the launches early will benefit from the best suite selection and the best prices.
The first project out of the gate this year is Fabrik by Menkes.  To register for priority access, click here.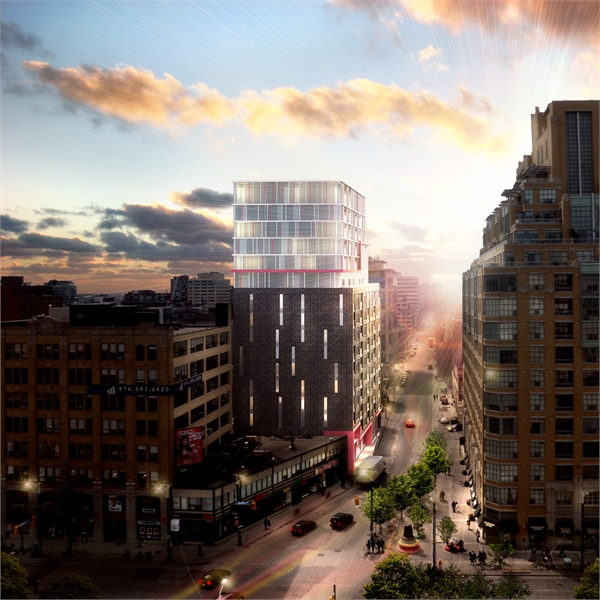 Fabrik Condominiums by Menkes will be the first major project in Toronto to launch in 2012
Fabrik is located on the border of Toronto's sizzling Entertainment District and popular Fashion District, located at Richmond & Spadina and will stand 16 storeys.  Menkes are among Toronto's most trusted developers so this is a project we have been keeping our eyes on.  Menkes sent us a video highlighting the vibrancy of the neighbourhood as they get ready to introduce Fabrik.
The project is set to launch on January 31st to VIP agents and as always, TalkCondo will be at the front of the queue to get our clients the best access to the project.  Sign up using the form below for all the details as soon as they become available!
Stunning New Rendering for Fabrik Released as Launch Nears By: Amit Bhandari / January 16, 2012
Menkes are all set for an incredible year.
The developers are highly regarded in the GTA market place and have brought projects such as Pears on the Avenue, Lumiere and the New Four Seasons Private Residences to the table.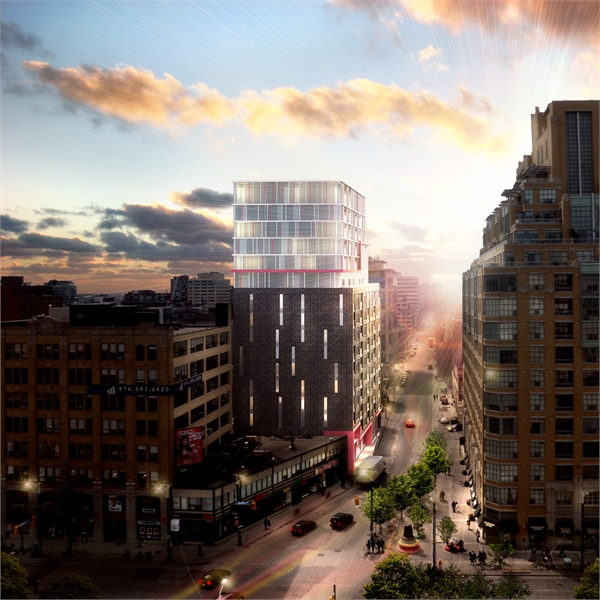 Fabrik Condominiums standing proud at Richmond & Spadina
The first of their 2011 condominiums is getting ready to launch.  Located where the bustling "Entertainment District" meets the hip "Fashion District" at Richmond & Spadina, Fabrik will stand 16 storeys and feature approximately 180 suites.
TalkCondo will be first in line when Fabrik becomes available.  It is definitely on our radar as a hot project for investors and end users alike.  To be kept right up to date, complete the registration form below!