Similar Projects
5 Reasons to Get Excited About E2 By: Roy Bhandari / August 26, 2013
E Condominiums enjoyed a lot of success and is currently sitting pretty at over 90% sold.  Bazis Developments raised the bar with a unique looking tower featuring a cantilevered red glass amenity space that will be both eye catching from the outside and a hot spot for the residences inside.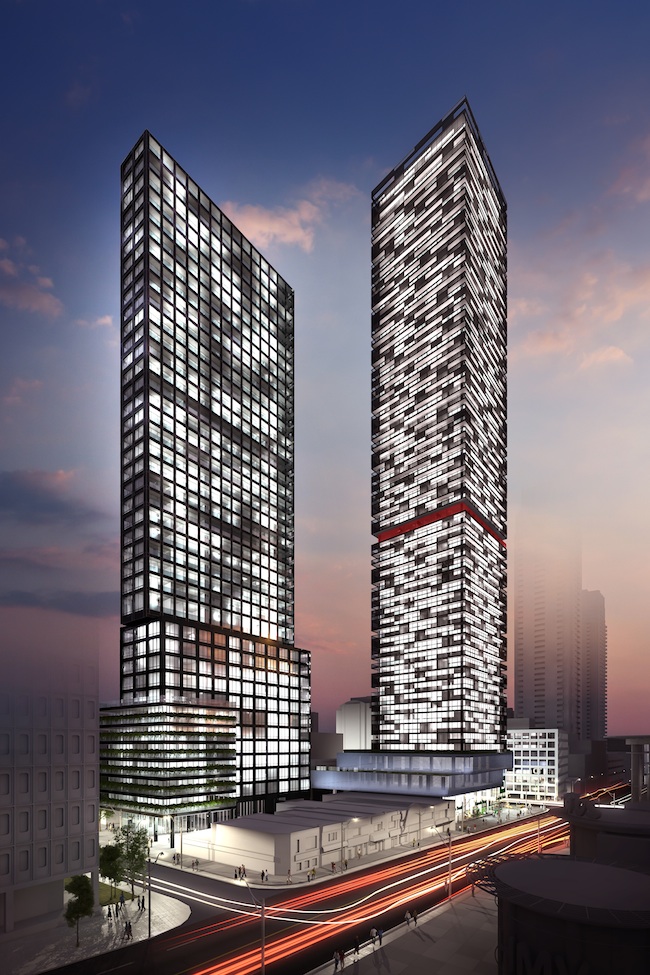 The E Condominium Towers will be the crown jewels of the Yonge & Eglinton neighbourhood and will stand 64 and 46 storeys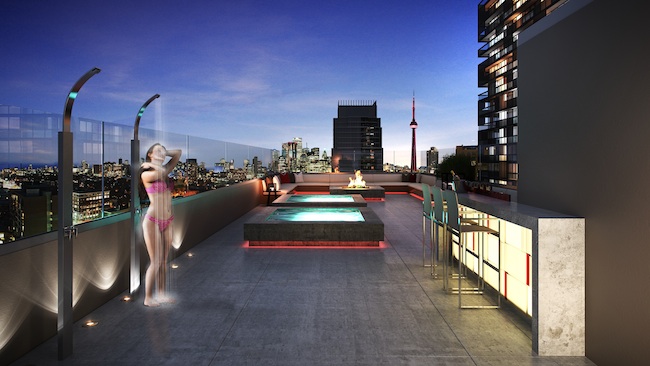 E2 will feature a stunning roof top amenity space
The second phase of the development (dubbed "E2″) is set to launch this fall and it is a project we think any investor should take a closer look at.  Here are 5 reasons to get pumped for E2
1. The New Transit Line
The new Eglinton LRT is the absolute #1 reason we are bullish on Yonge & Eg.  The new transit line is already under construction and will ultimately connect Pearson Airport to Scarborough and run straight through the existing Yonge line at Eglinton.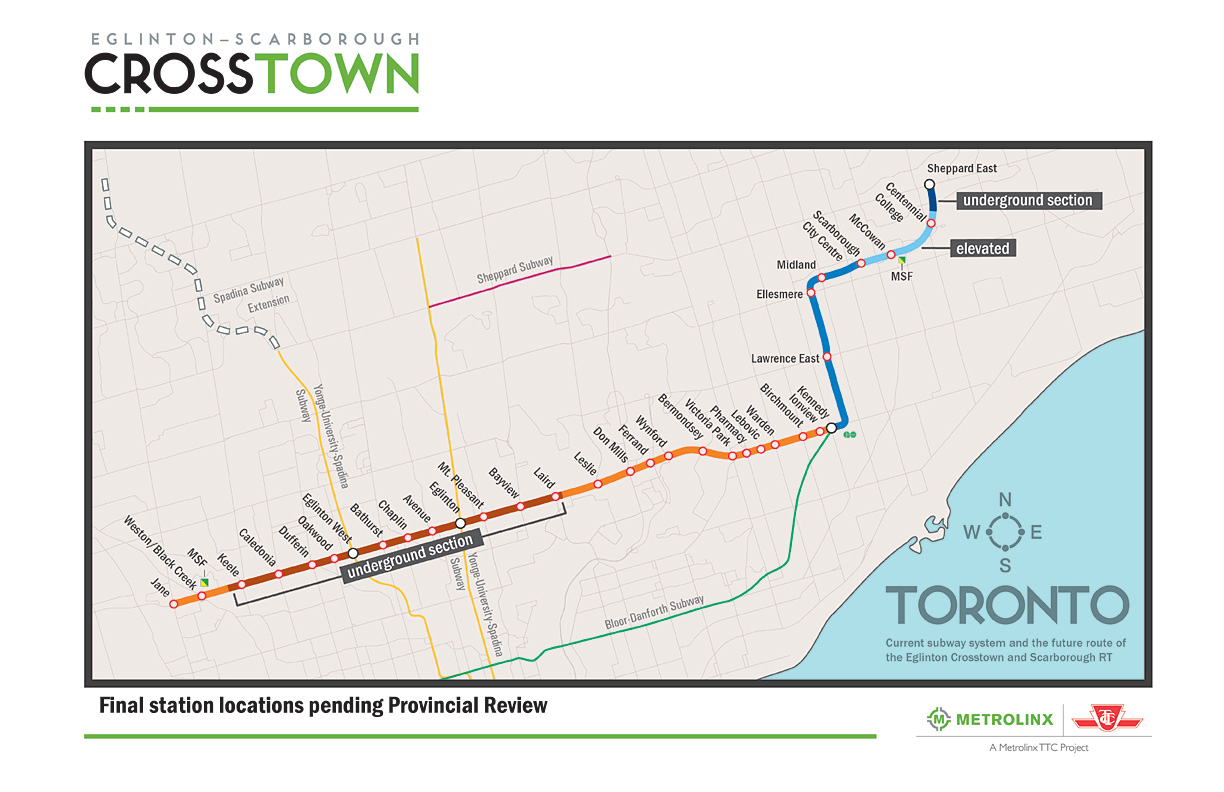 The new Eglinton LRT line will be a game changer for this neighbourhood
This is a major deal and Yonge & Eglinton will very quickly become a major hub once the line becomes active.
2. Rapid Neighbourhood Growth
Buoyed by the transit line, there appears to be an awful lot of dollars being pumped into the growth of Yonge & Eglinton.  Rio Can have recently announced $100 million re-development of Yonge-Eglinton centre which will include more public space including a large stage (think Yonge & Dundas) and more shopping.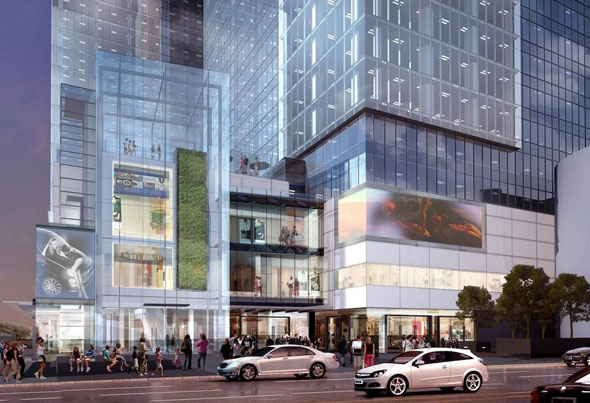 $100 Million to be invested into re-developing the Yonge-Eglinton Centre by RioCan
Rumours suggest Cadillac Fairview are eyeing a site in the neighbourhood for a 1 million square foot mall (similar size to Sherway Gardens) and Loblaws will be opening a 40,000 sq.ft. grocery store.
3. Direct Access to Transit and Underground Mall
There are a number of new condominium projects coming to Yonge & Eglinton – what really sets E Condominiums apart is the DIRECT connection to the transit system and underground mall at Yonge & Eglinton.  Direct access to underground networks are a huge bonus especially given our harsh winters.
Residents will be able to access the underground transit network with a simple click in the elevator.
4. Near Perfect Walkscore
​The site for E Condominiums is located at the CORNER of Yonge & Eglinton and boasts a Walkscore of "98" which makes it a walkers paradise.  This tells us that there are all the major amenities (restaurants and bars, coffee shops, grocery stores, parks, schools, car and bike shares etc.) accessible within walking distance.
High Walkscore neighbourhoods typically boast high rental and resale rates.
5. Increasing Rental Rates
Yonge & Eglinton rental rates have been increasing at a rapid rate and today boast the same (if not higher) rental rates than the Downtown Core.
E Condominiums is one of our favourite projects and above we highlighted 5 reasons to get excited (and we didn't even mention the building itself which features excellent suite finishes, incredible amenities and breath taking views)
Interested in learning more about E2 as it becomes available? Simply complete the registration form below!
E Condominiums Reveal New Renderings to Connect to Streetscape By: Roy Bhandari / March 23, 2013
Bazis International have released 10 stunning new renderings that show off E Condominiums connection to the brand new corner of Yonge & Eglinton.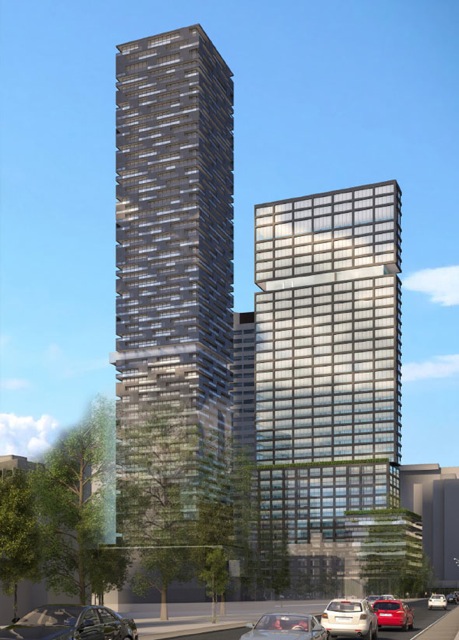 Head to Toe shot of E Condominiums at the corner of Yonge & Eglinton
The announcement of the Eglinton Crosstown LRT has spurred a number of new developments at Yonge & Eglinton ranging from brand new commercial spaces, a brand new mall, new public space and a flurry of new residential condominiums in anticipation of the massive demand for housing.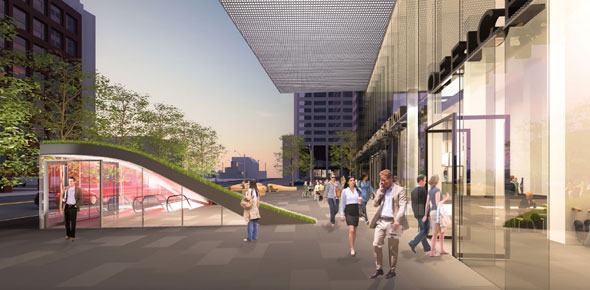 Glass enclosed entrance to the subway with a "parkette" lining the top
The new renderings emphasize a greater connection to street level and the public space at the North East corner of Yonge & Eglinton including seating area, larger public space and a unique entrance to the underground.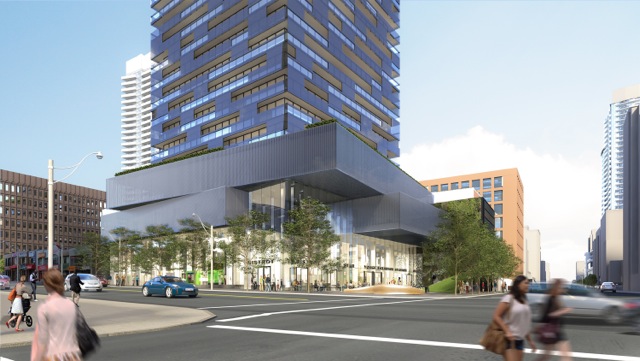 New public space emphasized at the north east corner of Toronto's most walked intersection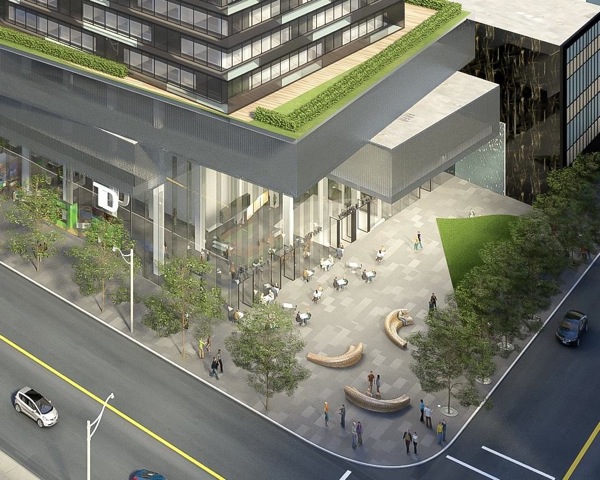 Detailed view of the corner public space that will feature coffee shops and seating areas
E Condominiums looks like it will become the focal point of Yonge & Eglinton as it grows and will be this locations version of One Bloor (at Yonge & Bloor).  Just incase you needed a reminder, check out the image below of the awesome infinity pool that will sit on the 30th floor of the building.  Stunning.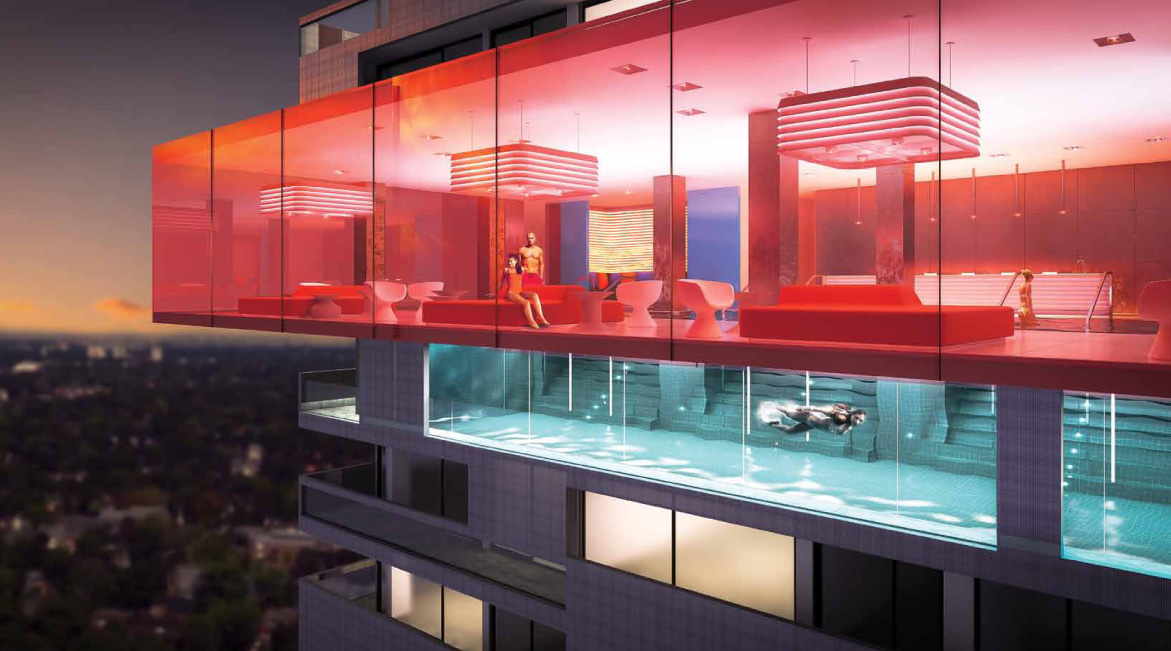 E Condominiums was one of our favourite launches in 2012 and still have excellent suite options available.  For more information about purchasing at E, complete the form below!
E Condominiums: Hits all Investor Sweet Spots (Now Available) By: Roy Bhandari / June 5, 2012
If we put together a CV for what makes E Condominiums a great investment, it would be absolutely stacked.
Not only is it located in one of the most popular (and still growing) neighboorhoods in Toronto at Yonge & Eglinton, but the project boasts one of the most spectacular designs of any condominium ANYWHERE in Toronto (and one that the young professionals of Yonge & Eg would just eat up), offers incredible transit access (with DIRECT subway access), some of the best amenities we've ever seen, excellent floorplans and amazing views.
Phew!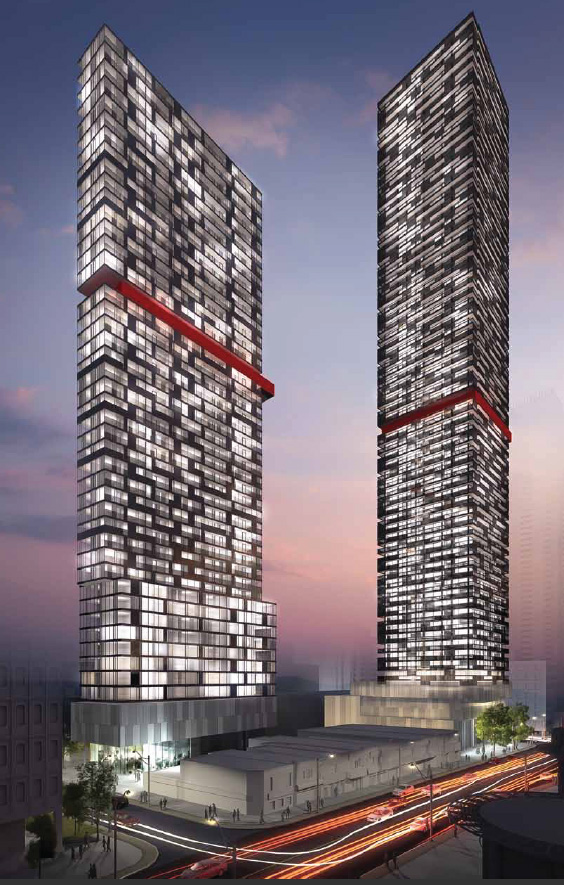 It doesn't take a genius to recognize that E Condominiums is one special project.  Developer Bazis takes design VERY seriously and are one of the only developers in the city with an in-house architect in Roy Varacalli who has been responsible for some of the most innovating and forward thinking designs (think Emerald Park and Exhibit) and E Condominiums is no different.
Highlighted by the unique red off-set "Sky Deck" which houses the major amenities on offer at E Condominiums, including the pool lounge and incredible infinity pool (dubbed "eFinity pool" by the clever marketers), the 64 and 46 storey buildings will be instantly recognizable and will be the creme-de-la-creme of the neighbourhood.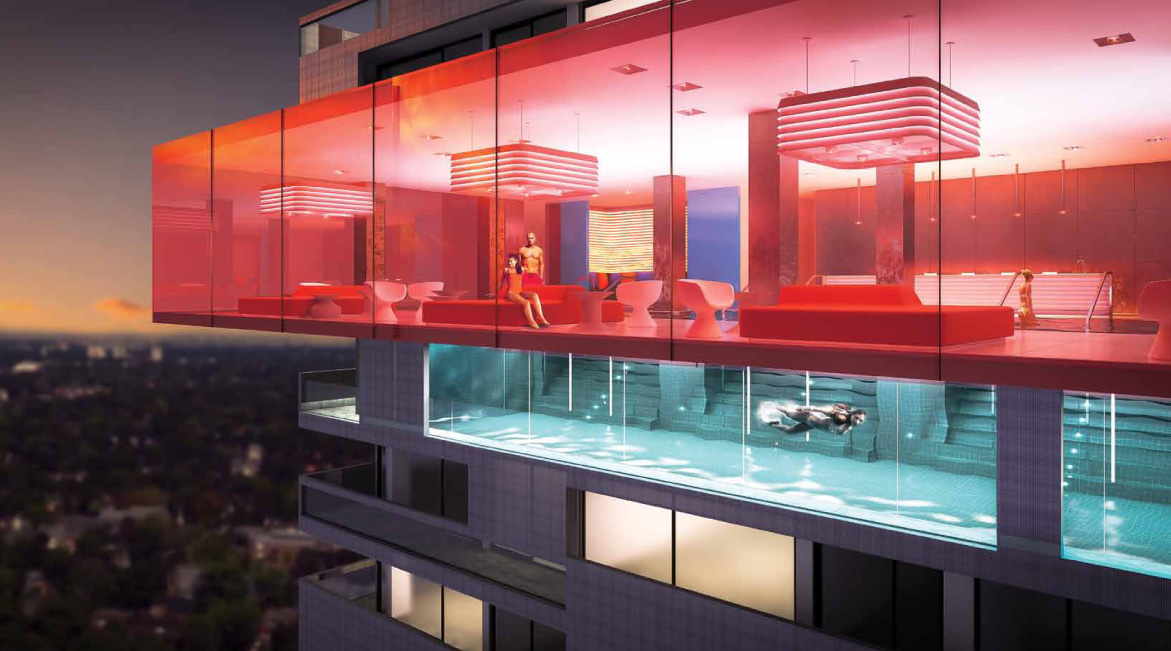 Incredible eFinity Pool located under the Red Sky Deck
Investing 101 dictates "location location location" – and one of the staples of excellent location is transit access.  How would you like to go from Yonge & Eg to Union Station without ever going outside?  E Condominiums ofers direct access to the subway system which means buyers get the best of midtown AND downtown living.  The direct subway access is a feature that E Condominiums will have over ANY other condominium in Yonge & Eglinton which instantly sets it apart in a big big way.
The project occupies in an incredible 2017 which means investors have AMPLE time to earn appreciation on their condominium investment.  The highly leveraged nature of pre-construction condominium investing makes this very exciting for investors who can earn huge return on their investment.
Bazis have certainly not skimped when it comes to the project amenities and suite finishes.  The eFinity pool is among the best we've ever seen and the project also comes packed with a state of the art gym, outdoor terraces, saunas and everything else you would come to expect from a luxury condominium.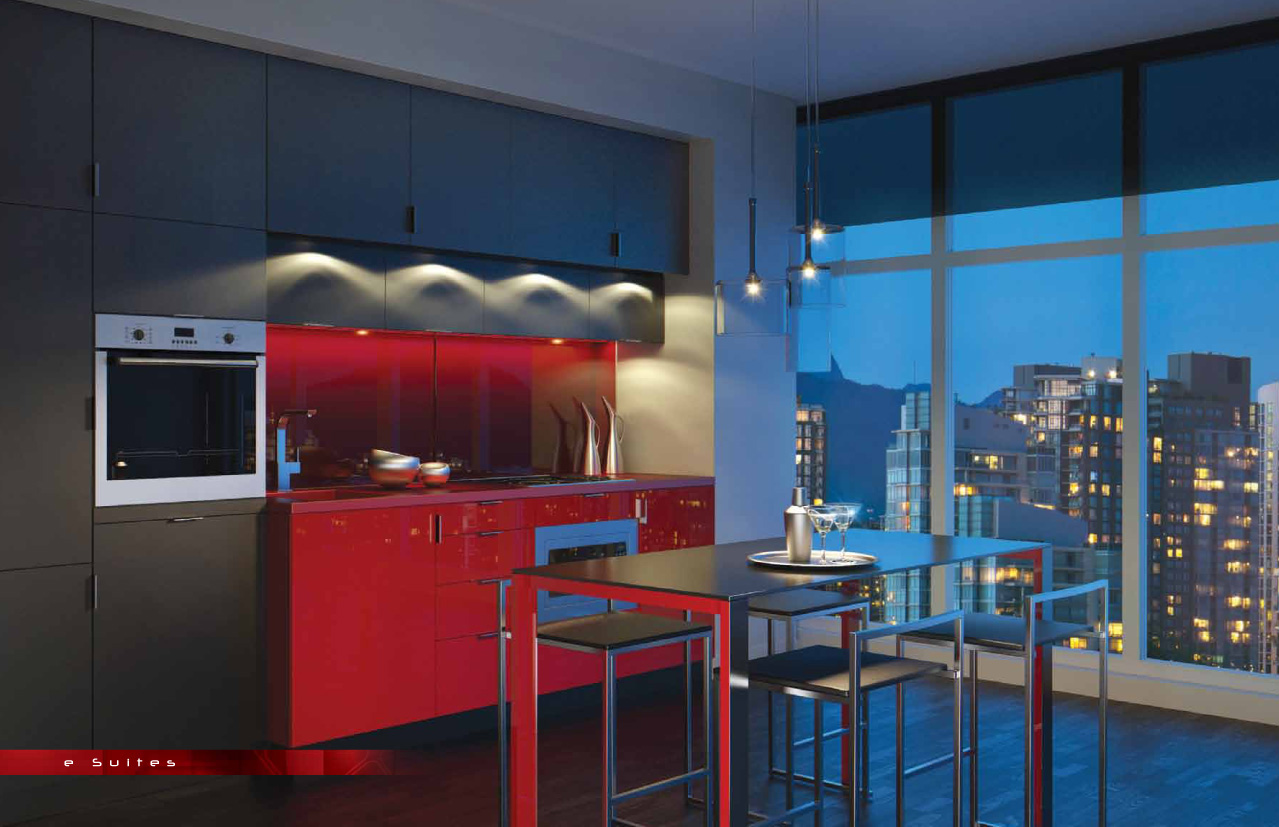 Suites feature incredible views and custom kitchens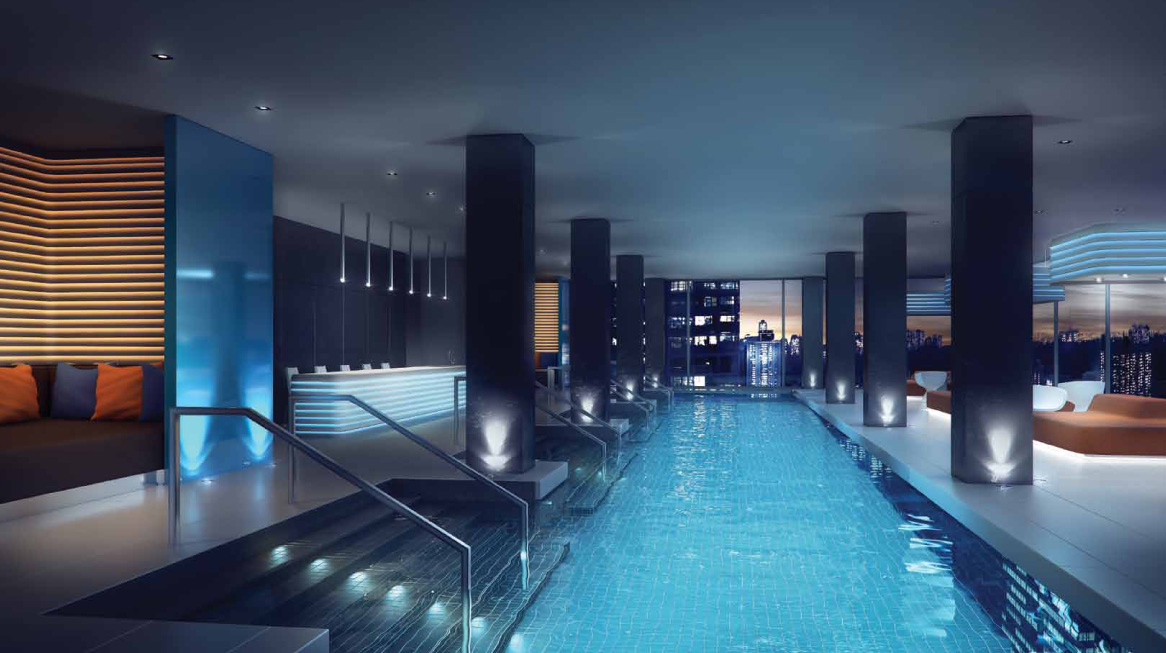 Pool lounge housed in the Red Sky Deck
Suites feature 9 ft. ceilings with custom kitchens and engineered wood floors throughout.
E Condominiums are now available.  For all the information and FIRST access to suites, complete the form below!
E Condos: Coolest. Building. Ever. By: Roy Bhandari / May 31, 2012
In case you haven't noticed, we are a bunch of condo obsessed geeks and E Condominiums has really gotten us excited.  The project oozes style that a young professional at Yonge & Eglinton will eat up.  exterior architecture is instantly recognizable and features a unique "gravity defying" highlighted by cantilevered red glass amenity space in the middle of each tower.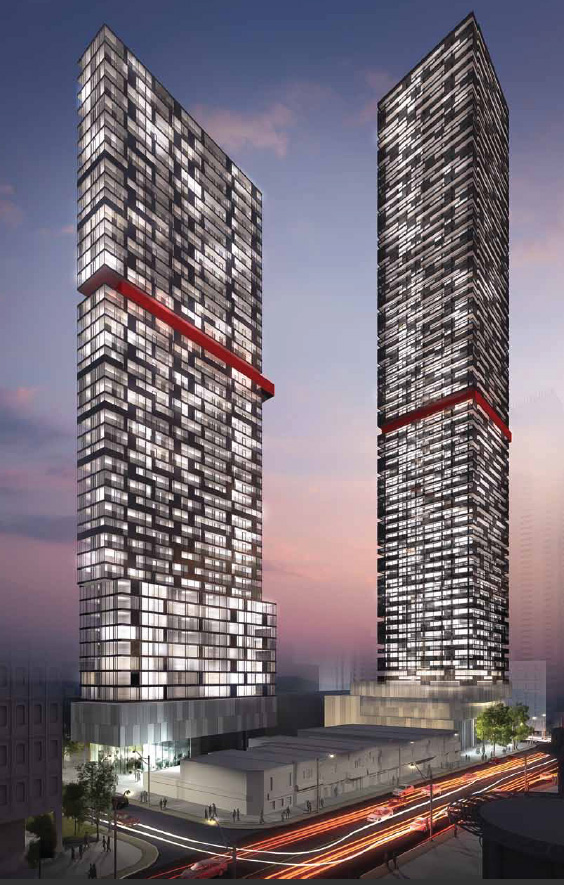 Looking South East highlights the difference in shape between the two towers.  E Condos will dominate Yonge & Eglinton and will become the creme-de-la-creme of the neighbourhood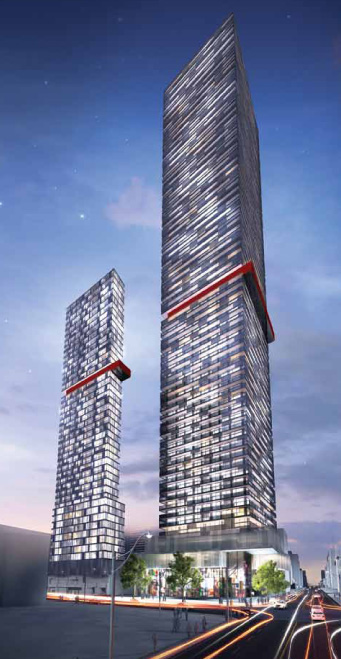 E Condos Looking North East.  This image highlights the "Red" bar and how much it will protrude from the building
E Condos will be broken up into two towers dubbed "E8″ and "E15″ (named after the address, 8 Eglinton is the taller south tower, and 15 Eglinton is the wide north tower).
Besides the incredible design, the other major feature that E Condos can boast is the amazing access to transit.  The development will offer direct access to the Yonge Subway Line and easy access to the brand new Eglinton LRT giving residents the best of midtown and downtown.
Bazis have really pushed the envelope on what they want to achieve with the amenity space.  The "red sky deck" in the middle of each tower houses the amenity space in each building and includes sauna's, private seating, guest suites, an outdoor terrace and one of the coolest swimming pools you have ever seen.  The "efinity swimming pool" is pictured below and needs to be seen to believed.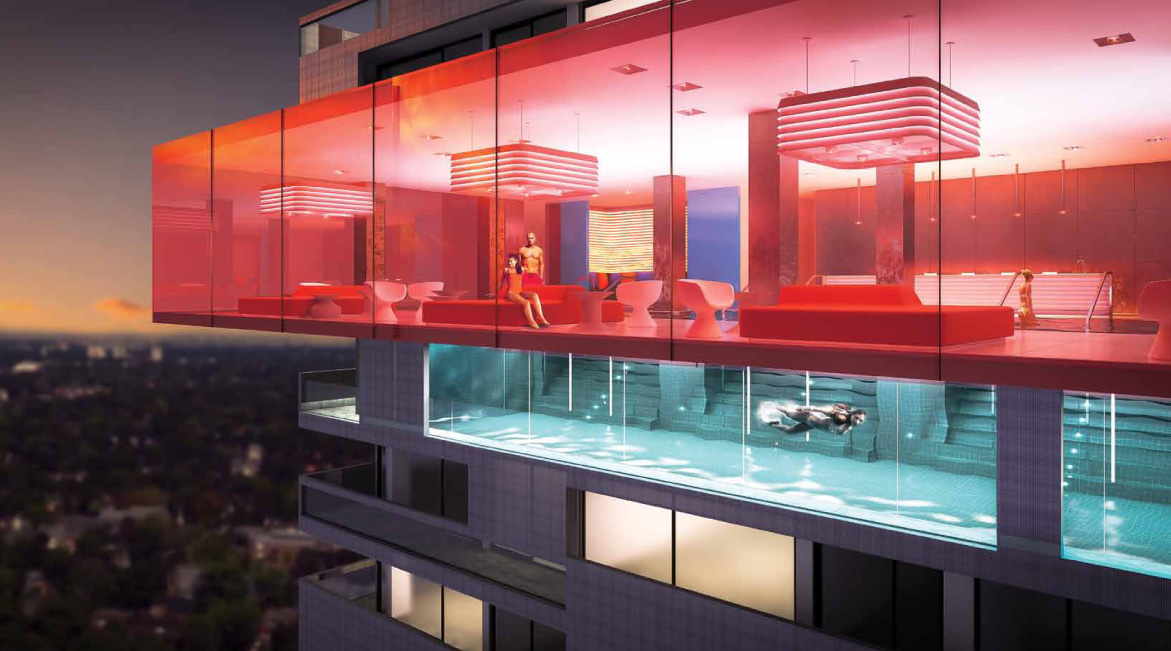 "efinity pool" is one of the coolest features we've seen in any condo, ever.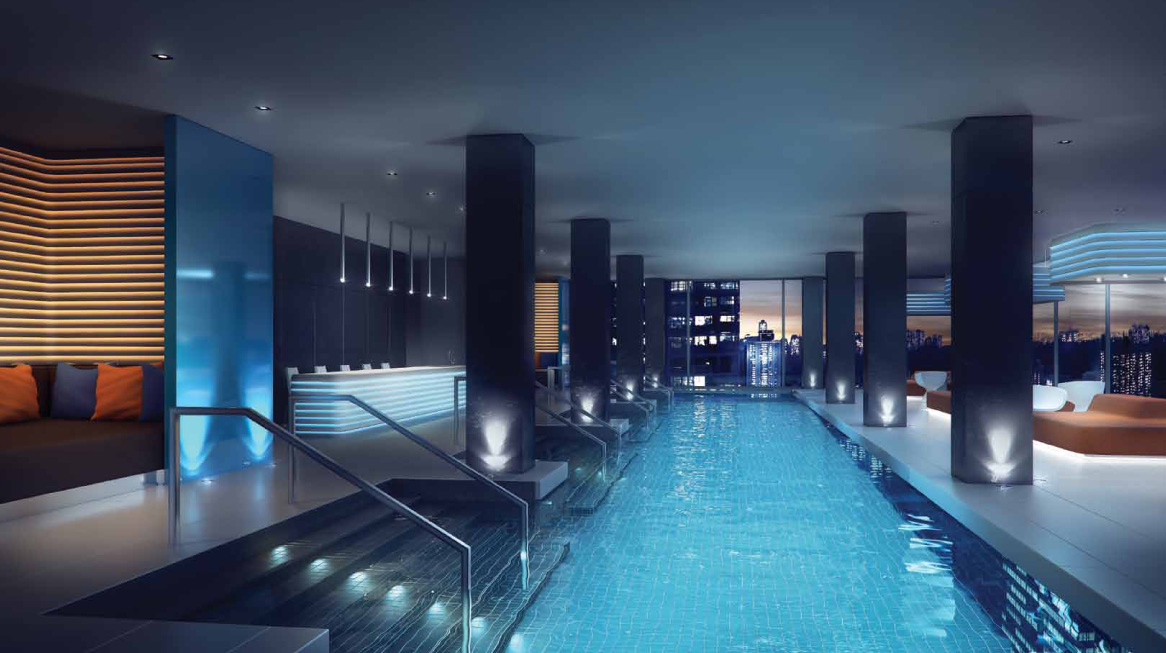 Pool Lounge housed in the "red sky deck" at E Condos features views of the City
Details for E Condominiums will become available in the coming days.  To be the first to receive floorplans and pricing, complete the form below!
E Condos Gearing Up For Launch By: Roy Bhandari / May 24, 2012
Yonge & Eglinton is fast becoming one of the hottest intersections in Toronto.  The mid-town location has grown in popularity in recent years, especially among young professionals and has earned the nickname "Young & Eligible".
The creme-de-la-creme in terms of condominium residences in this neighbourhood is E Condominiums.  Designed by Roy Varacalli (designer of Exhibit Residences, Emerald Park and the Original One Bloor) and developed by Bazis International, E Condominiums is located on the North East Corner of Yonge & Eglinton and will boast an incredible design and, perhaps most importantly, direct subway access.

North East corner of Yonge & Eglinton as it stands today

New podium of E Condos
The project will feature two towers standing 64 and 44 storeys tall respectively.  The 64 storey tower will become the tallest in the neighbourhood, towering over the 54 storey "Quantum II".
The unique design of the building is highlighted by the offset decks that protrude from the building.  In the south tower, the white portion half way up the building is the pool deck area and in the north tower the red portion on the penthouse level will house this space.
E Condominiums is set to get a lot of coverage on TalkCondo in the coming days as the project gets ready to launch.  For guaranteed first access, complete the form below!
Bazis bring "E" to Yonge & Eg By: Amit Bhandari / March 30, 2012
Back in December we announced that Bazis International (developers of Exhibit and Emerald Park) had purchased land at 2263 Yonge Street (North East Corner of Yonge & Eglinton) and had put together an application for two huge towers standing 64 and 46 storeys (by comparison, the tallest condominium currently in the area is 54 storeys).  It was recently confirmed that the name of the project will be E Condominiums.
The renderings below are preliminary designs and are subject to change based on the Design Review Panel.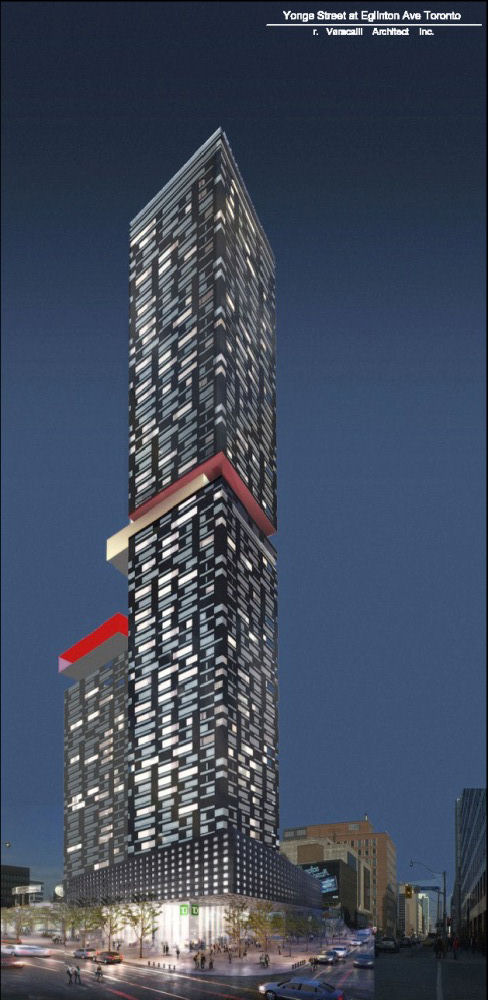 Preliminary design for E Condos showcases two huge towers on the North East Corner of Yonge & Eglinton.  The "sliding panel" feature would house the amenities of the building.  Final building subject to change.
Yonge & Eglinton is an increasingly popular intersection for residents.  "Minto Midtown" (2181 & 2191 Yonge Street) are the two major condominium towers in the area and are in huge demand.  Recent pre-construction projects such as Madison, 30 Roe and Neon have all enjoyed enormous success and have been very well received.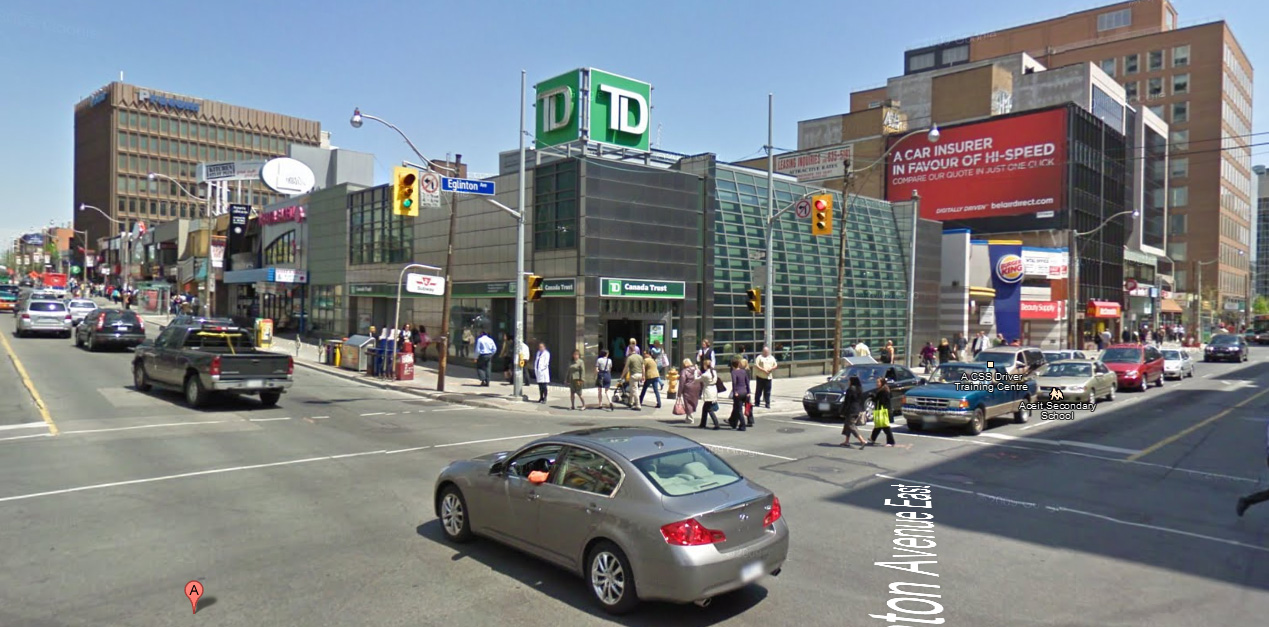 Current site of E Condos shot from the same angle as the rendering below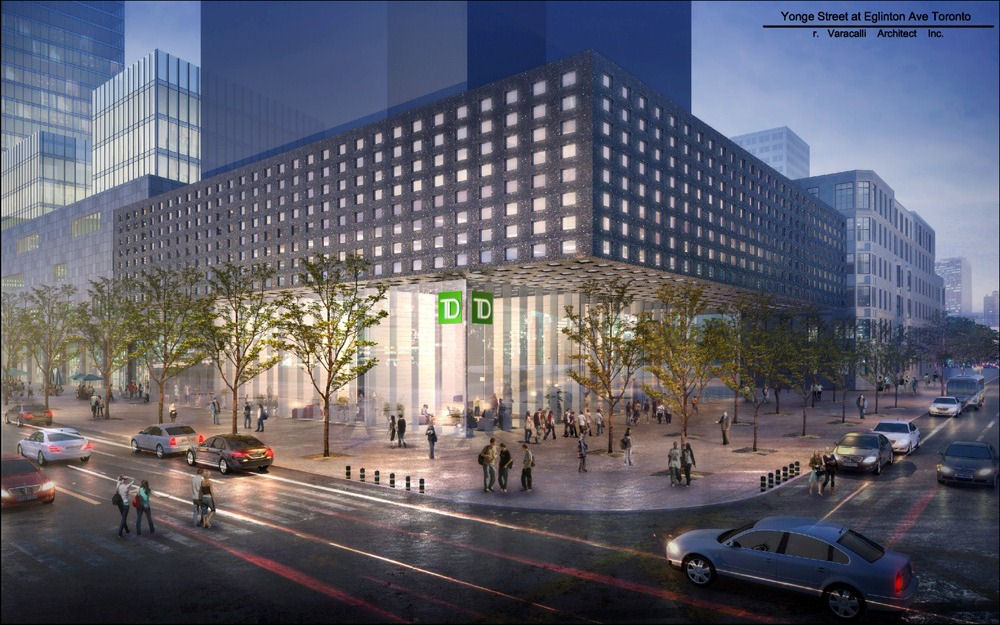 A Complete redesign of the TD currently located at 2263 Yonge
Bazis are known to bring stunning and unique architecture to the table and E is no different.  Their last two projects, Emerald Park and Exhibit both received unanimous praise and are pictured below.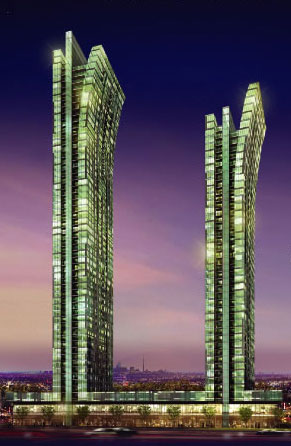 Emerald Park by Bazis International will be the jewel of Yonge & Sheppard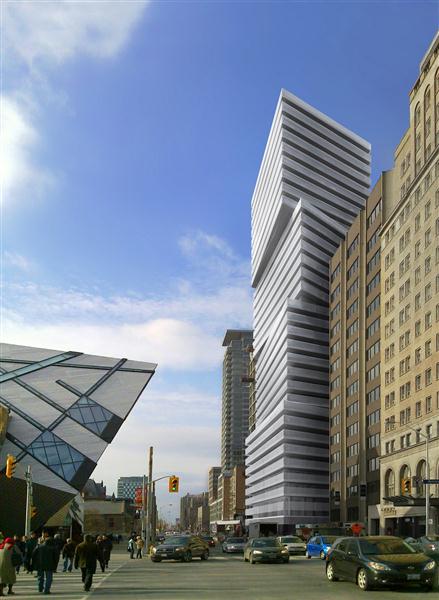 Exhibit Residences by Bazis looks stunning standing toe-to-toe with Royal Ontario Museum
Specific details on E Condominiums are still scarce but a 2012 launch is likely.  For all the information as it becomes available and the first opportunity to purchase, register with TalkCondo!
Bazis Apply for Crazy Heights at Yonge & Eglinton By: Amit Bhandari / December 14, 2011
Fans of midtown living are in for a real treat.  Yonge & Eglinton is one of the most popular intersections outside of the downtown core, and today we got some news that Bazis International (developers of Exhibit, Emerald Park and the recently completed Crystal Blu) are applying for two huge towers of 64 and 44 storeys located at 2263 Yonge Street.
Key notes from the application:
-Two towers: 64 and 44 floors respectively connected by a 3 storey podium containing retail and offices
-1166 residential units across two towers
-371 parking spaces, 95 of which would be for retail and office purposes
2263 Yonge is one of the best sites in Toronto, located at the North East corner of Yonge & Eglinton just steps to the Eglinton subway station.  The site currently houses a two storey TD bank.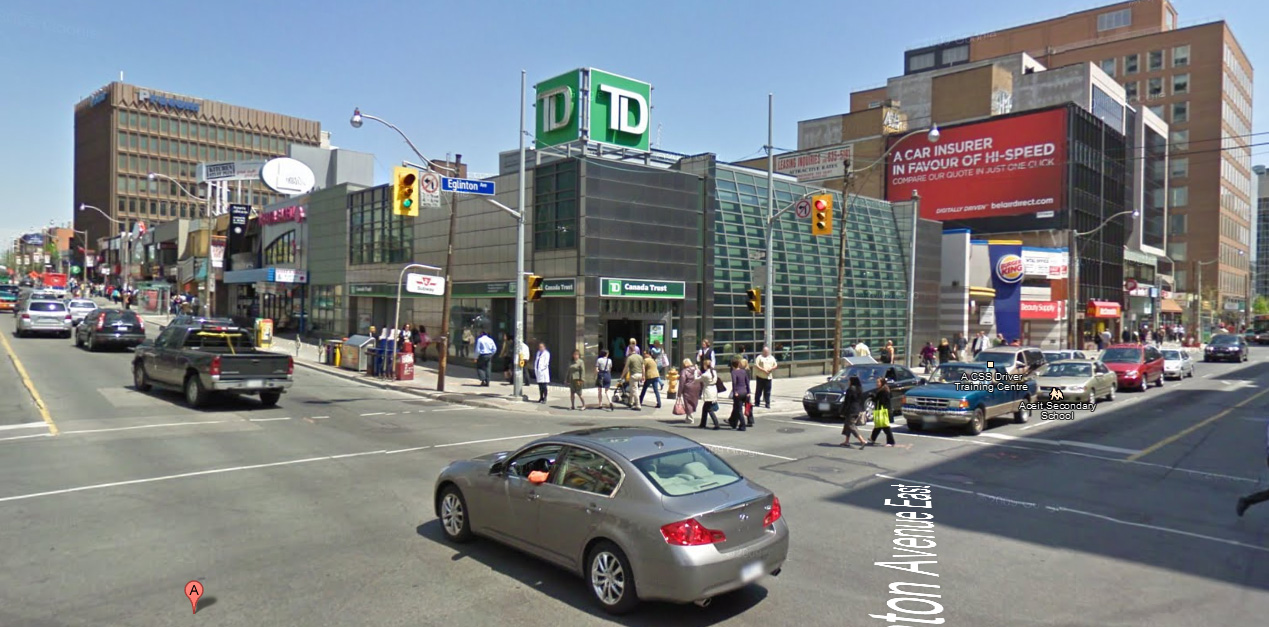 Current site of 2263 Yonge (at Yonge & Eglinton)
The tallest tower currently in the Yonge & Eglinton area is Quantum 2 by Minto (2191 Yonge Street) which stands at 52 storeys.  It will be very interesting to see what the City approves for this new site given that Minto had a lot of resistance for their two towers located at 2181-2191 Yonge Street from local community groups that resulted in the buildings being reduced in height by several stories.
Bazis have enjoyed recent success with their projects Emerald Park and Exhibit, both of which were widely praised for their unique and daring architecture.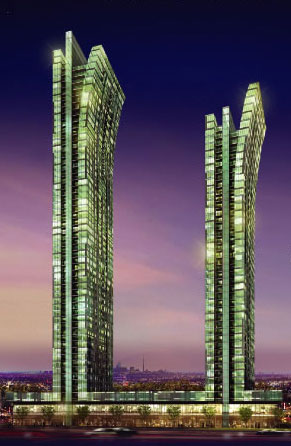 Emerald Park by Bazis International will be the jewel of Yonge & Sheppard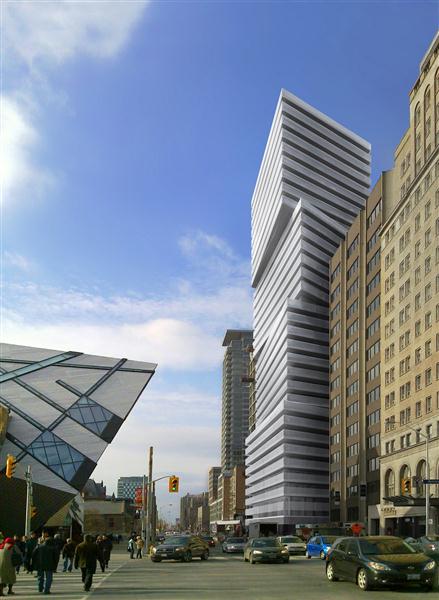 Exhibit Residences received universal praise for the high quality architecture
Members of our Insiders Club get first access to all hot new condominium projects. To stay in the loop on this exciting development, complete the form below!