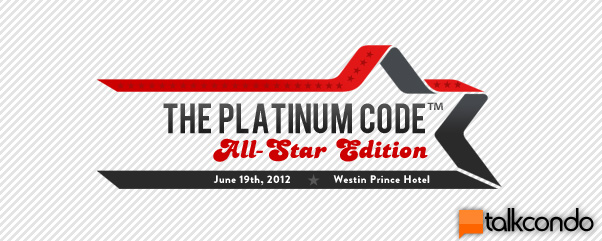 TalkCondo are extremely proud to announce that our team will be hosting the next "Condo Academy" event titled "The Platinum Code: All-Star Edition" on June 19th, 2012. The event is designed to give more exposure to the pre-construction industry by inviting real estate professionals to learn about the trade.
In addition to all of the excellent content already featured in the event, The Platinum Code: All-Star Edition is particularly exciting because of the "All-Star" guests that are lined up for the event to offer additional expertise in a variety of fields.
We are honored to be speaking to George Carras of RealNet and Calum Ross (of the Calum Ross Team, Canada's #1 mortgage team) who will give us an update of the state of new condominiums and their impact on our marketplace.
To discuss "Toronto Condo Secrets" we will have the opportunity to interview and talk some of our favourite developers including Brian Brown (VP of Lifetime Developments), Shamez Virani (of CentreCourt Developments) and David Wex (of Urban Capital).
Condominium Assignments are continuing to be an important part of the Toronto condominium marketplace and we will have the opportunity to talk to two of Toronto's top lawyers for Assignments, Jeff Levy and Maxim Zavet of PLZ Law.
One of our favourite segments will be "The Condo Marketing Machine" where we will talk to leading internet marketers including Matthew Slutsky of BuzzBuzzHome, Alyssa Richard of RateHub Canada, Kellie Leigh of Zoocasa and Ingrid Menninga of JOLT Marketing.
We are extremely excited to be involved with the event, and if you are a real estate professional interested in attending the event on June 19th do check out the Platinum Code: All-Star Edition page on Condo Academy!