Scotia Plaza is one of the most iconic and recognizable buildings in Toronto. The red granite clad headquarters for Scotiabank was purchased for $1.27 billion by Dundee REIT (and own two-thirds of the building) and H&R REIT (who own the remainder). Scotia were the last bank to own their own headquarters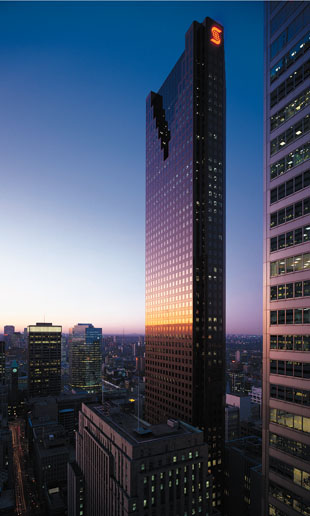 Scotia Plaza, one of Toronto's most recognizable buildings sells for an incredible $1.27 billion
This transaction represents the "largest trade for a single asset" according to George Carras, president of Realnet.
The Dundee Company are making a huge impact on Toronto – the development arm is heavily involved in the development of Toronto's largest urban village, the Canary District and their work is ongoing in the Distillery District.
The sale also emphasizes the strength of our market and in particular the Financial District. The continued demand for retail and commercial space in the Financial District means that Scotia Plaza can boast 2 million square feet with a 99.5% occupancy rate.
And if you're thinking, "Hey, wouldn't it be cool to LIVE in the Financial District?" There is no better option than INDX Condominiums!
Comments
comments