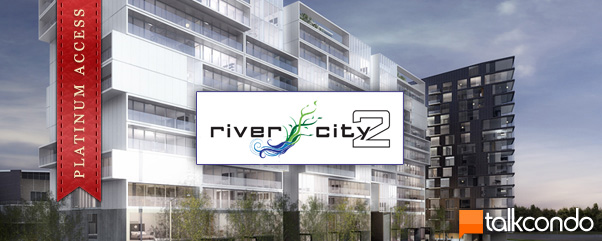 River City 2 is a project that we are very passionate about. For a number of reasons we feel as though it is one of the best projects in all of the GTA to launch this fall. It is a rare project that everything comes together and is one of our top picks for Investors this year. River City 2 has now launched, and priced VERY aggressively for Platinum Brokers (average price is approximately $550 per square foot, over $100-$150 per square foot CHEAPER than similar condominium projects in Toronto West!). Click HERE to register for Prices & Floorplans, now available.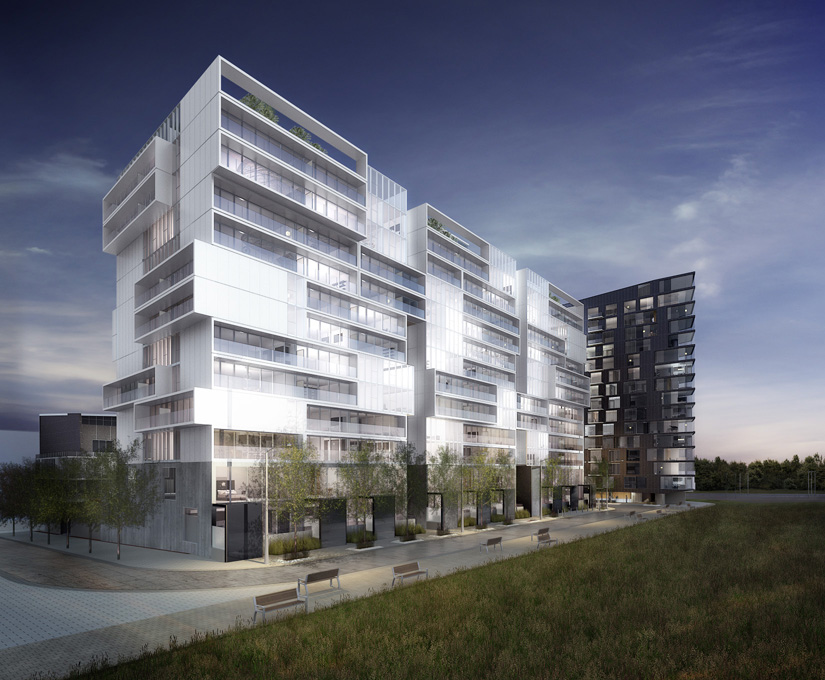 Exterior Rendering of River City 2 looks stunning sitting next to the dark and edgy, Award Winning River City 1
In terms of the building itself, the architecture is incredible, offering dramatic contrast to the dark exteriors of Phase 1 & 3 (which can be seen in the back of the rendering above). The sleek white building designed as three "mini buildings" connected together via passageways is very unique and looks visually stunning. The building stands 12 storeys and will house approximately 250 units, featuring 9ft. ceilings finished in loft-style exposed concrete, engineered hardwood throughout and upgraded kitchens with custom cabinetry and stone countertops.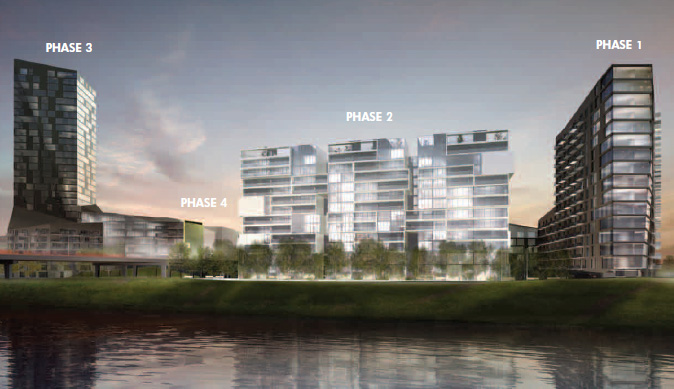 River City 2 sitting next to it's brothers, Phase 1 and Phase 3
But River City 2 is about so much more than just the building. It is the community and the scope of the revitalization of the West Don Lands that has us most excited. River City is the FIRST residential project in the multi-BILLION dollar revitalization of Toronto's new Waterfront, and in that sense, this project really is groundbreaking. Investors will have the opportunity to invest in the first project of a huge master plan that will turn Toronto East into a new thriving district in Toronto.
Above is a satellite image of what the West Don Lands looks like today. It's not overly exciting, it's a huge pile of dirt – but this is EXACTLY why, as an investor you should be excited. There are huge plans to turn this pile of dirt into a thriving community and, as we've already stated a number of times – you're getting in at the ground level.
When it's all said and done, the West Don Lands will be home to over 6,000 residents along with cafes, boutiques and restaurants, all on tree-lined, pedestrian-oriented streets. Below is an image of what the area will look like when it's completed.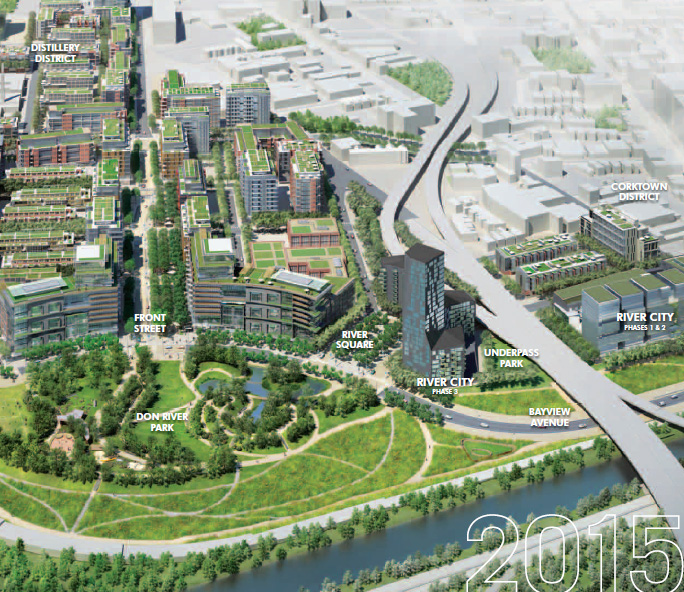 West Don Lands, Circa 2015. Highlights include the River City Condominium Project, Underpass Park, River Square and the brand new Destination Park – Don River Park
DON RIVER PARK
One of the major components of the revitalization is the Don River Park, intended to become a destination park for the entire city (similar to High Park). The park will cover 18 acres and will cost over $15 million. The park is currently 75% complete and is expected to be ready by early 2012.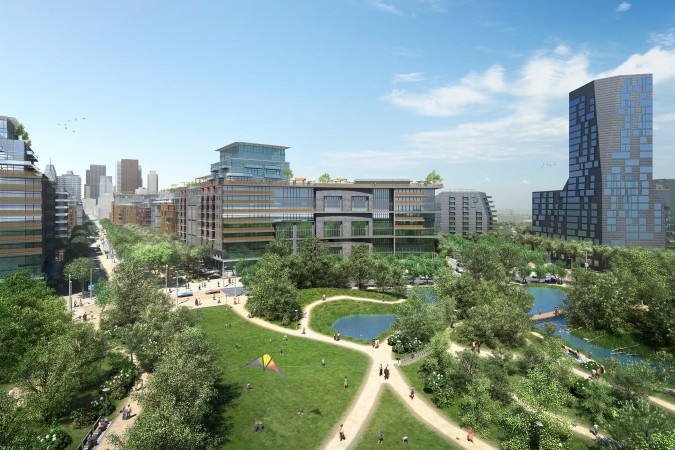 Don River Park Rendering, complete with manicured lawns, water features and incredible views of our skyline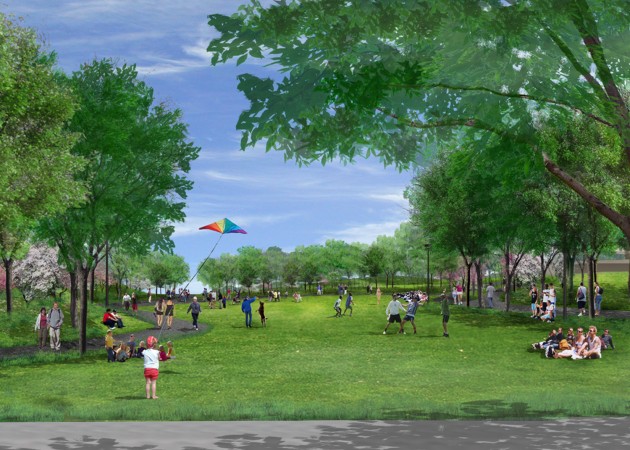 Rendering of Central Lawn at the new Don River Park
UNDERPASS PARK
Waterfront Toronto call the Underpass Park the most extensive park ever to be build under an underpass in Canada, and the first in Toronto. The Underpass Park will transform the one derelict and underused space beneath the Richmond-Adelaide ramps into an innovative Urban Park. The Underpass Park innovatively re-engineers both the covered and open areas under the overpass that connects the North and South part of West Don Lands. Underpass Park will be approximately 2.5 acres and cost $4.7 million to complete.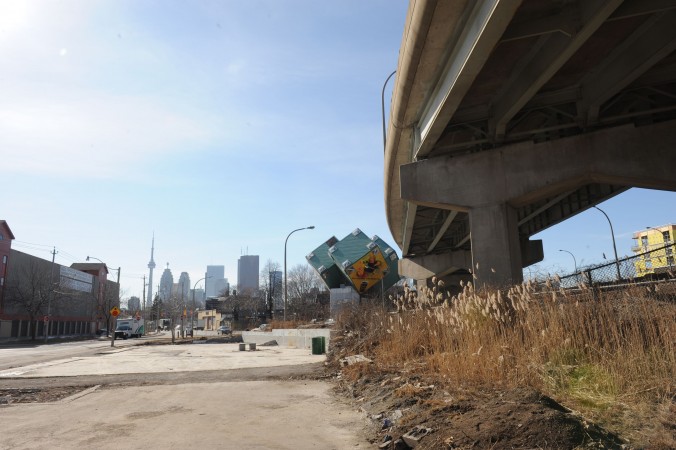 Underpass as it currently stands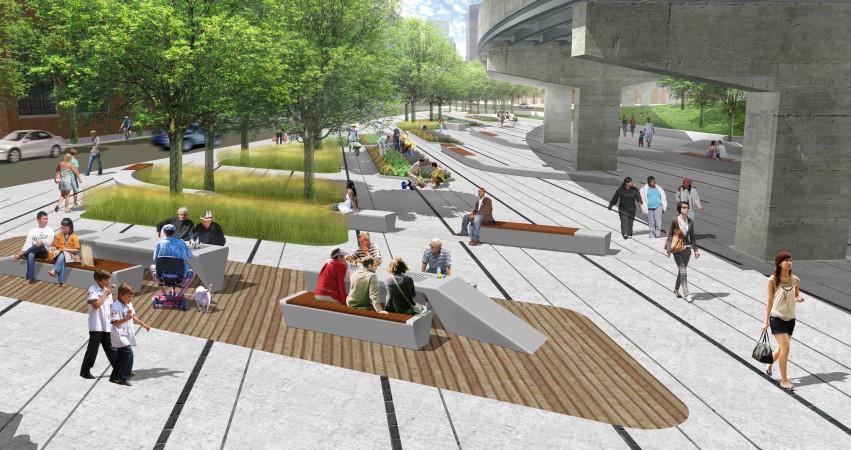 Renderings that will turn the underpass into a vibrant public space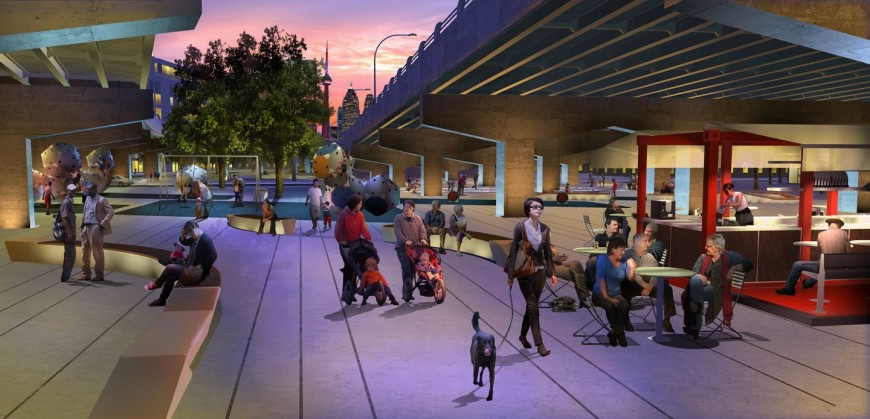 Renderings that will turn the underpass into a vibrant public space
2015 PAN AM ATHLETES VILLAGE
We've gotten this far and we haven't even MENTIONED the 2015 Pan American Games. In case you haven't already heard, West Don Lands will be playing host to the 2015 Pan Am Games, and Investors at River City will benefit from all of the new development for the Games. One of major developments set for the games is "Athletes Village" which will be designed to fit within the already existing West Don Lands Plan, and will SIGNIFICANTLY accelerate the build-out timeframe for West Don Lands (which means this will all be completed by 2015, amazing for River City Investors!).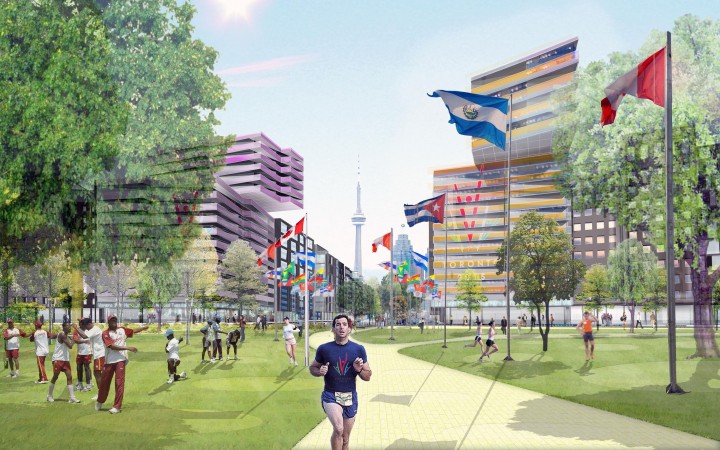 Pan Am Games in Toronto is a major reason that the West Don Lands is a very important district for Toronto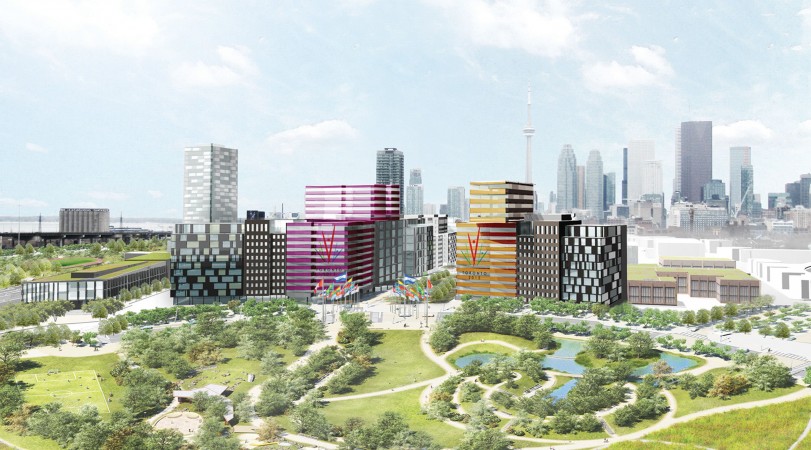 Athletes Village in West Don Lands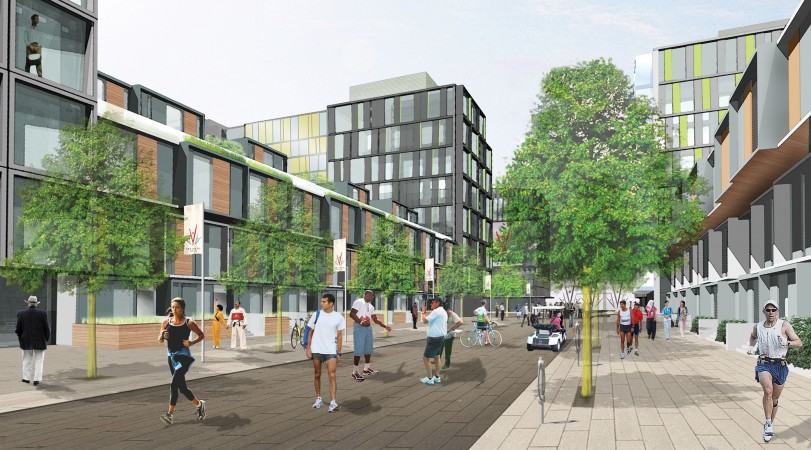 Vibrant location will be converted into residential condominiums after the Games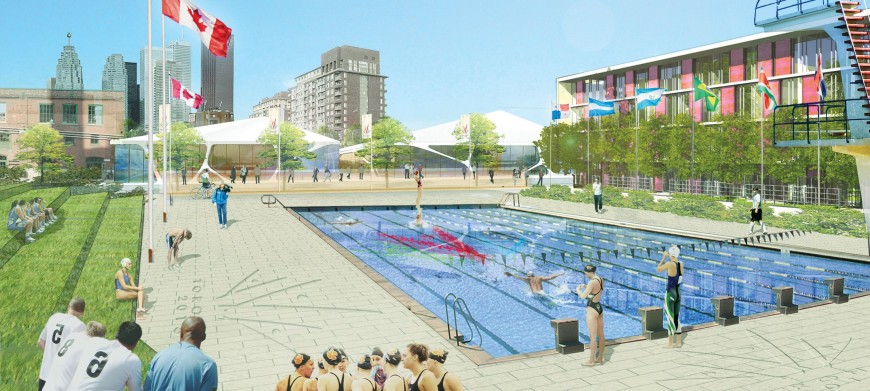 New Facilities will be ready in time for the 2015 Pan Am Games
This is a long post, but it is important to understand that when you are investing into River City, you are not just investing in a single condominium building – you are investing into an entire NEIGHBOURHOOD that is being backed by $1 billion of Government Money. The scope of the project is vast and the West Don Lands will be a thriving community. Investors need to think about Liberty Village just 10 years ago when it was a big pile of dirt. Those that invested early reaped the rewards, and the West Don Lands and River City project will dwarf Liberty Village.
Floorplans and Prices are now available. TalkCondo has GUARANTEED FIRST ACCESS to the best suites and prices at River City 2. Complete the registration form below for all the information!