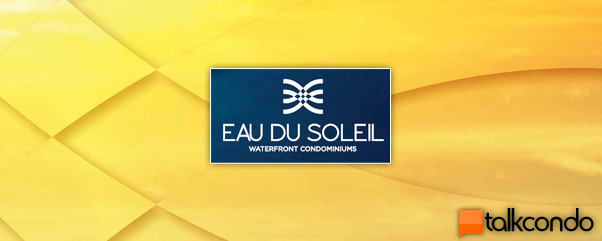 If high quality, super tall waterfront condominiums tickle your fancy then you may not get a better opportunity in the GTA an Eau Du Soleil Condos. All glorious 62 storeys of it.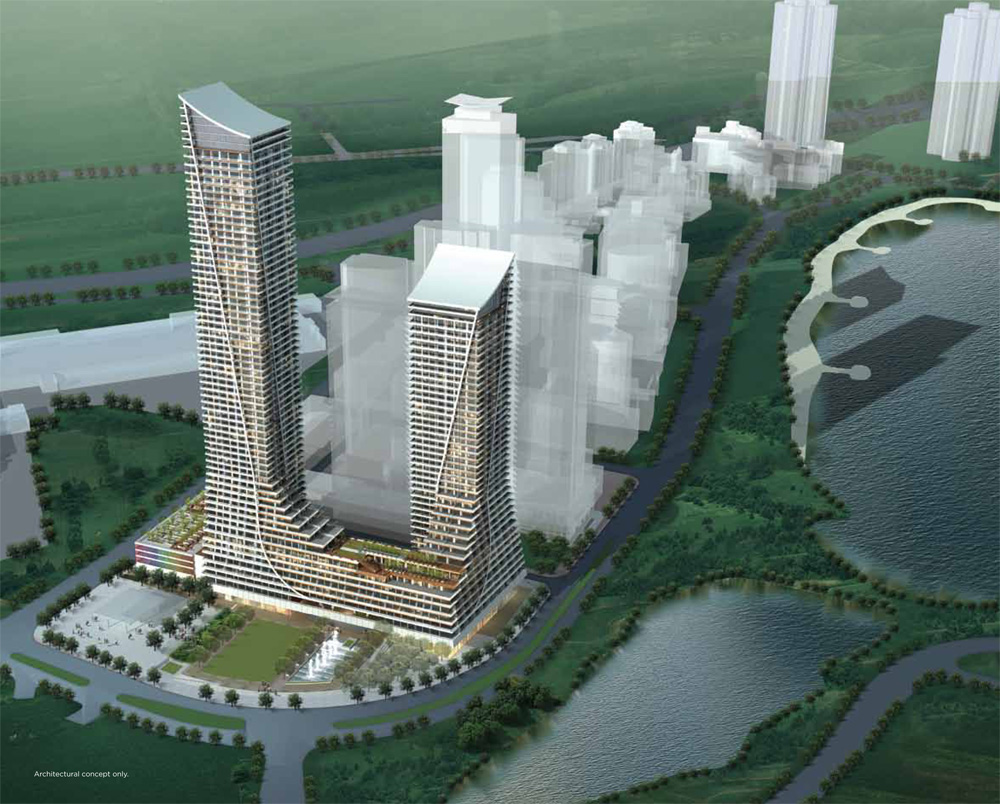 Eau Du Soleil will be Canada's tallest residential tower
The last 10 years or so have seen Humber Bay Park in South Etobicoke become one of the hottest neighbourhoods in the GTA. Home to some incredible condos (think Ocean Club, Lago, Beyond the Sea) and the best views that Toronto has to offer, Humber Bay Park offers an excellent alternative to those that want the convenience of high quality condominium living without the hustle and bustle of downtown Toronto.


Actual Views from Eau Du Soleil. No additional commentary necessary.
The unique selling point for Eau Du Soleil? The amazing architecture and sheer size of the building will leave you in awe and really set the building apart from the other condominiums in the neighborhood.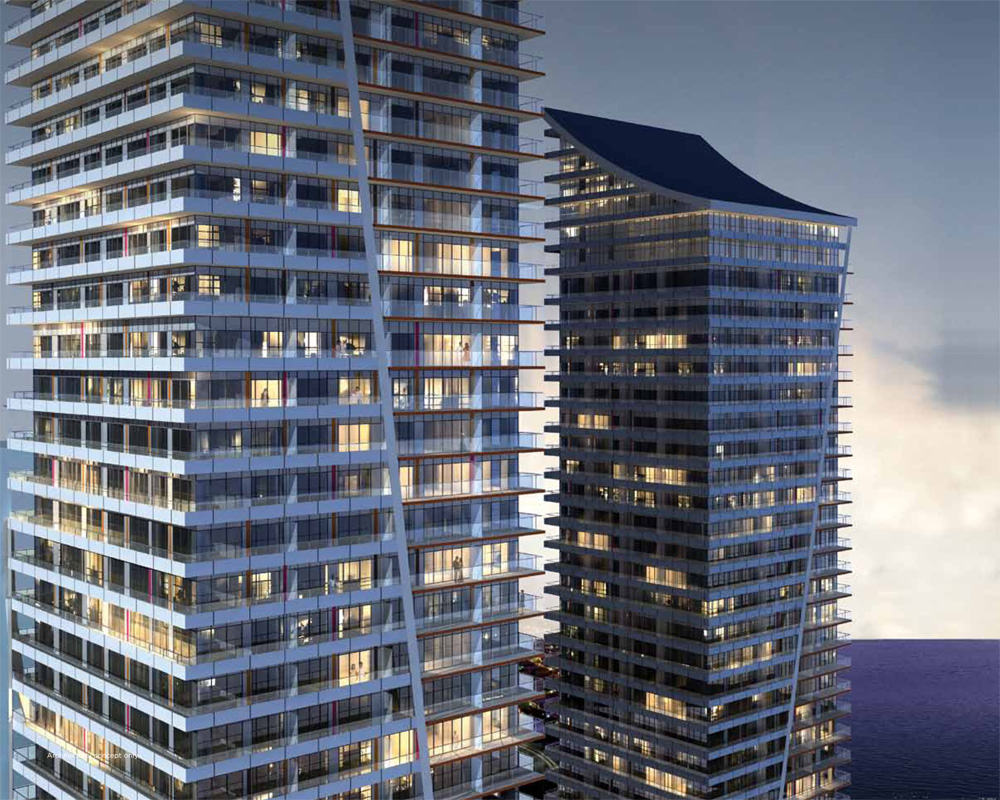 Eau Du Soleil will feature two huge towers – 62 and 40 storeys high. The curved roofs will become a landmark in the Toronto Skyline.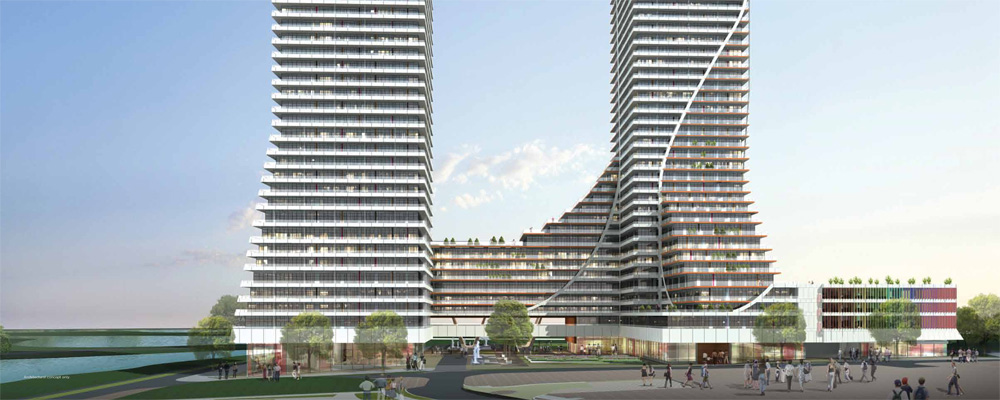 This angle gives a great idea of the sheer size of the project
When completed, Eau Du Soleil will feature two towers standing 62 and 40 storeys respectively. The building features high quality amenities including a salt-water pool, saunas and a state of the art fitness center. Empire will also be using a "Curtain Wall" glass system that is typically reserved for commercial buildings or high end residential. Curtain Glass allows for larger glass panes and "frameless" views of the lake.
Another aspect of the project that really stands out is the excellent Floorplans. Developers continue to improve efficiency in space and Eau Du Soleil features some of the best floor plans we have seen in any project with excellent square Floorplans (no bowling alley units here) that maximize wasted space and feature excellent glazing (windows) in key areas of the suite.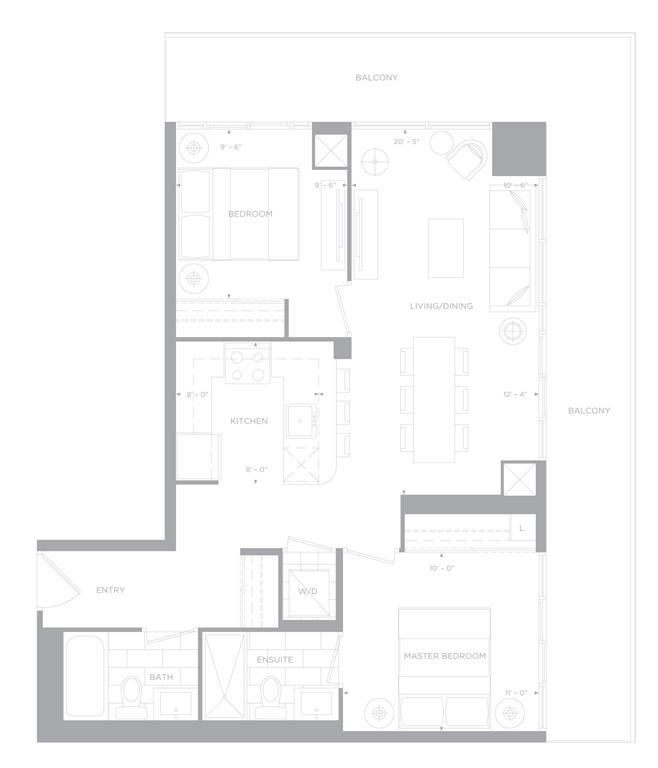 Sample Floorplan – 822sq.ft 2 Bedroom Suite. Excellent use of space with huge glazing (windows) for amazing views all around
Eau Du Soleil is now available to platinum agents and early demand has been very strong. For all Floorplans, prices and opportunity to purchase complete the form below!