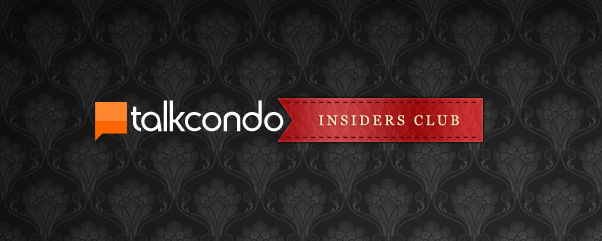 REGISTER FOR TALKCONDO INSIDERS CLUB BY CLICKING HERE
Getting first access into a new condominium development is VITAL for investors. We have seen prices increase to the tune of $20,000-$50,000 in just days. As Platinum Agents for many of the top builders in Toronto, TalkCondo get FIRST ACCESS (Many times, even before all the "VIP AGENTS") in Toronto. Below are just a few examples of how members of TalkCondo Insiders Club were able to benefit from our Platinum Agent Status.
-Entertainment District project by CentreCourt Developments increased prices approximately $20,000 for the "VIP" agents after Platinum Agents had sold approximately 30% of the building
-Selling units in a Yorkville project by Camrost Felcorp two weeks before VIP agents got the opportunity to. The project was 60% before any VIP agents had a chance to sell.
-Entertainment District project by Lifetime Developments increased prices from $10,000 to $20,000 for the VIP Agents. This project was over 50% sold before it was opened to VIP Agents.
-Popular project at Yonge & Lawrence by Lanterra was over 60% sold before VIP agents had the opportunity to sell. Many of the prime units were taken.
Working with an Insider Agent is VITAL in ensuring the success of your New Condominium Purchase.


When you see the Red Ribbon on TalkCondo, that means you are getting Inside Access!
As members of TalkCondo Insiders Club, you will get the FULL Red Carpet Treatment when it comes to purchasing a New Condominium in Toronto. If you are interested in:
-Being the FIRST to know about Toronto's Newest Condominium Projects, including Floorplans, Prices and the FIRST OPPORTUNITY to purchase
-Saving THOUSANDS of Dollars and secure the best suites, before other "VIP" agents even KNOW about the development
-Getting the first choice of suites, instead of the "Left Overs"
Join our TalkCondo Insiders Club for FREE by Registering Below!