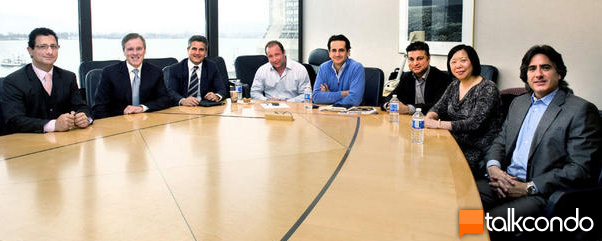 The Toronto Star recently put together an all-star roundtable of Toronto's finest developers to discuss all things condominium related while looking ahead to what promises to be an incredible year for condo lovers in 2012.

From Left to Right: Marco Filice (Liberty Developments), Jim Ritchie (Tridel), Andrew Hoffman (CentreCourt Developments), Peter Freed (Freed Developments), Danny Roth (Brandon Communications), Riz Dhanji (Canderel), Mimi Ng (Menkes) and Paul Golini (Empire Communities). Photo courtesy of Keith Beaty, Toronto Star.
The round table featured developers who not only enjoyed huge success in 2011, but between them will be responsible for some of the hottest condominium projects in 2012. Tridel will be bringing 10 York to market, CentreCourt have at least one downtown project in the works, Freed Developments will be teaming up with Minto for a project at Front & Bathurst and have a few other projects up their sleeves, Canderel are prepping 460 Yonge (Yonge & College), Menkes are currently working on three projects for 2012 – Fabrik, 365 Church and three new towers at York & Harbour and finally, Empire Communities will be bringing the tallest waterfront condominium in Canada with Eau Du Soleil.
There is no shortage of experience at this table – it really really is a star studded table of excellence in the Toronto development scene. Oh, and in case you want first access to any of the projects listed above, sign up to our Insiders Club by clicking here.
So now that the introductions are out of the way, what was discussed?
With 2011 recording the best sales record on history (27,224 sales recorded as of the end of November, the previous sales record from 2007 with 23,210 sales) developers discussed where the buyers are coming from.
Andrew Hoffman of CentreCourt Developments points to Immigration, stating that "We have an immigration policy that drives the need for housing".
EVER SHRINKING CONDOMINIUM
One of the biggest question that arises is based on the ever shrinking condominium, and developers acknowledge that average units have "fallen considerably from four or five years ago" according to Riz Dhanji of Canderel. He goes on to state "at some point there's that move-up buyer that doesn't want to live in 500 square feet. So we need to have some larger product.".
Hoffman argues that downtown buyers don't mind living in smaller spaces and that the downtown "active lives" cater to smaller suites. He argues that developers have gotten better at utilizing space in smaller condos by stating "the functionality of design has improved tremendously in recent years".
LOOKING AHEAD
The biggest question after any record breaking year is: what's next? Can we possibly top last years sales?
The developers at the table shows "cautious optimism", highlighting that they believe the condominium trend will continue but Golini of Empire Communities argued that the high price of land could mean that things slow down in a couple of years.
Golini mentions "I might be so bold as to say we'll hit the same highrise numbers we hit this year based on what's in the pipeline and the momentum [from last year]"
Freed of Freed Developments is optimistic and sees no signs of slowdown. His company has a number of projects in the pipeline in King West, King East, Yorkville and Yonge & Eglinton.
It's a fascinating piece by the Toronto Star and we have highlighted a few interesting points above. We encourage you to check out the entire article at Toronto Star.
For first access to any of the projects listed above, complete the registration form for our Insiders Club!